Apple updates MacBook with new internals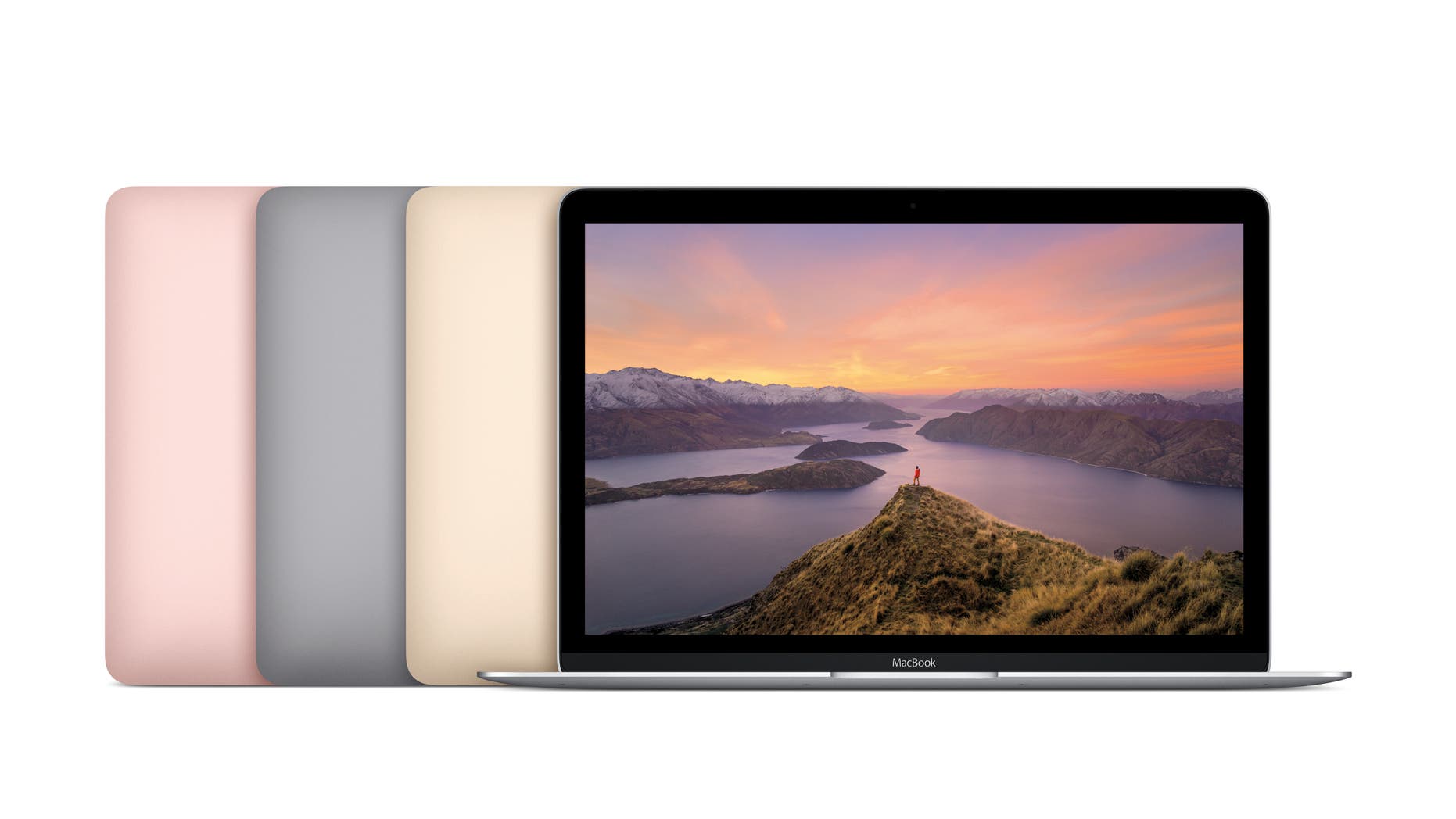 Apple has updated its thinnest and most radical MacBook line for the first time since the line made its debut last year.
The new 12-inch MacBooks get new silicon and better battery life, among other things. The external design remains the same.
The 12-inch MacBook was introduced in the spring of 2015 to both praise and pans. It is the first rethink of the MacBook in years, with a tablet-like weight of just two pounds, just one connector, and a novel keyboard with larger, ultra-thin keys. It's also the first thin MacBook to get a high-resolution Retina display – something the MacBook Air is still lacking.
What's new
Apple has finally updated the core silicon with Intel's newest sixth-generation "Skylake" processor, a chip that competitors like Dell and Hewlett-Packard have been using since last year. As with the first-generation 12-inch MacBook, the design is fanless (most laptops have fans to cool the silicon) so it uses a power-frugal Intel "Core M" series Skylake chip.
Related: Apple harvested almost $40 million worth of gold from recycled gadgets last year
The Core M processors run at speeds up to 1.3 GHz (with Turbo Boost speeds up to 3.1 GHz), and integrate new Intel HD Graphics 515 silicon, which delivers "up to 25 percent faster graphics performance," Apple said in a statement. The new MacBooks also offer higher-performance flash storage and up to "10 hours of wireless web browsing and up to 11 hours of iTunes movie playback," Apple said.
http://www.apple.com/pr/library/2016/04/19Apple-Updates-MacBook-with-Latest-Processors-Longer-Battery-Life-New-Rose-Gold-Finish.html
The base model, with a 1.1GHz processor, 8GB of RAM, and 256GB of storage, is priced at $1,299, while a model with a 1.2GHz chip and 512GB of storage is priced at $1,599 – the same pricing scheme for the first-generation models.
In addition to space gray, silver, and gold, Apple has also added a rose gold color for the first time.
The future of the MacBook
"MacBook is the thinnest and lightest Mac we have ever made and it's our vision for the future of the notebook," said Philip Schiller, Apple's senior vice president of worldwide marketing, in the company's statement.
Related: Apple reportedly set to reuse the Apple Watch design in next iteration
That vision appears to be one of ultra-minimalist laptops that mimic the design of more mobile devices like the iPad. And that vision is expected to manifest itself later this year in other new MacBooks that could incorporate some of the design elements of the 12-inch MacBook.  Apple revealed Monday that it will hold its annual Worldwide Developers Conference from June 13 through June 17 in San Francisco. That may be a forum where Apple announces additional new MacBooks, including new MacBook Pros.
But not everybody is enamored with the new design – at least as it stands now. Starting at $1,299, the 12-inch MacBook is not cheap. And despite the high price tag, it has only one port, based on new USB-C technology. Moreover, in order to connect to multiple devices, you have to buy additional adapters like Apple's USB-C Digital AV Multiport Adapter (which allows you to connect to multiple external devices simultaneously). That's an extra $79.
That said, as the 12-inch MacBook matures, Apple is expected to reduce the price and make it more accessible to the average consumer -- just like the current MacBook Air.