Apple releases information on government snooping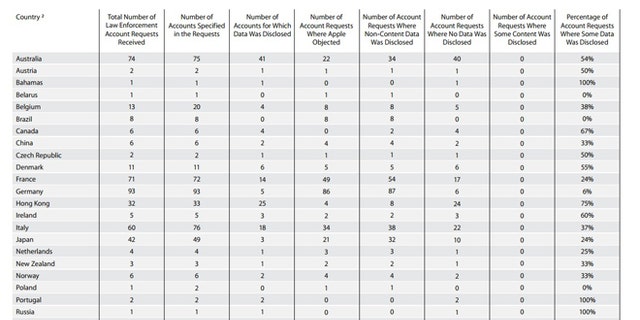 Big Brother has been iSpying.
The U.S. government sought information on as many as 3,000 Apple user accounts between Jan. 1 and June 30, 2013, according to Apple's newly released Report on Government Information Requests -- although the government prevents the company from revealing the exact number of such requests. The company said it was pushing back against this and other restrictions on information.
"At the time of this report, the U.S. government does not allow Apple to disclose, except in broad ranges, the number of national security orders, the number of accounts affected by the orders, or whether content, such as emails, was disclosed," reads the report. "We strongly oppose this gag order, and Apple has made the case for relief from these restrictions in meetings and discussions with the White House, the U.S. Attorney General, congressional leaders, and the courts."
Apple released its first ever such report detailing world government requests for data on Tuesday evening, following the lead set by such tech giants as Facebook, Microsoft, Google and Yahoo who have all sought to fight back where possible against government snooping.
Seeking information from Apple is unusual in one aspect: The company does not base its business upon the collection of data, as companies like Facebook and Google do. Instead, Apple sells products.
"Unlike many other companies dealing with requests for customer data from government agencies, Apple's main business is not about collecting information," reads a document detailing the requests. "As a result, the vast majority of the requests we receive from law enforcement seek information about lost or stolen devices, and are logged as device requests."
A footnote clarifies what type of data requests the company has been receiving, however.
"Apple has never received an order under Section 215 of the USA Patriot Act. We would expect to challenge such an order if served on us."
That section would enable the government to demand the hand over of information -- and would likely be accompanied by a gag order preventing the company from talking about the order.
Technology giants Facebook and Microsoft in mid June said that they have received thousands of requests from U.S. government agencies to turn over user data in the last six months of 2012.
Representatives of both companies said that after negotiations with national security officials their companies have been given permission to make new but still very limited revelations about government orders requesting user data.
Ted Ullyot, Facebook's general counsel, said in a statement that Facebook is only allowed to talk about total numbers and must give no specifics. But he said the permission it has received is still unprecedented, and the company was lobbying to reveal more.
"These requests run the gamut – from things like a local sheriff trying to find a missing child, to a federal marshal tracking a fugitive, to a police department investigating an assault, to a national security official investigating a terrorist threat," Ullyot said.