Apple makes its return to Black Friday, teases one-day sale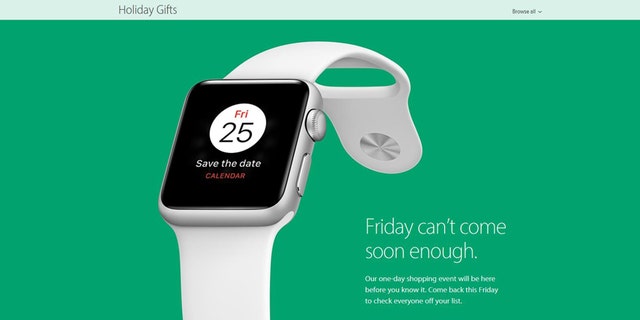 After deciding not to get involved in Black Friday last year, Apple has announced its return to the annual sale event.
Apple posted a picture of an Apple Watch on its website to publicize the sale. "Friday can't come soon enough," it said, on its website. "Our one-day shopping event will be here before you know it. Come back this Friday to check everyone off your list."
APPLE UNVEILS NEW iPHONES: THE iPHONE 7 AND 7 PLUS
The last few months have been busy for Apple, which unveiled the iPhone 7 and 7 Plus in September, as well as AirPods, the Apple Watch Series 2 and the Apple Watch Nike+. Last month the company announced a major revamp of its MacBook Pro, which includes new keyboard technology.
"I think Apple just likes to try different things from time to time to see what works," analyst Jan Dawson of Jackdaw Research told FoxNews.com, via email. "They also clearly feel they have a strong set of things to sell with the new Apple Watches, the iPhone 7, the new MacBook Pro and so on."
APPLE REVAMPS MACBOOK PROS WITH NEW KEYBOARD TECH
Dawson added that Apple's return to Black Friday may have been influenced by the many third-party retailers offering deals on Apple products recently. "Apple can either be a part of it or leave it solely to others," he said.
Earlier this month Apple also began offering refurbished iPhones for the first time and deals on the MacBook Air.
HERE ARE SOME OF THE BEST BLACK FRIDAY DEALS ON WINDOWS LAPTOPS, MACBOOKS
A 2016 Holiday Shopping Survey recently published by management consulting firm A.T. Kearney found that 40 percent of U.S. consumers plan to spend more this year than during the 2015 holiday shopping season. The survey of 1,500 consumers, which was conducted Oct. 24 – 25, shows that 27 percent of respondents plan to shop on Black Friday/Cyber Monday, up from 15 percent last year.
Follow James Rogers on Twitter @jamesjrogers