Al Gore's role in Apple's global warming policy questioned at shareholder event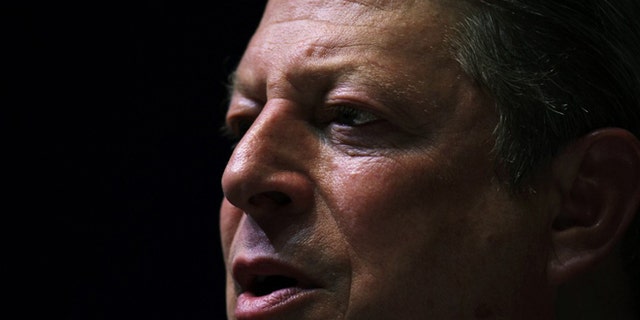 Former Vice President Al Gore's positions on climate change came under fire at Apple's annual shareholders meeting on Thursday when a non-profit group accused Gore, an Apple board member, of using his position to influence Apple's public stand on global warming.
Representatives of the conservative think tank National Center for Public Policy Research -- which holds shares in Apple -- said the consumer electronics giant's board should investigate whether Gore had influenced the company's decision in 2009 to leave the U.S. Chamber of Commerce.
"We are concerned that Apple's policy on greenhouse gas regulations was developed to personally benefit a board member in violation of the Company's Business Conduct Policy," read the group's claim, emailed to shareholders prior to the meeting and labeled "Proposal No. 4." The group alleged that Gore's personal portfolio of energy and green-industry stocks stood to gain if the global warming policies he advocates become law.
The proposal failed, having garnered a tiny fraction of stockholder votes. But Tom Borelli, director of the National Center for Public Policy Research's Free Enterprise Project, told FoxNews.com he stands by the proposal.
"We got 1.6 percent of the vote, which is a very low number," Borelli admitted. "But it doesn't mean we aren't right. We are. When a company makes money, no one cares about conflicts of interest."
Neither Gore nor Apple responded to FoxNews.com requests for an interview. But Apple defended Gore vigorously in a proxy statement and denied anything untoward.
"The Company has a long-standing commitment to environmental responsibility," Apple wrote in the company's shareholders' meeting notice.
"The decision to quit the Chamber was not driven by any conflict of interest or undue influence by any member of the Board. The Company resigned its membership because the Chamber's position on climate change differed so sharply with the Company's."
Borelli told FoxNews.com that Apple does not have a "business interest" in emissions regulations and said the board should give its full attention to the company, not a variety of topics.
"Shareholders have a right to know if Gore used his board position to end Apple's membership in the Chamber as a means to cash in on his personal investments in clean energy technologies," he said. "Board members should represent shareholders' interests, not their personal interests."
He blamed disinterested institutional shareholders, who hold most of Apple's shares.
"Apple was the only non-utility to pull out of the Chamber of Commerce during the greenhouse gas tax controversy. Exelon and PG&E also pulled out."
"This is unbelievable," he added.
Several companies terminated their long-term relationships with the Chamber of Commerce in 2009 after the trade group opposed the Waxman-Markey cap-and-trade bill and EPA regulation of carbon emissions.
Gore received $50,000 cash in 2011 for his role on Apple's board, as well as $200,090 worth of Apple stock, according to shareholder documents.