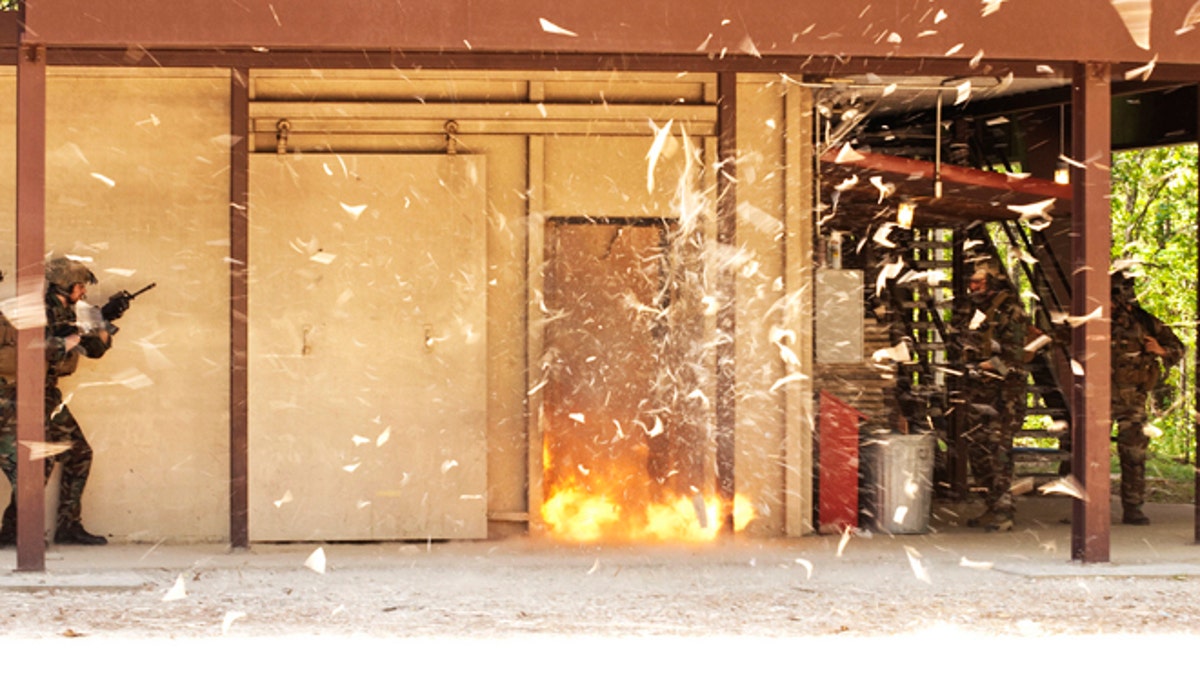 From a helmet swallowed as a pill to binoculars that provide automatic eye exams, out-of-the-box thinking may help prevent traumatic brain injury in U.S. warfighters.
The mildest form of such injury, known as a concussion, is a problem familiar with sports fans. But military medical experts often refer to traumatic brain injury, or TBI, as the signature injury from Afghanistan and Iraq. In September, the departments of Defense and Veterans Affairs combined more than $100 million to fund two new consortia, one aimed partly at improving diagnosis and treatment of TBI.
Here are six promising TBI-related technologies they might consider, under development by U.S. Army Medical Research and Materiel Command (USAMRMC).
Head gear in a pill?
Can neuroprotective drugs improve the outcome following acute brain trauma?
NNZ- 2566 is just such a pill.
According to USAMRMC and its partners, a fighter could swallow such a pill before the risk of head trauma even crops up. The drug would protect the neurological tissue in the event of a blow to the head.
Beyond protection from initial injury, a drug that could stimulate or improve neuronal healing and repair could also help reduce long-term damage.
An analog of a naturally occurring small-molecule neuro-protectant, it has been effect in numerous in vitro and in vivo models of brain injury, whether taken orally or intravenously.
NNZ- 2566 is currently being examined for safety and efficacy in a 260-patient Phase 2 clinical trial.
A cocktail for safety
While neuroprotective drugs like NNZ-2256 could improve the outcome after injury, TBI is a very complicated challenge that will most likely require more than one treatment.
The goal of USAMRMC's Neuroprotective Drug Combination Therapy Strategy Program is to identify possible drug combinations that work together to improve TBI treatment and results.
Together with Walter Reed Army Institute of Research, the program will study drugs that show promise in one area in combination therapy.
Rapid bio-marker testing
A blood tester for the field could instantly ID neurological trauma.
This device works by taking a small amount of blood and analyzing it for brain-specific biomarkers levels. The results would then be used in the field with a trained medical evaluation to assist diagnosis, triage and treatment.
Clinical trials are currently underway evaluating the use of biomarkers for diagnosing brain injury in mild, moderate, and severe TBI cases.
A 1,200-patient clinical trial of this device is being planned for final U.S. Food and Drug Administration approval.
Automated eye exams – via binoculars
Oculomotor dysfunction from brain injury is another problem common among wounded military personnel. It results in eyes that cannot easily, accurately, or rapidly move from one object to another, and can also include an inability to focus on a single target.
But conducting eye exams on every warfighter wasn't practical.
To solve that challenge, AMRCC has devised an easy to use Automated Binocular Vision Tester that will spare warfighters the visit to the optometrist -- and ensures they are checked. It's being developed with United States Army Aeromedical Research Laboratory and Walter Reed Army Medical Center.
A blast exposure-meter
Contact with the head isn't required for trauma.
Research published earlier this year by Boston University and the Veterans Affairs Boston Healthcare System demonstrated that exposure to a single blast from an average improvised explosive device caused injury long-term brain impairments.
It can be difficult for a warfighter to know if he's in this situation, however. A "blast dosimeter" under development by Military Operational Medicine Research and L-3 Communications/Jaycor will objectively measure whether serious or even life-threatening exposure has occurred.
While helpful aids like acceleration sensors already exist, this device records date, time, and work value for download by two-way radio communications.
The gadget is tiny -- 1 inch in diameter and less than half an inch thick -- yet it's designed to be robust, and can last for one year in harsh environments on just a single coin battery.
BrainScope
Last week, BrainScope was awarded another multi-million dollar contract from the U.S. Army to develop its TBI-related technology.
The company committed to develop its BrainScope Ahead for use on Smartphones to rapidly assess and give TBI results within minutes on the field.
The company's BrainScope Ahead is a smartphone-like device that records brain electrical activity without emitting radiation. It then uses advanced algorithms to quantify and characterize electrical activity in the brain.
It is intended to assist in making vital triage decisions and help identify concussions.
In May 2011, BrainScope received FDA for the Ahead M-100 medical device.
Ballet dancer turned defense specialist Allison Barrie has traveled around the world covering the military, terrorism, weapons advancements and life on the front line. You can reach her at wargames@foxnews.com or follow her on Twitter @Allison_Barrie.