5 Truly Useful Technologies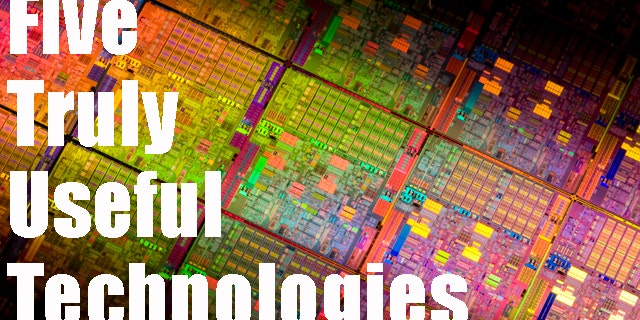 It's easy to turn one's nose up at last year's technology and become obsessed with the latest svelte gadget or social networking trend. But after decades of testing over-hyped digital gimcracks and wrestling with half-baked software or abstruse instructions, there are days when I just want something to work, period.
So here are some often dismissed gadgets and technologies that can actually make your life easier. Some derided as passe or usurped by newer technologies, some overlooked or ignored, yet each fulfills a function in modern life. They won't make headlines, but they are truly worth the money (translation: inexpensive) and do exactly what they are supposed to do -- which itself deserves some kind of special award.
1. Powerline Networking. They're not fancy, they don't cook breakfast or find the latest hipster restaurant for you. But when you're fed up futzing with security settings and Wi-Fi signals while trying to connect to your network, powerline networking can be a godsend.
These gadgets use the existing electrical circuitry in your home to make a network connection. Just plug one adapter into a network router and into a power outlet. Then plug another adapter into any device, say, an Internet-ready TV in another room and then into a power outlet and voila! It's connected. Early models were sometimes inconsistent -- but recent models I've tried that use the HomePlug standard have been reliable.
2. Portable Navigation Devices. Cell phones have built-in GPS, and mapping apps from the likes of Google are free now. But smartphones still aren't very good navigation devices, particularly in a car. In many cases, if you lose the cell signal, you'll lose the directions -- and your way. To avoid this, you usually have to pay for a proper nav program, which can cost $20 or $30, plus more money for proper mounting accessories for the phone.
But a good standalone nav system can be had for around $100. And portable nav systems come with dash mounts, car power adapters, and screens that were designed to work in a car in broad daylight. So ask yourself, driving alone on a country highway on a rainy night, do you really want to risk getting lost just because it's cooler to use your phone as your navigator? I didn't think so.
3. E-books. For readers who want to carry multiple books with them on the road, the best solution is still a black-and-white e-book, such as Amazon's Kindle (starting as low as $114) or Barnes and Noble's Nook (starting at $149). They are inexpensive, can be read in broad daylight, last for weeks on a single charge, and are light enough to read comfortably for hours or even take to bed. Tablets computers are sexier, sure, but they run out of power in a couple of days, are overweight and cost a lot more.
4. Wi-Fi boosters. Some technologies simply solve a common problem. Wi-Fi boosters grab a network's weak signals and send them to areas of the home, like a basement study or remote guest suite, where Internet access was previously spotty or non-existent. One no-fuss and effective model I've been testing recently is Amped Wireless' $100 300N Smart Repeater. Guests don't bother me about Wi-Fi access any more, and the kids can watch the Roku in the basement.
5. Portable DVD Players. Just ask any parent and they'll admit that the best electronic soother is a DVD player. They can be used in the car on long summer road trips, on a plane, at the cottage on a rainy day, or in a hotel room when the films on the pay channels aren't exactly family friendly.
A reasonable player costs about $100. It's a small price to pay to avoid hearing, "Are we there yet?" and you don't have to worry about the kiddies inadvertently coming across some offensive Web site or cruising adult movies in your Netflix account.