3 cool new military helicopters, plus an amped up Apache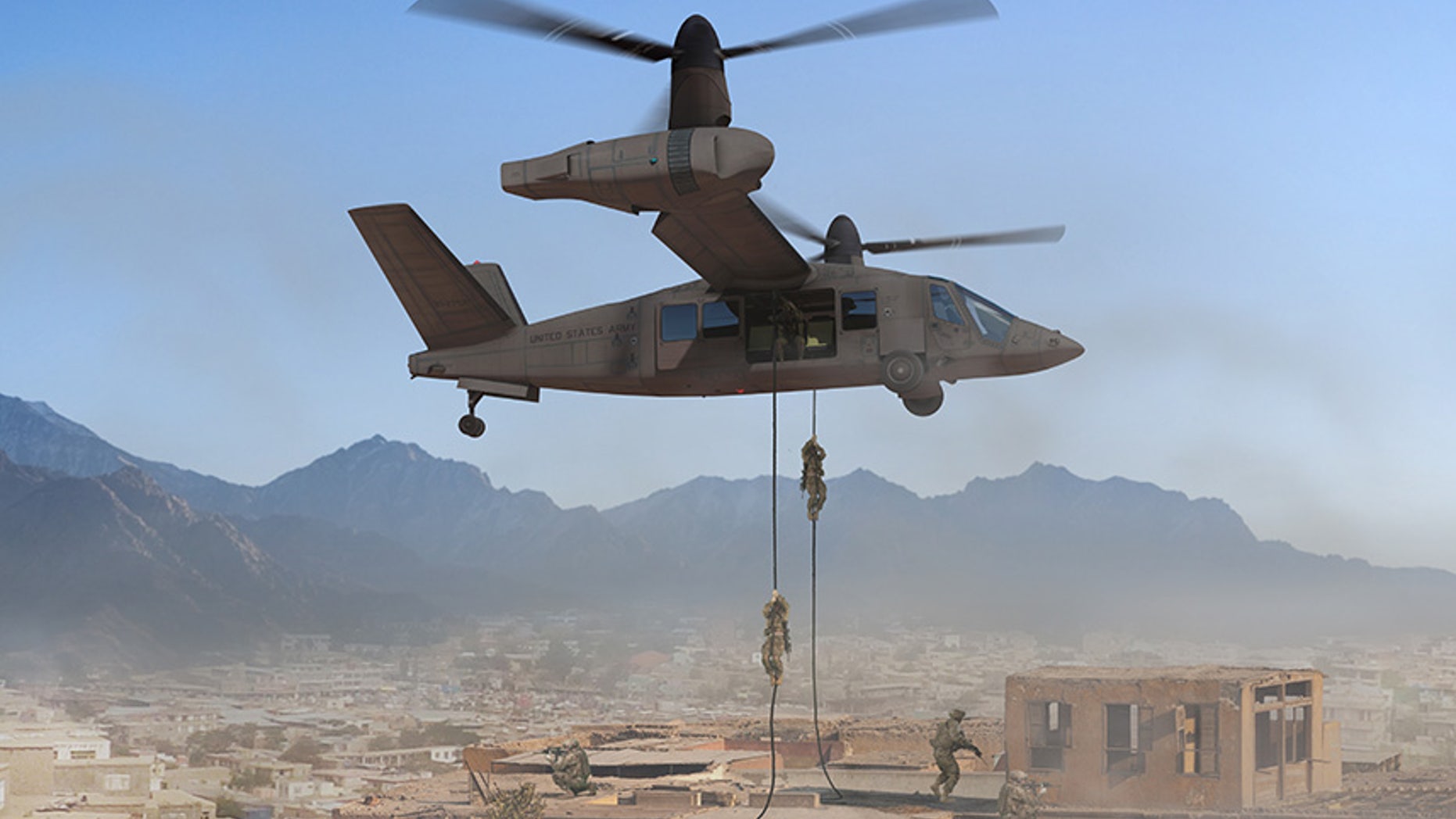 2014 was a year that yielded many of advances in military aviation. Here is a look back at the public debut of three exciting new helicopters as well as the U.S. Army's reveal of breakthrough tech for a tried and true favorite, the Apache.
The Raider
The Raider travels at a breathtaking cruise speed of 253 miles per hour – twice the speed of a conventional helicopter.
This next-generation helicopter uses Sikorsy's X2 technology. Sikorsky chose to reveal its S-97 Raider prototype at AUSA 2014. The helicopter is designed to enhance combat operations with increased maneuverability, endurance, and high-altitude operating ability.
The aircraft will be capable of carrying a range of weapons like Hellfire missiles and 2.75-inch rockets, as well as 50 caliber and 7.62-mm guns.
The cockpit fits two pilots in an assault configuration and the Raider can also carry up to six combat-equipped troops. For armed reconnaissance, the state-of-the-art helicopter can also carry extra fuel and ammunition.
Without refueling, Raider can conduct missions for nearly three hours across a range of more than 373 miles. It can also perform well in challenging conditions, like 10,000 feet in 95 degrees Fahrenheit.
Raider also has a low acoustic signature and integrated thermal management system.
The helicopter has been in development since 2010, and could play a key role in operations for the U.S. Army, Air Force, Navy, the Marine Corps, and Special Operations Forces.
A similar design is also being used as the basis for Boeing and Sikorsky's bid for the Army's Joint Multirole Technology Demonstrator.
The Valor
The Valor allegedly moves at twice the speed and twice the range of conventional helicopters, which more than doubles its operational reach.
For medical evacuations, it can cover more than five times the area of current MEDEVAC helicopters.
And get this – it is self-deployable – meaning it can take itself out on missions within a range of 2,100 nautical miles.
Made by the Textron division Bell Helicopter, the V-280 Valor reaches top speeds of about 280 knots per hour — 322 miles per hour —  and a combat range of 500 to 800 nautical miles.
Valor uses state-of-the-art tiltrotor technology, giving it vertical takeoff and landing (VTOL) capabilities. Textron says it will offer unmatched operational agility to self-deploy and perform a multitude of vertical lift missions unachievable with current aircraft.
The helicopter carries a crew of four with 14 troops, taking a maximum load of about 12,000 pounds. The two six-foot wide side doors are designed for rapid boarding and dismounting from the aircraft.
The Bell V-280 program aims to build an affordable and effective aircraft as part of the U.S. military's Joint Multi-Role Technology Demonstrator (JMR-TD) program.
Special ops helicopter
A new powerful helicopter for special operations recently made its debut in Europe this summer.
The rugged medium-sized EC645 T2 made by Airbus Helicopters is made to deploy for a range of missions from armed scout and light attack to search and rescue and MEDEVAC.
Powered by two Turbomeca Arriel 2E engines with dual-channel, full authority digital engine control (FADEC) — it is the most powerful in this series.
Power is important because it can provide maximum speed and agility while carrying a full payload. The EC645 T2 has a maximum takeoff weight of more than 8,000 pounds, speed of more than 150 mph and range of about 412 miles.
Reports are it performs really well in "6K/95 high and hot" conditions, which it can operate at 6,000-feet altitudes and in 95-degree environments.
Its design reflects special operations requirements, such as rapid easy access to confined areas and supporting fast roping, rappelling, and direct air assault.
This latest model features door mounted or podded machine guns giving operators the maximum space in the cabin for themselves and their gear. The cabin has easy access through the side and rear doors for rapid ingress and egress by 10 operators.
The EC645 T2 can also be fitted with a wide range of armament, from ballistic to guided ammunition.
Pilots will find it has a modern digital Helionix avionics suite, full night vision capabilities and four-axis autopilot.
The U.S. Army is operating more than 250 of the UH-72A Lakota version of this helicopter.
An immediate hit with special forces around the world, it has already been ordered by Germany for Special Forces Command (Kommando Spezialkräfte). They will receive their first helicopters in 2015.
Big upgrade for Apache Attack Helicopters
The AH-64 Apache also got a massive upgrade this year going from black-and-white to "living color."
The U.S. Army revealed new tech that allows AH-64 Apache helicopter pilots to see targeting and surveillance data in full, high-resolution color. This helps ensure that U.S. attack helicopters continue to dominate.
Lockheed Martin and the Army made sure to put the new tech – M-DSA, or Modernized Day Sensor Assembly — through a series of tests.
M-DSA is the very latest advancement in the system that acts as the eyes of the Apache, called the Modernized Target Acquisition Designation Sight/Pilot Night Vision Sensor, or Arrowhead. This tech lets Apache attack helicopter pilots engage enemies precisely at long-range. It also gives them better capabilities in day, night, and tough weather missions.
The enhanced image resolution from the forward infrared sensors is important so that pilots and aircrews can query targets. It is also critical for supporting ground troops by giving them situational awareness when they are outside detection ranges.
The Army says it is the most advanced tech on any rotorcraft, and ensures that Apaches will be able to accommodate future weapons.
There are four key new features:
The upgraded sensor means Apache pilots will now have high-resolution, high-definition near infrared and color imagery on cockpit displays.
The tech also introduces additional fields of view that can blend the image with the M-TADS forward-looking infrared. With it, Apache pilots will be able to see local and military lighting more clearly on an individual display.
There is a new laser pointer for improved communication and coordination with ground troops.
There is an updated multi-mode laser with eye-safe lasing capability, which is particularly useful in both urban environments and during critical training exercises.
Color in the cockpit and an enhanced laser pointer marker makes for even better rapid target identification and coordination for aircrews. These sorts of improvements also aid safety and system reliability.]
These advances should reduce time spent on voice communication, freeing pilots up for other things – like making critical highly pressurized decisions.
What does that mean in practice? For instance, if ground troops have identified a suspicious yellow vehicle, previously, details like color often had to be communicated by verbal or text cues to the pilots. With color now in the cockpit, the pilots can use those key details to better track the car.
The Army plans to roll out the advances, but it may take several years to retrofit all 680 Apache E-models.
Ballet dancer turned defense specialist Allison Barrie has traveled around the world covering the military, terrorism, weapons advancements and life on the front line. You can reach her at wargames@foxnews.com or follow her on Twitter @Allison_Barrie.