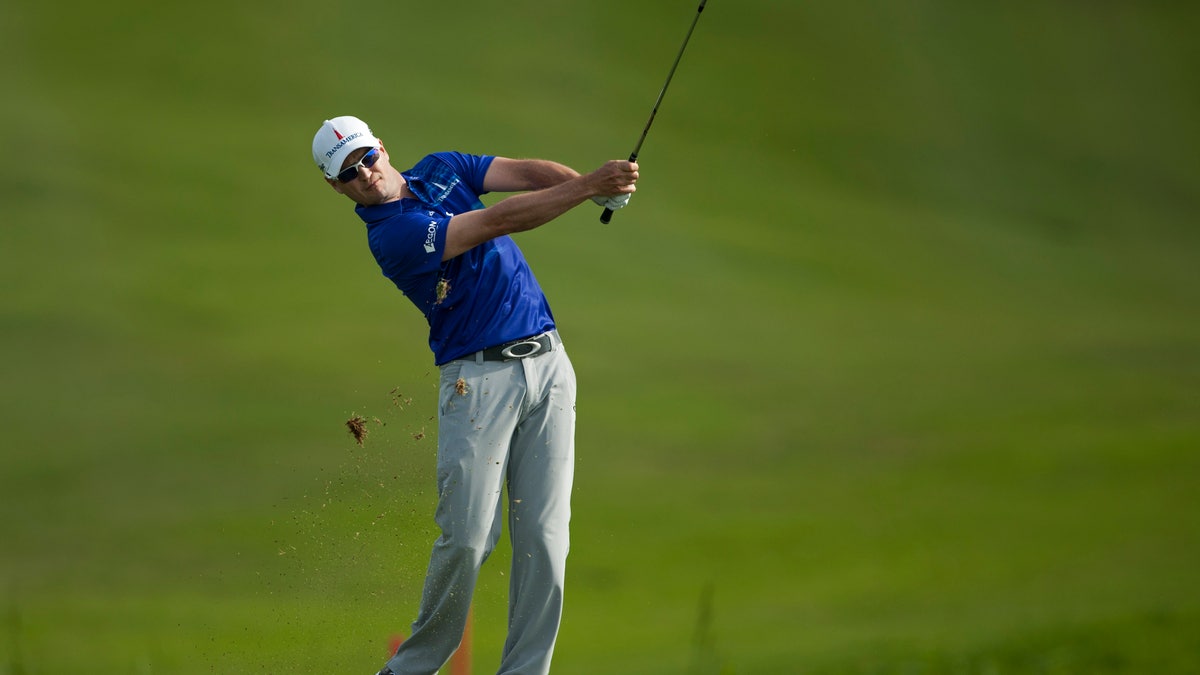 HONOLULU – Zach Johnson plays good golf. He just doesn't like to hear about it.
A few years back, Tiger Woods was talking about a small group of players he considered to be good putters when he mentioned Johnson. Told about this, Johnson laughed.
"He only thinks I'm a good putter because he only sees me on TV," Johnson said that day in 2007 at Carnoustie. "And the only time I'm on TV is when I'm playing well. And when I'm playing well, I'm putting well."
The normal guy from Cedar Rapids — that's how Johnson described himself when he won the Masters — has never looked at himself as anything special.
But there's no denying the record.
Already one of the more underrated — if not underappreciated — players in golf, Johnson picked up his 11th win on the PGA Tour when he matched the best score of the final round Monday with a 7-under 66 to win the Tournament of Champions at Kapalua.
It should be noted that before the tournament began, Johnson ran into caddie Lance Bennett and told him, "I never play well here."
Good players win anywhere.
Johnson is the latest pea shooter in this era of power to show there is still no substitute for crisp iron play, superb wedges and great putting. Justin Leonard has won 12 times, including the British Open and two playoff losses in the majors. Luke Donald became the first player to win the money title on the PGA Tour and European Tour in the same season when he rose to No. 1 in the world, a position he held longer than Vijay Singh, Nick Price and (so far) Rory McIlroy.
The difference among those three is their pedigree.
Leonard was a star at Texas who won the U.S. Amateur and is in that elite group of players who never had to go to Q-school. Donald won an NCAA title at Northwestern.
Johnson played at Drake.
He went through two cars — both a Dodge Intrepid — driving to places like Beatrice, Neb., and Salina, Kan., while trying to convince himself he could play this game for a living. He toiled on the Teardrop Tour, the Dakotas Tour and even something called the Prairie Tour.
He was that scrappy little kid on the basketball court who wiped down the sole of his sneakers before crouching to play defense. He played four sports in high school because he loved to compete. Johnson started running out of options when everyone outgrew him.
"The question I always get is, 'How did I pick golf?' I didn't. Golf picked me," Johnson once said. "It was a way to level the playing field. You could get away with finesse and strategy versus power."
Get away with it? He thrives on it.
His win in the Masters is famous for the way he stuck to his plan of laying up on all the par 5s, even if he had a chance to reach them (it also was cold and brittle that year, which certainly helped). Johnson had a favorable wind at Kapalua that allowed him to reach a couple of the par 5s, though it was his iron play and wedges that set him apart.
He looks like David. He plays like Goliath.
Johnson has won three times in his last six starts, including the World Challenge last month when he holed out from the drop zone for par on the last hole to get into a playoff, and then beat Woods on the first extra hole at Sherwood. His victory Monday sent him to a career-best No. 7 in the world. Another good performance at the Sony Open this week and he might move past McIlroy and Phil Mickelson.
Woods, Mickelson and Vijay Singh are the only players who have more PGA Tour wins since Johnson since he joined the tour in 2004.
There was an awkward moment 10 years ago at the Sony Open, the first event of Johnson's rookie season. Damon Green had decided to leave Scott Hoch (who had won nearly $7 million in earnings the previous four seasons) and caddie for this newcomer from Iowa.
Hoch was eligible for Kapalua that year, so Green worked for him the two weeks in Hawaii. One day, Green saw Johnson on the putting green at Waialae and thought it best to introduce his old boss to his new one. Hoch looked Johnson up and down, and then offered a quick handshake.
Johnson didn't look the part of a big-time player. He still doesn't. And he has never felt that way.
Maybe that's why he's so good.
The modesty of the 37-year-old Johnson — who he is, where he's been, how hard he has to work — might be key to his success. Only after he won at Kapalua, the winner's lei draped around his neck, was he reminded of what he has accomplished going into his 11th season on the PGA Tour.
Elevens wins. More than $31 million in career earnings. Among the top 10 in the world ranking. Six national teams (a 6-4-1 record in the Ryder Cup, remarkable considering he has played on three losing teams). One major. And only once in 10 years has he finished outside the top 50 on the PGA Tour money list. He was No. 53 in 2008.
"This is more than I would have thought," he said. "I don't have dreams of that caliber. I don't dwell on that kind of thing. I just try to play and try to get better, because God knows I can get better at this game."