Young Brewers Tracker: Minor-league MVPs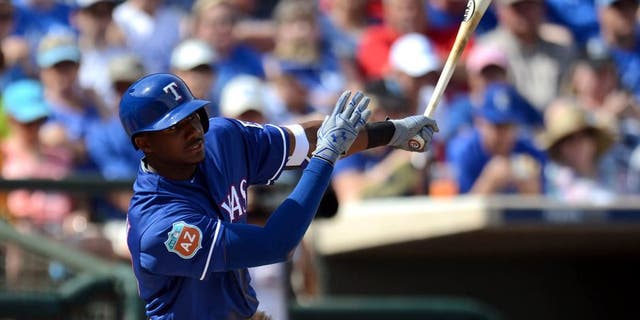 The Milwaukee Brewers are reshaping their franchise with an injection of youth and prospects.
Every Thursday we took a closer look at some specific young players -- as well as noting others who were stepping up -- measuring, highlighting and evaluating their progress.
For our 22nd and final edition of this year's Young Brewers Tracker, we offer our MVPs for the Brewers' minor-league teams as well as some notable players at each level.

Triple-A Colorado Springs MVP: OF Lewis Brinson
Season (Brewers only): 23 games, 89 AB, .382 BA, .387 OBP, .618 SLG, 1.005 OPS, 9 2B, 0 3B, 4 HR, 14 R, 20 RBI, 4 SB, 2 BB, 21 K.
Skinny: You might be asking, how could a guy who played in only 23 games be a team MVP? Actually, that's a very good question. First, only five players appeared in 90+ games for Colorado Springs, and none of them stood out. Second, some of the top performers, such as Josmil Pinto and Kyle Wren, padded their stats in the high altitude of Colorado and didn't fare as well at home (Pinto, for example hit 379/442/667 at home but 226/266/346 on the road). Third, it sure wasn't going to be a pitcher. Brinson, meanwhile, quickly established himself as the top hitter on the Sky Sox in his month with the club after being acquired from the Texas organization. While he of course hit well in Colorado Springs (.450 with a .650 slugging in 10 games), three of his four homers came on the road, where he batted 327/346/592.
OTHER NOTABLES
Orlando Arcia, SS: Milwaukee's top prospect -- and now the Brewers' starting shortstop -- acquitted himself well enough in Triple-A despite turning just 22 in August. In 100 games, he batted 267/320/403 with eight home runs and 15 stolen bases.
Jacob Barnes (14th round, 2011), RHP: Barnes earned his promotion to Milwaukee, posting a 1.21 ERA and 0.94 WHIP with 23 strikeouts in 22 1/3 innings. He pitched mainly on the road (16 innings) and didn't allow a run.
Keon Broxton, OF: If you're wondering why Broxton kept getting recalled to Milwaukee, in 47 games with the Sky Sox he hit 287/362/562 with eight home runs and 18 stolen bases.
Michael Reed (5th round, 2011), OF: Thought of as a possible call-up before the season, Reed batted 248/366/365 with 20 steals in 121 games. However, he batted just .218 on the road with a .322 slugging percentage.
Brent Suter (31st round, 2012), LHP: Another pitcher who got the call to Milwaukee, Suter was 6-6 with a 3.50 ERA and 1.29 WHIP. He also was one of the most successful Colorado Springs pitchers at home, posting a 3.84 ERA and 1.39 WHIP in 14 home games.
Kyle Wren, OF: Wren started the year in Biloxi hitting .283 then flourished in Colorado Springs, batting .339 with a .425 on-base percentage with 20 steals in 77 games. He really liked hitting in Colorado Springs, batting .392. He wasn't terrible on the road, but was a more pedestrian .271.

Double-A Biloxi MVP: RHP Brandon Woodruff (11th round, 2014)
Season (Double-A): 28 games (28 starts), 14-9, 3.01 ERA, 113.2 IP, 88 H, 4 HR, 30 BB, 124 K, .211 OBA, 1.04 WHIP.
Season (Single-A): 8 games (8 starts), 4-1, 1.83 ERA, 44.1 IP, 33 H, 2 HR, 10 BB, 49 K, .205 OBA, 0.97 WHIP.
Skinny: Woodruff was dominant in the second half of the year. In July, he started five games and allowed just two runs -- one earned -- in 30 2/3 innings. In 13 starts after the All-Star break, Woodruff had a 2.32 ERA, 0.92 WHIP and struck out 95 in 81 1/3 innings.
OTHER NOTABLES
Clint Coulter (1st round, 2012), OF: Coulter was hitting just .220 at Single-A Brevard County when he was moved up to Biloxi. The promotion paid off. In 28 games, Coulter hit 337/382/442, perhaps rejuvenating his career.
Garrett Cooper (6th round, 2013), 3B: Cooper was as steady as it comes in Double-A, hitting 299/350/419 in 92 games with 22 doubles. He was moved up to Triple-A and hit 276/331/433 in 36 games at Colorado Springs.
Josh Hader, LHP: Hader was absolutely dominating in Double-A. In 11 starts with Biloxi, he had a 0.95 ERA and 1.00 WHIP with 73 strikeouts in 57 innings. Then he got moved up to Triple-A and had to pitch in Colorado Springs (where his ERA was 6.10 and opponent batting average .301 in six home starts).
Taylor Jungmann (1st round, 2011), RHP: After posting an ERA north of 9 in both Milwaukee and Colorado Springs, Jungmann got back on track in Biloxi, posting a 2.51 ERA, .199 OBA and 1.17 WHIP in 13 starts.
Jacob Nottingham, C: Acquired from Oakland in the Khris Davis trade, Nottingham cooled off in the second half (.212) and finished at 235/295/347with 11 home runs and 138 strikeouts. He did steal a career-high nine bases.
Luis Ortiz, RHP: Ortiz made six starts after coming over from the Texas organization in the Jonathan Lucroy trade. He had a 1.93 ERA but 1.54 WHIP in 23 1/3 innings. Ortiz turns just 21 years old on Sept. 22.
Brett Phillips, OF: The big-name prospect acquired in the Carlos Gomez trade went through some mighty slumps this season. He ended up hitting just .229, although did lead the team in home runs (16), runs (60), RBI (62) and walks (67), as well as strikeouts (154). He also stole 12 bases.

Single-A Brevard County MVP: Dustin DeMuth, 1B (5th round, 2014)
Season (Single-A only): 96 games, 366 AB, .287 BA, .354 OBP, .404 SLG, .762 OPS, 21 2B, 2 3B, 6 HR, 42 R, 43 RBI, 2 SB, 28 BB, 104 K.
Skinny: Among a pretty lackluster hitting team, DeMuth stood out. He was the only player on Brevard County who played more than seven games to have a slugging percentage of .400 or better. He was also second in batting average and on-base percentage on the club, and led in doubles, runs and RBI despite getting moved up to Double-A later in the late July (he hit .270 with Biloxi).
OTHER NOTABLES
Phil Bickford, RHP: Acquired at the trading deadline in the Will Smith deal, Bickford appeared in six games (five starts) for Brevard County and had a 3.67 ERA, 1.52 WHIP and 30 K in 27 IP. His overall minor-league numbers in 2016 were a 2.93 ERA, 1.15 WHIP and 135 K in 120 IP.
Bubba Derby, RHP: The other player acquired in the Davis trade with the A's was 6-13 with a 5.59 ERA and 1.61 WHIP in 26 games (25 starts).
Kodi Medeiros (1st round, 2014), LHP: In 23 games (22 starts), Medeiros was 4-12 with a 5.93 ERA and 1.94 WHIP.
Jon Olczak (21st round, 2015), RHP: The closer for the Manatees had a 3.04 ERA, 1.12 WHIP and 67 K in 56 1/3 IP while recording 10 saves.
Jon Perrin (27th round, 2015): Perrin also played for Wisconsin (2.50 ERA in six starts) and Biloxi (3.1 IP, 9 ER), but he made his mark with Brevard County, posting a 2.60 ERA and 1.15 WHIP in 19 games (16 starts).
Corey Ray (1st round, 2016), OF: Milwaukee's top pick got going after a slow start, batting 250/328/491 in August and 4 for 6 in two September games before being sent to Single-A Wisconsin so he could appear in postseason games. Ray had 13 doubles, five homers and nine steals in his 57 games with the Manatees.

Class-A Wisconsin Timber Rattlers MVP: Isan Diaz, SS
Season: 135 games, 507 AB, .264 BA, .358 OBP, .469 SLG, .827 OPS, 34 2B, 5 3B, 20 HR, 71 R, 75 RBI, 11 SB, 71 BB, 148 K.
Skinny: Diaz, who the Brewers obtained from Arizona in the Jean Segura trade, is the likely MVP of the entire Milwaukee minor-league system. He really exploded in the second half of the season, batting 296/404/569 with 14 home runs post-All-Star break. Diaz led the Midwest League in home runs and total bases (238). He won't turn 21 until next May.
OTHER NOTABLES
Trent Clark (1st round, 2015), OF: For various reasons, Clark only appeared in 59 games in 2016, batting 231/346/344 with 15 doubles. He was 5 of 15 in attempted steals after being 25 of 33 last season.
Lucas Erceg (2nd round, 2016), 3b: Erceg moved up quickly after being drafted. He hit 400/452/552 in Helena and was sent to Wisconsin, where he slumped right at the end of the season but still batted 281/328/497 with seven home runs in 42 games. Erceg could move up the system fast.
Jake Gatewood (1st round, 2014), 3b: The 2014 compensatory pick showed good power despite hitting just 241/268/391, as he had 33 doubles and 14 home runs. He also struck out 141 times in 496 AB.
Mitch Ghelfi (28th round, 2015), C/1b: Ghelfi was batting 326/387/439 with 25 doubles in 73 games with Wisconsin when he was moved up to advanced Single-A Wisconsin, where he hit .248 in 30 games with 10 doubles.
Troy Stokes (4th round, 2014), OF: In 86 games, Stokes hit 268/358/395 with 20 steals in 24 attempts. In his three years of pro ball, Stokes has 65 steals in 195 games (712 AB).
Jordan Yamamoto (12th round, 2014), RHP: After posting ERAs of 4.57 and 7.84 in his first two years of rookie ball, he had a 3.82 ERA, 1.20 WIHP and 152 K in 134 1/3 IP in 27 games (18 starts) for Wisconsin.

Rookie Helena MVP: Ronnie Gideon, 1B (23rd round, 2016)
Season: 59 games, 224 AB, .321 BA, .371 OBP, .638 SLG, 1.010 OPS, 20 2B, 0 3B, 17 HR, 42 R, 41 RBI, 1 SB, 15 BB, 69 K.
Skinny: Gideon was one of the best players in the Pioneer League, leading the circuit in home runs and slugging percentage while finishing third in total bases (143) and among the leaders in batting average and on-base percentage.
OTHER NOTABLES
Gilbert Lara, SS: Acquired from Detroit for Francisco Rodriguez, Lara hit just 205/286/273 with 15 extra-base hits and no steals, however he did have a slash line of 304/322/384 in 29 games in the second half.
Demi Orimoloye (4th round, 2015), OF: After a successful first year in 2015 with the AZL Brewers (292/319/518), the speedy teenager slumped to 205/293/324 with Helena, but still stole 18 bases in 23 attempts. He turns 20 in January.
Weston Wilson (17th round, 2016), 3b: In 62 games, Wilson batted 318/390/498.

A glossary of some of the advanced statistics used:
OPS: On base percentage + slugging percentage
OPS+: OPS compared to league average of 100, adjusted to the player's ballpark
sOPS+: OPS for the split (in our case the last 7 days) compared to the league's split OPS (100 being average)
BAbip: Batting average on balls in play
WHIP: Walks plus hits divided by innings pitched
ERA+: ERA compared to league average of 100, adjusted to the player's ballpark
FIP: Fielding Independent Pitching. Measures a pitcher's effectiveness at presenting home runs, walks and hit by pitches while causing strikeouts. The MLB average FIP is the same as the MLB average ERA.
WAR: Wins Above Replacement value. Represents the number of wins the player added to the team above what a replacement player would add (we are using WAR from baseball-reference.com).
Statistics courtesy milb.com
Dave Heller is the author of the upcoming book Ken Williams: A Slugger in Ruth's Shadow as well as Facing Ted Williams Players from the Golden Age of Baseball Recall the Greatest Hitter Who Ever Lived and As Good As It Got: The 1944 St. Louis Browns