Yellow-and-Green Zone: Freshly painted and decorated, Brazil's streets are homemade fan-zones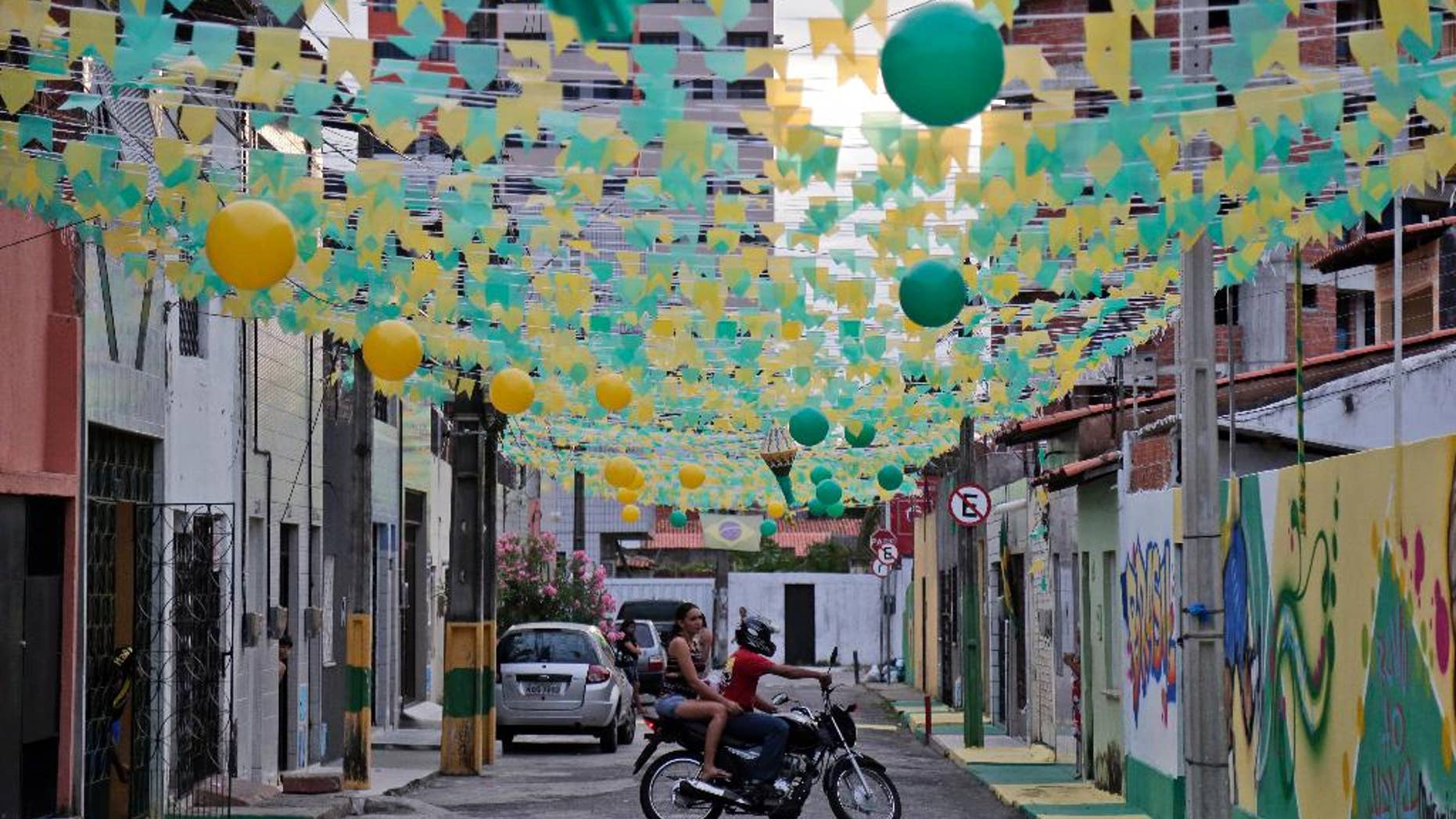 FORTALEZA, Brazil – April 1st Street is directly opposite Arena Castelao, but looks like it could be a lot further away from the imposing 63,000-seat reflective glass-and-steel stadium.
Many of the lived-in houses look half-built, and most of its residents had little hope of getting a ticket to Tuesday's Brazil-Mexico match in this northeastern city — priced roughly equivalent of a month's pay on minimum wage.
But the party has been underway for days.
Brazil flags are sprayed on the wall — with the country's motto 'Order and Progress' filled in by brush — and lines of yellow-and-green paper flags are strung overhead for about 200 meters.
Corner store owner Carlos da Silva didn't help put up the decorations, but paid a hefty contribution.
"Everybody helps a bit. People are excited that Brazil is playing in our city," says da Silva, sitting behind the cash register, as people wander in an out to watch the afternoon match on his TV.
"We have our own party."
Most of the people here prefer to celebrate near their home than take a crowded bus downtown, where the official fan-zone is located on the tower-block lined ocean front.
It's the same across the country, where streets in mostly run-down city neighborhoods are brightly decorated for the World Cup, with old CDs, balloons and children's' footballs added to the terrace-to-terrace bunting, next to newly-painted murals of the tournament mascot Fuleco, and national coach Luis Felipe Scolari.
Overnight, broad green-and-yellow stripes appear on the side of construction sites, occasionally coming with a hand-painted message of racial tolerance or religious devotion.
"It's always been like this at World Cups. The decorations are nothing new. People like to enjoy themselves," said Brazilian-born Humberto Veras, who traveled to Fortaleza from his home in Redwood, California.
Veras joined Brazil and Mexico fans outside Arena Castelao on Tuesday, playing a small drum, as local residents joined ticket-holders for an impromptu party, where hotdog and burger sellers set up shop out of the trunk of their cars, and vendors offered Brazil shirts pinned to clothing lines.
Brazil captain Thiago Silva thanked Fortaleza's residents for the reception they received before the two teams played out an exciting 0-0 draw.
"There way we were welcomed here in the northeast has been amazing. We really feel at home. All of this makes us very motivated," he said before the game.
"When you sing the national anthem, hug the person next to you. Sing it with us, and we will feel you beside us when we are playing."
___
Follow Gatopoulos at http://www.twitter.com/dgatopoulos