Yankees President Wants To Bring Back Robinson Cano, But Not 'At All Costs'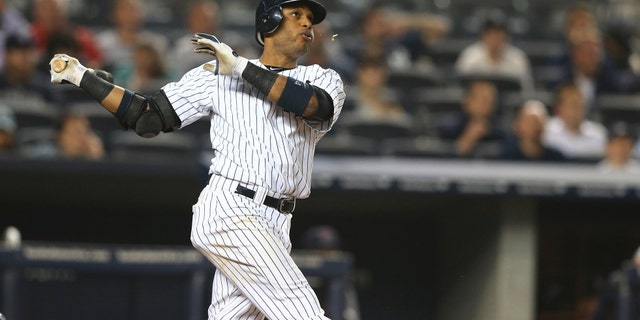 Gone are the days when money is no object for the New York Yankees.
As the team looks ahead following one of the toughest seasons in recent memory for the Bronx Bombers, those in charge are making sure the payroll will stay below the $189 million threshold.
Even when it comes to resigning favorites like Robinson Cano.
While Yankees president Randy Levine said he would like nothing more than to sign the All-Star second baseman to a new contract, he is not willing to do it "at all costs."
"Nobody is a re-sign at all costs, but we want him back and we feel good about negotiating something with him," Levine said Tuesday in an interview with Bloomberg Television.
"Hopefully he's a Yankee."
When asked about what will happen when he becomes a free agent this off season, Cano dogged the question entirely.
"Let's just see what happens when the season is over," Cano told the New York Daily News after hearing about Levine's comments. "There's nothing I can say. Right now, I'm not paying attention to any of that.
"We have 18 games left, so that's my focus right now. We'll see what happens when that day comes."
With the season nearly over, Cano is in the final weeks of his contract with the Yankees that paid him a whopping $59 over the course of six season.
However, this time around, Cano will be seeking a long-term deal like the likes of Alex Rodriguez.
This year, Cano has been making a name for himself by signing with Jay-Z's Roc Nation Sports.
In July, Cano released his first marketing deal since signing with Roc Nation as the star of Pepsi's national Major League Baseball campaign.
"This deal reflects how powerful Robinson's brand is," Roc Nation Sports spokesman Ron Berkowitz said. "His personality and performance and crossover appeal are all attractive to corporate partners."
"He represents the kind of athlete who is in the moment, has a great personality and connects with consumers," added Heidi Sandreuter, senior director of sports marketing for Pepsi.
Follow us on twitter.com/foxnewslatino
Like us at facebook.com/foxnewslatino