Yankees, Orioles, Nationals, & Cardinals Head to Game 5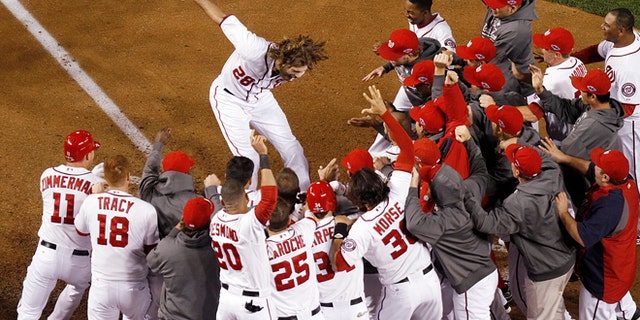 All four division series have gone to five games for the first time since the round began in 1995.
Orioles Beat Yankees 2-1 in Extras
Just maybe the Baltimore Orioles' remarkable run into October is not so improbable after all.
Seventeen wins in extra innings, 31 victories in one-run games. Staving off elimination from the postseason twice already.
They've done all that, and might not be done yet.
Bouncing back from a demoralizing defeat, the Orioles beat the New York Yankees 2-1 in, yep, 13 innings on J.J. Hardy's double in Game 4 of the division series Thursday night.
Now they get a chance to prove one more time that they're unflappable, in a winner-take-all Game 5 Friday.
"All these extra-inning games, all these close games. Obviously, it's fitting with the types of games we played all year," closer Jim Johnson said.
On Thursday they played past midnight, winning a test of wills with the high-priced Yankees for a chance at a spot in the AL championship series against Detroit.
Game 1 winner CC Sabathia was set to pitch the deciding game for the Yankees against Jason Hammel.
"It's time to go," Sabathia said. "This is a one-game playoff, and this is what we play for. We're here in the Bronx at home, and like I said, I'll be excited and ready to go."
The teams have already split 22 games this year, with New York outscoring Baltimore 103-101. And they have been tied or separated by one run going into the ninth inning of each of this series' four games.
With the innings and hours piling up, the Orioles were 0 for 8 with runners in scoring position until Hardy doubled off David Phelps with one out to score Manny Machado, who had doubled.
"There hasn't been a whole lot of opportunities to score runs," Hardy said, "so when there are those opportunities, I think we're trying a little bit too hard."
Phelps had relieved in the 12th after Joba Chamberlain was hit by a flying broken bat, forcing him to leave with a bruised right elbow.
Johnson returned from allowing Raul Ibanez's pinch-hit homer in the ninth inning Wednesday to earn his second save in the series with a perfect 13th.
"I don't take for granted at any time what these guys are accomplishing so far," Orioles manager Buck Showalter said. "They know that. I have so much respect for our guys."
Hours after learning Joe Girardi had kept quiet that his father died last Saturday, the Yankees couldn't rally late.
Nationals Beat Cardinals 2 - 1 in 9th
Hours before Jayson Werth's game-ending homer on a 13-pitch at-bat extended the Washington Nationals' surprising season, before a bullpen trio got eight consecutive outs via strikeouts, before Ian Desmond's acrobatic catch, a guy who isn't even on the playoff roster fired up a team facing elimination against the defending champs.
Mark DeRosa, a spare-part utility player who made his major league debut 14 years ago, grabbed the microphone of his clubhouse karaoke machine and quoted from Roosevelt's rousing 1910 "Man in the Arena" speech — aiming to make the Nationals think they could beat the St. Louis Cardinals and set up a Game 5 in their NL division series Friday night.
"Our backs were against the wall. I wanted to say something that brought us together, a band of brothers who go out fighting and see what happens," DeRosa explained.
Worked wonders, apparently.
"Epic," was closer Drew Storen's description. "It's the stuff movies are made of."
So was the scene in the bottom of the ninth inning in Game 4, when Washington beat St. Louis 2-1 to tie their NLDS.
Joyous, bouncing teammates waiting to greet him, the red-clad crowd raucous as can be, Werth yanked off his batting helmet with two hands and thrust it a dozen or more feet overhead before leaping onto home plate after his big hit.
A little less than two years ago, the Nationals showered Werth with millions, persuading him to come show them how to win. With one swing of his black bat at dusk Thursday, Werth wiped away whatever disappointments marred his early days in D.C.
Werth led off the bottom of the ninth inning against reliever Lance Lynn by fouling off pitch after pitch before sending the ball beyond the wall in left field, giving the Nationals a tense victory.
"That's the way that game should have ended: Jayson Werth hitting a home run," Nationals manager Davey Johnson said. "He has not hit that many this year. ... Unbelievable. Great effort on his part."
The best-of-five series will end Friday night in Washington, with the winner advancing to face the San Francisco Giants in the NL championship series. The starters are a rematch of Game 1, which Washington won 3-2: Gio Gonzalez on the mound for the NL East champion Nationals, and Adam Wainwright for the wild-card Cardinals.
"It's what you play all season for, and what you work out all winter for, and what you get to spring training early for," Werth said. "We have a chance tomorrow to take that next step. I know my teammates will be ready. And the city will, too."
The homer was Werth's first of the series, the 14th of his postseason career. He won the 2008 World Series and a string of division titles with the Philadelphia Phillies, then moved to Washington before last season as a free agent on a $126 million, seven-year contract that stunned much of baseball.
Reporting by the Associated Press.
Follow us on twitter.com/foxnewslatino
Like us at facebook.com/foxnewslatino