Worsham breaks another record en route to Seattle No. 1 in qualifying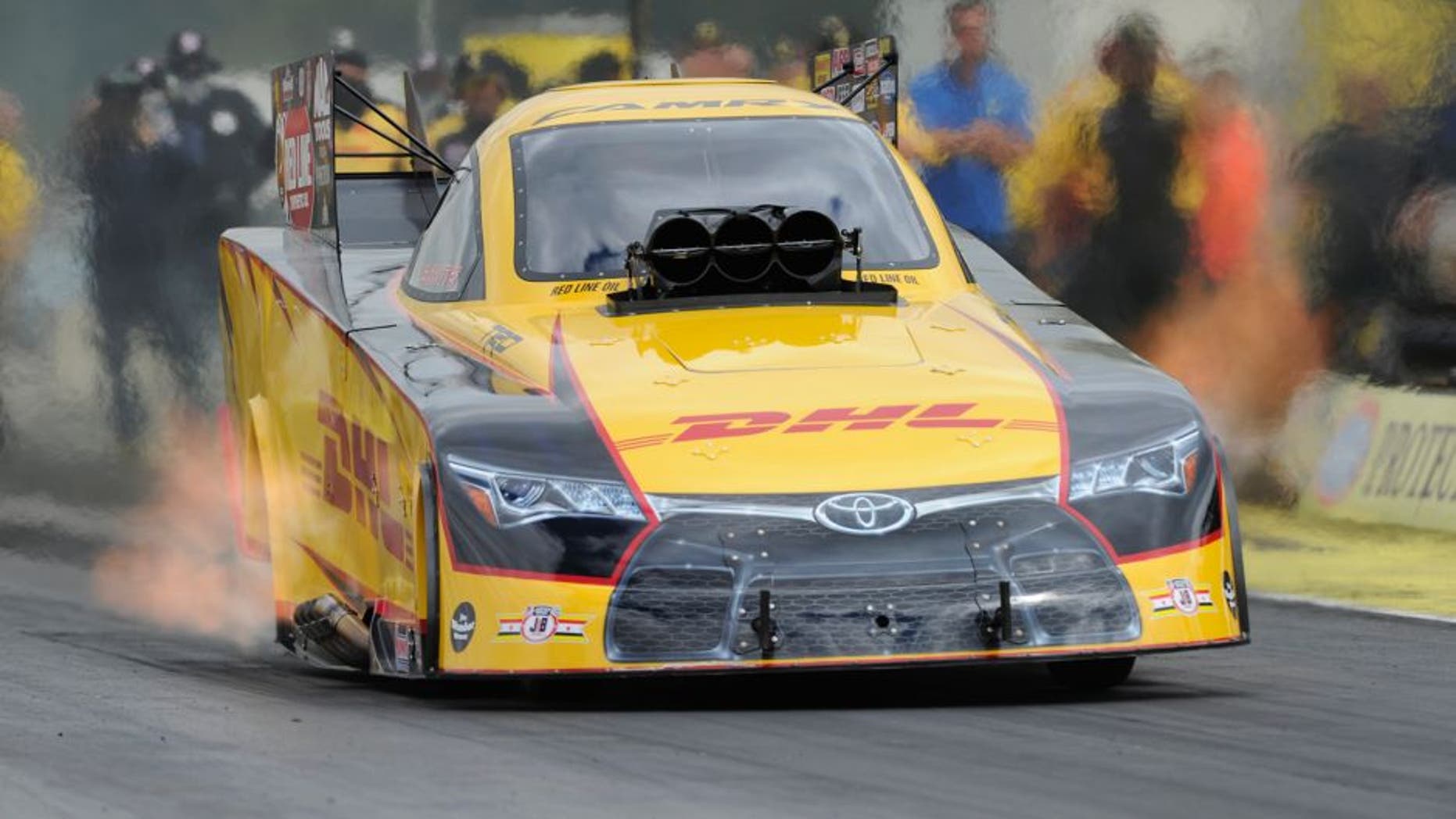 Records are made to be broken, just ask Funny Car racer Del Worsham.
During the final qualifying day for the Protect the Harvest NHRA Northwest Nationals, Worsham obliterated the previous mark to land atop the Funny Car qualified field. Joining the defending NHRA series champion atop their respective professional divisions were Tony Schumacher (Top Fuel) and Vincent Nobile (Pro Stock).
Worsham reset the NHRA Funny Car elapsed time national record with a 3.841-second pass at 330.15 mph during the Q-3 session. He closed the day with the quickest Funny Car pass in NHRA history with a 3.832 at 330.88 mph.
"We brought out a new Kalitta body at Denver, and it's just been on fire," said Worsham. "It's coming together at the right time for the DHL Toyota Camry. I never imagined this [running a 3.83-second time] 12 months ago.
"It's hard to say what's going to happen, but I'm pretty sure the fans are in for the race of their lives tomorrow, just like we are," he said.
Top Fuel racer Schumacher overtook Friday's quickest driver, Steve Torrence, to jump to the front of Dragster qualifying. Sunday will mark the 80th time the U.S. Army-sponsored driver has entered final eliminations as the No. 1 seed.
Schumacher's 3.686 ET at 323.58 mph will pair him with Ron Smith in Sunday's first round.
"It looks like the conditions tomorrow are going to be good and that's what worries me. We run really good when it's hot out, but we struggled on that Friday night run," Schumacher said. "I've been asking the guys for a long time, are we going to win a championship with this car? And that run right there just took a load off me. It shows that, no matter what, the car will run out and go in the 60s in the conditions. It's good to go out and win Dallas, win Charlotte, win some of the early stuff, but when we get to the end of the year when we are in Reading and Vegas and Pomona, and we've got to go real, real fast, can we do it. We showed we can tonight."
Nobile remained the pacesetter for Pro Stock, recording a 6.527 at 211.49 mph behind the wheel of his Mountain View Tire Chevy Camaro. He will begin eliminations with a first round bye.
Nobile has consistently been fast throughout the weekend, running in the top three in every session including topping two of the qualifying rounds.
"The weather got a little bit better, and the track got extremely good, so if we didn't improve our time, someone was definitely coming around us," Nobile said. "Bo (Butner) ended up number two, and he came really close. I actually know there was a little more in that run that we made today, which is definitely comforting. Being number one and knowing you can go a little bit faster is pretty cool."
Eliminations are set to begin at 11 a.m. PT on Sunday at Pacific Raceways.
***
Bobby Bennett is the Publisher/Editor of CompetitionPlus.com, a leading independent online drag racing magazine, since 1999. For the latest in dragster news worldwide, visit www.competitionplus.com or follow on Twitter @competitionplus