World Series: Nelson Cruz Validates Texas Rangers' Faith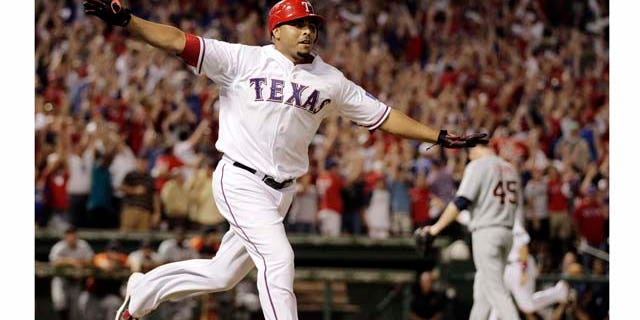 Amid all the celebration when Nelson Cruz hoisted his ALCS MVP trophy, perhaps few in the Texas Rangers' extended family were more elated than general manager Jon Daniels.
Before the Dominican outfielder's hard work culminated with the virtuoso performance against the Detroit Tigers in this year's playoffs, he was an oft-injured player whom certain people considered sending to Japan.
But the Rangers, and Daniels in particular, saw too much talent in Cruz. And it paid off big time.
"It speaks to Nelly, first and foremost. He didn't give up," Daniels told Fox News Latino over the phone. "He stuck with it and he got with some of our coaches and made some major adjustments. He had a closed stance, so he opened up his stance and it's made a world of difference in his production and his approach."
The late and bumpy road to stardom for Cruz, 31, had been filled with struggles and injuries at the big league level. In 2006, the Dominican right fielder was packaged in the deal that brought Carlos Lee from the Milwaukee Brewers for Francisco Cordero, Kevin Mench, Lance Nix and a minor leaguer three days before the trade deadline in July.
He stumbled out of the gate, however, hitting just .223 in 41 games. By June 3, 2007, he had dipped all the way to .188 and eventually demoted to Triple-A Oklahoma.
Something clicked there, though: he blasted 15 home runs, drove in 45 runs and hit .352 over a 44-game stretch. He earned a second chance at the big leagues late in July.
Unable to capitalize, Cruz hit .235 and was exposed to waivers. He had sunk so low that not one team claimed him.
So it was back to Oklahoma, where Cruz found life in his bat again; he knocked 37 homers and drove in 99 runs in 103 games there.
He had earned his way back to the majors, but now Cruz had to shake the dreaded 'quadruple-A' tag that sticks to players who excel in the minors but can't make the final hurdle to the majors.
Finally, Cruz made the transition: he smacked a .330 average, seven home runs, 26 RBIs, a .621 slugging percentage and a .421 on base percentage. He followed that up with a 2009 season in which he blasted 33 homers, 76 RBIs and hit .260, earning him a trip to the All-Star game.
In 2010, he kept up the good play by hitting .318, 22 HRs and 78 RBIs.
Daniels, who fought off suggestions to dump Cruz – including shipping him to Japan – is now seeing the fruition of his patience.
"Everyone talks how important it is to be patient," Daniels added. "[For] everyone, it comes at a different pace and obviously you can totally use the term 'late bloomer.' But bottom line is, regardless of when it happened, he's become a big piece of our club."
And then came this year's postseason. He tamed the Detroit Tigers, going 8 for 22 with six homers, two doubles and 13 RBIs after basically getting only one hit in 15 at-bats in the first round matchup against Tampa Bay. Cruz hit the first walk-off grand slam in playoff history in Game 2.
He now has hit six homers in two postseasons – the first player to do so. His 12 playoff homers are a Rangers' record.
So despite the numerous hamstring injuries that slowed him down and robbed him of more playing time in the last three regular seasons, including this one, the Rangers know how special he is when he's there every day with the starting nine.
Somewhere in the back of the minds of those who run Rangers is the fact that while Cruz is arbitration eligible again after this season and next, his big payday is around the corner.
Daniels is aware.
"We have talked about it in the past but not this season. We've have had some conversations in the past," he said. "It's something that we may revisit but right now we are putting contract talks on the side."
Perhaps it's Cruz's turn to be patient. But if he can continue his freakish October success – particularly against the St. Louis Cardinals in the World Series – the Rangers may be the ones rushing to get a deal done.
Adry Torres, who has covered MLB, NFL, NBA and NCAA basketball games and related events, is a regular contributor to Fox News Latino. He can be reached at elpiloto137@gmail.com or follow him on Twitter: @adrytorresnyc.
Follow us on twitter.com/foxnewslatino
Like us at facebook.com/foxnewslatino