World Cup 2014: Is Uruguay Getting Ejected From Tournament? Hardly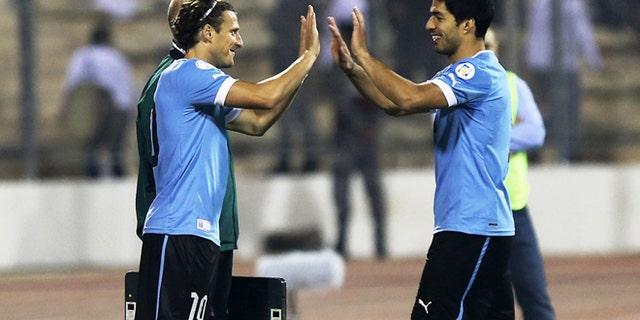 It's much ado about soccer in Uruguay, these days.
Police were called into Primera Division soccer matches at the request of the team owner after games turned violent because of rabid supporters of the country's top clubs.
But that wasn't the only team dealing with security issues. Last Wednesday, after Nacional lost to Argentina's Newell's Old Boys in a Libertadores Cup match, a melee broke out between fans and police that led to a handful of injuries and 40 arrests.
That prompted radical Uruguayan president Eduardo Mujica to say he'd had enough. He said he was upset by what he sees as the weak and contradictory messages about the violence that top clubs like Peñarol and Nacional have been sending to their fan bases.
On Thursday, he announced that the clubs would be required to provide their own security, which led to the cancellation of Uruguayan championship matches and, on Monday, the resignation of the entire executive committee of Uruguay's football association.
"The well-publicized acts that have occurred recently show the need for [the AUF board to take] a step to one side and allow other views to govern our football," read the resignation letter signed by AUF president, Sebastián Bauzá.
Websites for the leading newspapers, El País and El Obervador, hyperventilated over whether FIFA would determine that the resignations were tampering on the part of the government, suspend the AUF and rule the national team – with its big-name international stars Luis Suárez, Diego Forlán, and Edinson Cavani – ineligible for this summer's World Cup.
Tuesday morning, however, the panic seems to have passed. According to El Observador, FIFA officials hadn't even been notified of the crisis in Uruguayan soccer.
The Guardian in the U.K. quoted Eugenio Figueredo, the president of South American's regional soccer governing body, CONMEBOL, as saying, "The World Cup is already on top of us. Can you imagine a national association being suspended [now] for an internal or sports politics matter? FIFA is a bit more serious."
Besides, he added, "I have no proof the government played a part in Bauzá's exit."
Follow us on twitter.com/foxnewslatino
Like us at facebook.com/foxnewslatino