Women boxers get long-awaited Olympic chance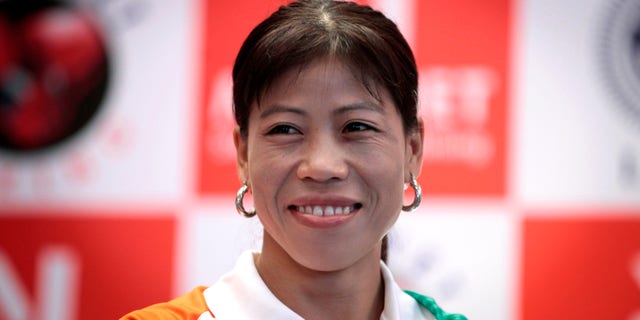 NEWYou can now listen to Fox News articles!
LONDON – The door to the last remaining boys club in the Summer Olympics finally opens in London.
Three dozen women are about to punch it into smithereens.
Women's boxing is an Olympic sport for the first time, with 36 fighters in three weight classes competing to make history with its first medals. A sport long derided as a sideshow by elitists has been hotly competitive for several years, and the debut Olympic tournament is expected to bring worldwide attention and cachet to boxing, which has slipped into secondary status after decades as a main Olympic event.
Boxing joined the Olympic program in St. Louis in 1904, but was the only Summer Games sport without a female analogue until 2009, when the IOC added a women's competition to the London program. Supporters had argued for the addition for several years.
New worlds suddenly opened for athletes like Katie Taylor, the lightweight world champion who also plays on Ireland's national soccer team, and Queen Underwood, the five-time American champion who took up boxing nearly a decade ago with no illusions of Olympic glory or financial rewards.
Underwood and Taylor simply boxed for the love of their sport -- but now they're Olympians.
"This whole process has been a dream come true," said Underwood, who didn't secure an Olympic berth until five weeks before the start of the London Games. "So many women have worked so hard to get us here, and now we just want to go out and put on a great show for everybody, and show we deserve to be right next to the men at the Olympics."
With a relatively small field compared to the 250 fighters in 10 weight classes in the sprawling men's competition, the women's tournament doesn't begin until the Games' second Sunday and lasts only five days.
The rest of the 16 Olympic days and nights at ExCeL Exhibition Centre will be filled with the men's competition, which also is at a key point in its evolution.
The London Games will be the final major international event featuring headguards and the amateur game's computerized scoring system, which receives nearly as much criticism as the incompetent and sometimes corrupt judging that forced its invention 20 years ago. The system has been tweaked in recent months to improve its accuracy, but don't be surprised if fighters complain relentlessly about unfair decisions, a dismaying common event at every level of the amateur game.
Wu Ching-kuo, the influential President of the International Boxing Association (AIBA), is moving the sport back to pro-style judging and removing the debatably useful headgear in his attempt to move amateur boxing closer to the pro model. He hopes to attract better athletes to the sport while also fostering talent for his innovative pro-amateur hybrid programs, including the World Series of Boxing.
For one last tournament, the boxers will be judged on the total number of punches landed, sometimes turning matches into elaborate slap fights. Amateur fights sometimes become tests of pure reflexes rather than punching power under the computer scoring system that baffles pro trainers, including U.S. team consultant Freddie Roach. Yet the best young fighters can adapt their styles to the amateur game, just as Andre Ward did in 2004 in Athens to win the Americans' only gold medal in the previous three Olympics.
But one returning fighter has the talent to star under any conditions.
Ukraine's Vasyl Lomachenko was the breakout star of the Beijing Games, dominating all five of his fights with style and grace on the way to the featherweight gold medal and the Val Barker Trophy as the Olympics' best boxer. After resisting the temptation to turn pro, Lomachenko is back in London as a lightweight.
His first-round victory over Albert Selimov in Beijing was arguably the fight of the tournament, punctuated by Lomachenko's confident come-at-me gesture while picking apart the Russian world champion. Lomachenko has won two world championships since Beijing, but didn't dominate those tournaments with the flair and style he showed four years ago.
"He's a great fighter, but there's a lot of talent all throughout our division," said Jose Ramirez, the American lightweight who nearly beat Lomachenko at the world championships last October. "Anybody is going to have to win a lot of tough fights to get that gold medal."
Lomachenko will be joined by several Ukrainian medal hopefuls on a particularly strong team, including welterweight Taras Shelestyuk and middleweight Evhen Khytrov.
The rest of the Olympic field is dotted with elite talent and returning medal-winners, including Chinese light flyweight Zou Shiming, who became a national hero when he won the host nation's first Olympic boxing gold in Beijing. Cuba and Russia are the sport's traditional powers, particularly in recent decades, and both are expected to field competitive teams, although both nations disappointed in Beijing.
The Americans, frequent underachievers after years as a dominant power, sent a surprisingly large team to London, getting nine men and three women into the field. They're led by Rau'shee Warren, the Cincinnati flyweight who will become the first three-time Olympian in boxing in U.S. history.
Warren has lost each of his two Olympic fights, but stayed in the amateur ranks to chase the goal of putting a gold medal around his mother's neck.
"I'm going for an Olympic dream, but that's what everybody is doing," Warren said. "It's going to be the toughest thing I've ever done, but I waited for it."