Wolves' Towns trolls teammate over Kentucky win -- and gets burned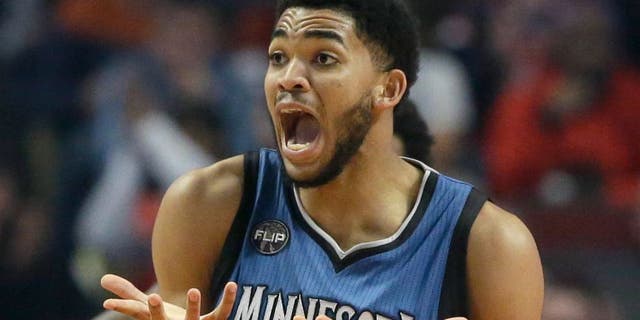 A big day in sports on Saturday included a clash of titans in the college basketball world, as Kentucky knocked off Louisville 75-73 in the Battle of the Bluegrass. Since both schools are such powerhouses, they've each sent their fair share of players to the next level: There are currently 18 players who attended Kentucky and eight former Cardinals in the NBA (via Basketball-Reference).
With those numbers, it's not surprising that players from either side of the rivalry might end up on the same team. Such is the case with the Minnesota Timberwolves and big men Karl-Anthony Towns and Gorgui Dieng. Towns, as most will recall, was a Wildcat last year before going No. 1 overall in the 2015 draft to Minnesota. Dieng, on the other hand, played three years for Louisville, including the 2012-13 season.
If you don't recall off the top of your head, that team won a national title. And when Towns tried to troll Dieng about Saturday's outcome, the "veteran" was quick to remind the rookie of that fact:
Towns salvaged the exchange to some extent with his response:
But we have to give this bout to Dieng, who averaged 9.8 points and 9.4 rebounds per game during the 2012-13 season. "Count the rings" is a really difficult counterargument to overcome.