Wolves have slim shot at top-3 pick in NBA Draft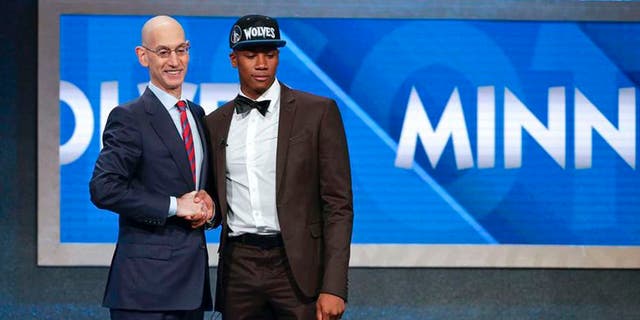 The NBA Draft Lottery is almost here, and star forward Andrew Wiggins will be on hand to represent the Minnesota Timberwolves.
Minnesota currently sits at No. 6 with a slim chance to move up after finishing the season 31-51.
The Wolves have an 18.3 percent chance to jump into the top three (that's not too bad!) and a 5.3 percent chance at the top pick (that is!).
And while the actual math (which is to say, the only part that actually matters) definitely isn't on their side, history isn't either.
In 20 opportunities to move up since 1990 the Wolves have never done it.
They've become pretty adept at moving back, however, and have done it 10 times over that span.
Through no fault of their own the Wolves fell from first to second in 2011, second to fourth in 2010 and fourth to fifth in 2009, missing out on players like Kyrie Irving and Evan Turner in the process.
Instead, those picks became Derrick Williams, Wesley Johnson and Jonny Flynn.
They have a non-zero shot a doing it again this year, and could fall as far as the No. 9 spot.
Still, this weird streak has produced at least one success story.
Would the Wolves have taken a chance on high school superstar Kevin Garnett at No. 3 rather than No. 5, or would they have gone with a more proven commodity like Rasheed Wallace or Jerry Stackhouse?
Statistics via NBA.com and RealGM.com