Wizards dominate Celtics, even series at 2-2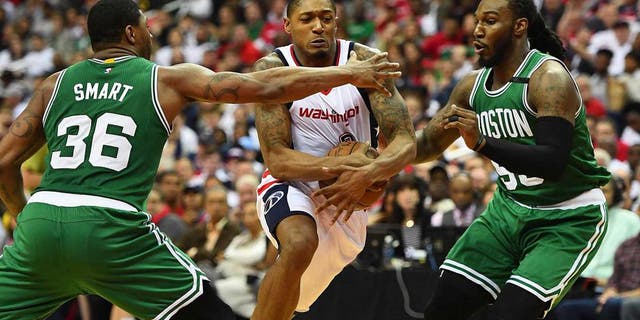 WASHINGTON (AP) -- It wasn't enough for the Washington Wizards to force turnover after another and make baskets every time down the floor to take a lead over the Boston Celtics.
They wanted to blow them out.
The Wizards did just that in a 121-102 rout in Game 5 on Sunday night thanks to a 26-0 third-quarter run that featured big-time contributions from John Wall, Bradley Beal, Markieff Morris and Otto Porter.
That six-minute stretch busted the game open and Washington tied the second-round series at two games apiece. Game 5 is Wednesday night in Boston.
"We're capable of those type of runs every game," said Morris, who finished with 16 points and 10 rebounds. "Keep pressing them, go up 50 if we can. That's the mindset I felt like all of us had."
Washington never led by 50, but after trailing 53-48 early in the third it was 74-53 by the time Porter made a layup with 5 minutes left in the quarter. Wall had seven of his 27 points and three of his 12 assists during the run as the Celtics committed eight turnovers -- including back-to-back shot-clock violations -- and went 0 for 5.
Coach Scott Brooks called it the Wizards' best stretch this season, crediting defense for making it all happen.
"It is our defense," said Beal, who had a game-high 29 points. "That's why we're able to get out in transition and get open shots, get open layups. We were just having fun."
It wasn't so fun for the Celtics, who couldn't get Isaiah Thomas going after he opened with five consecutive 3-pointers and 17 points in the first 15 minutes and finished with 19. Thomas was mad that referees allowed the Wizards to get away with holding and grabbing him but acknowledged the 26-0 run -- not the officiating -- decided the game.
From Boston's perspective it wasn't pretty, even as coach Brad Stevens credited the Wizards, who have 26-0, 22-0 and 16-0 runs in this series.
"If you turn the ball over against these guys, you'd prefer to drop kick it into the stands so that at least you can set your defense," Stevens said. "Their attack in transition killed us."
Beal, who was 11 of 16 from the floor, said the conversation at halftime revolved around knowing the defense wasn't up to Washington's standards.
"Were able to force a lot of turnovers," Beal said. "We're one of the best teams in the league at converting off turnovers."
Thanks to 34 points off turnovers, the series is even with the Cleveland Cavaliers waiting in the Eastern Conference final after finishing off a sweep of the Toronto Raptors on Sunday. Being a shot away from splitting in Boston gives the Wizards confidence they can win there.
"We feel like we're in control," Wall said. "We feel like we can win there, we know we can. We've just got to do a better job of taking those leads we get and just playing smart basketball down the stretch."
TICKED OFF THOMAS
Thomas, who missed five of his final six shots, was ticked off that he didn't attempt a single free throw despite taking a lot of contact . He wants more foul calls as the series continues.
"It's got to be called differently," Thomas said. "I can't be allowed to be held and grabbed every pin-down, every screen and I don't even shoot one free throw."
WALL STALL, STAR
Wall missed his first nine shots from the floor and made eight of his final 14. He said he knew he had to be aggressive, and Brooks was never worried about the All-Star guard losing his confidence or passing up good looks.
"He focuses on the next play, he made a big 3 and it kind of got him going and our defensive activity got us going," Brooks said. "He ended up having a really, really great game of leading our team defensively, offensively."
TIP-INS
Celtics: It's the first time in Thomas' playoff career that he has fallen short of 20 points in consecutive games. … Kelly Olynyk was booed every time he touched the ball after his illegal screen preceded Kelly Oubre Jr.'s charge and shove in Game 3 that got him suspended. Fans chanted "Kelly Oubre!" on a few occasions as Olynyk finished 5 of 9 for 14 points. … Back in the starting lineup, Amir Johnson had the first five points of the third quarter for Boston before the Wizards' run.
Wizards: Improved to 5-0 at home in the playoffs. … Had 21 points off turnovers in the third quarter alone. … Porter had 18 points. … Wall has 20-plus points and seven-plus assists in 10 consecutive playoff games, the most in a single postseason in NBA history ahead of Michael Jordan's eight.