With Washington bowl eligible, Chris Petersen prepares to coach in his first Apple Cup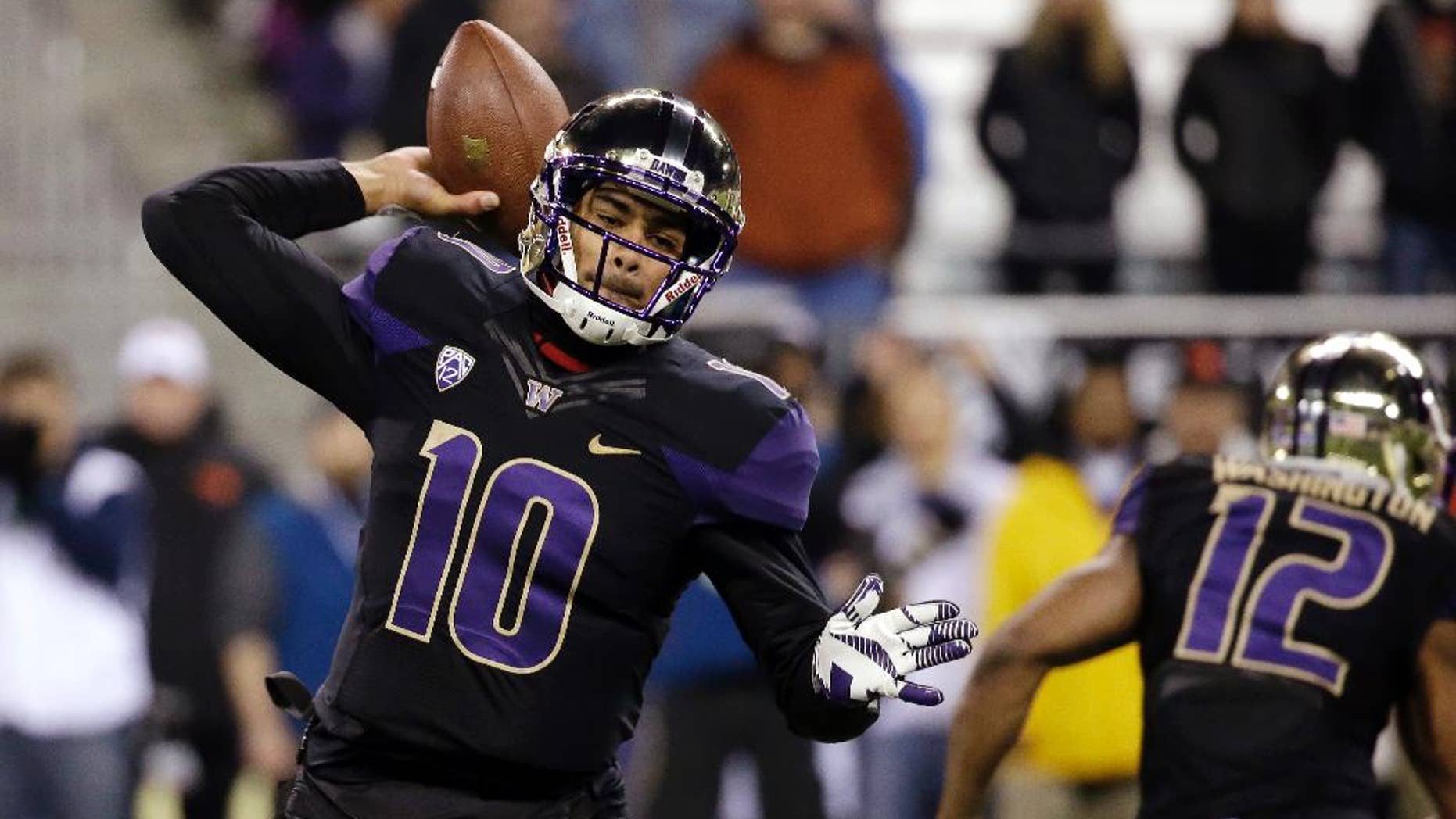 SEATTLE – Washington coach Chris Petersen had barely sat down Monday when he started getting peppered with questions about coaching in his first Apple Cup.
Petersen at least wanted a moment to recognize what the Huskies accomplished over the weekend, becoming bowl eligible and taking some of the stress out of his first matchup with Washington State.
"Does anyone not have any questions on the (Oregon State) game? We finally do something good and we're moving right on to the next game?" Petersen said, drawing laughs.
Washington's 37-13 win over Oregon State last Saturday gave the Huskies (7-5, 3-5 Pac-12) their seventh victory and likely ensured the Huskies will have one more game no matter the outcome of Saturday night's matchup with the Cougars.
It was Washington's most complete effort of the conference season. The Huskies got an efficient performance from quarterback Cyler Miles, another 100-yard game from running back Dwayne Washington and a defensive effort that stymied Oregon State.
But outside of Petersen, most of the Huskies were already putting the win over Oregon State in the past and looking ahead to the showdown in Pullman. Washington has lost two of the last three Apple Cups played in Pullman, including a 31-28 overtime loss in 2012 when the Cougars rallied from 18 points down in the fourth quarter to force the extra session.
"It's always the biggest game of the year for them and for us. We're going to get their best shot every year and they always seem to come out and fight hard," Washington defensive lineman Evan Hudson said. "Coming out with a 'W' is a nice ending to the regular season ... and that's what both teams want. We're going to go after it."
Petersen's indoctrination to the Apple Cup started the day he was hired last December. He was an observer of the rivalry from afar so Petersen said he wasn't completely uneducated about what the Apple Cup means when he took over.
He likened the importance of the game to when he became the head coach at Boise State and the No. 1 task then was making sure the Broncos beat Idaho each season.
For the record, Petersen was undefeated against the Vandals.
"I think in so many ways, too, so much of that's for the fans. That's what I've kind of always experienced in these rivalry games. The fans are the ones that are so intense about this," Petersen said. "We're intense about the game anyway. So to say, 'OK, now we've got to really play extra hard.' I mean, really? Harder than we wanted to play last week? But I do think they're fun."
Petersen has never faced Washington State as a head coach, but this won't be his first trip to Pullman. Petersen was the wide receivers coach at Oregon between 1995 and 2000 and was an assistant against the Cougars in Pullman three times.
He said there hasn't been any discussion yet of past issues with crowds in Pullman. After the game in 2012, Washington tight end Austin Seferian-Jenkins was hit by a fan rushing the field after the game.
"We haven't talked a whole lot about that," Petersen said. "The only thing we can do is control what we can control. Hopefully, there aren't too many snowballs they can throw."