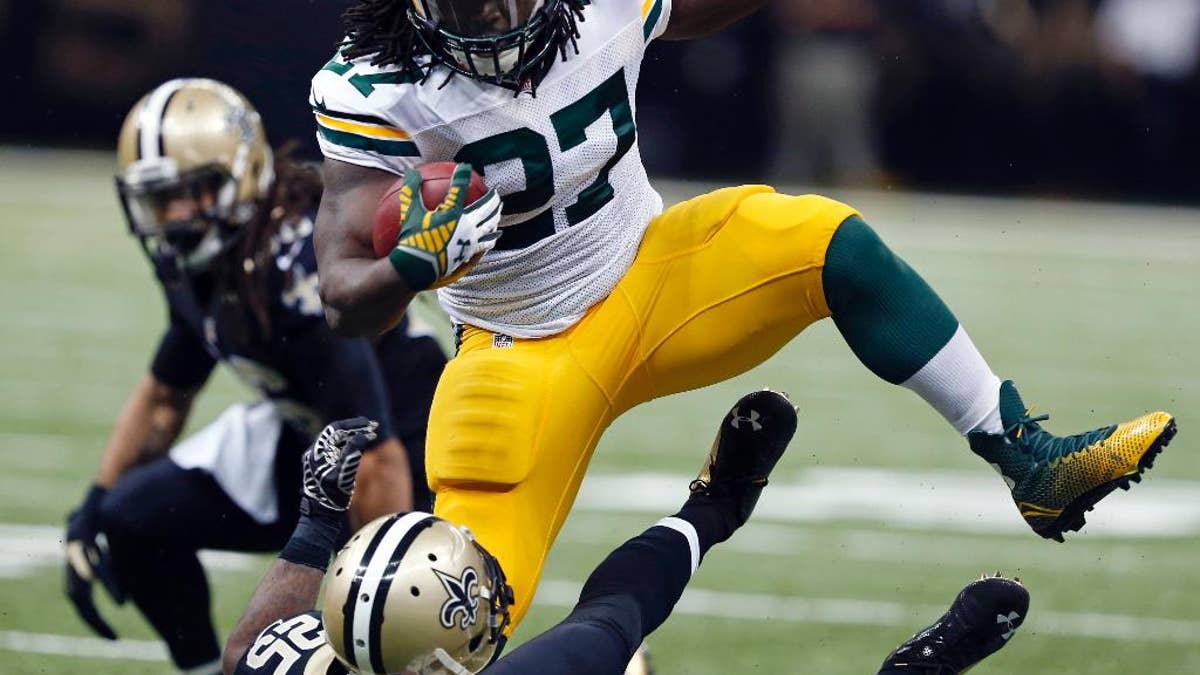 EDEN PRAIRIE, Minn. – The Minnesota Vikings have thrown seven touchdown passes this season.
Aaron Rodgers had six by halftime a few games ago for Green Bay.
That's the disparity these days between the NFC North rivals. Rodgers and the Packers have reached a level that most offenses in the league could never attain as they're currently supplied, structured and coached.
"We've been hitting our stride obviously the last couple weeks," Rodgers said. "But it's getting cold now, and we're going to have to have more balance moving forward if we're wanting to make the kind of run we're hoping to make."
Nit-picking, sure, but the weather could be more of a factor for them down the stretch. Traveling to Minnesota in late November used to mean a noisy disadvantage for the Packers at the Metrodome, but for two years the Vikings have become an outdoor northern team just like their familiar opponent across the border.
The forecast for Sunday isn't all that wintry with a high temperature predicted above 40 degrees, so Rodgers probably won't have much trouble rolling to his right and zipping those passes down the field to Randall Cobb and Jordy Nelson.
The Packers (7-3), though, have averaged 32.8 pass attempts compared to 25.1 running plays per game, the uneven ratio Rodgers was referring to.
Coach Mike McCarthy, for his part, wasn't worried about the disproportion.
"At the end of the day, it's about scoring points," he said.
That's a minor issue the Vikings wouldn't mind dealing with. Though they've turned the ball over only once in the past three games, they've been unable to generate any kind of deep passing attack behind rookie quarterback Teddy Bridgewater. Rodgers already has five completions of 65 yards or more. Bridgewater's two longest are 52 and 41, his only connections of 40-plus.
"I just need to let loose and play football. When I watch Aaron Rodgers play, he's just out there spinning it," Bridgewater said this week. "If he throws an incompletion or a bad pass, he forgets it and moves on to the next play. It's all about having short-term memory. That's something I'm continuing to work on."
The Vikings have been vastly improved on defense this season under coach Mike Zimmer, but they were vulnerable again last week in a 21-13 loss at Chicago.
Jay Cutler passed for 330 yards, by far the most they've allowed all year. Not a good time to be facing Green Bay, considering the 108 points the Packers have totaled the past two games.
"We have a ton of respect for these guys, but at the same time we can't crown them," safety Harrison Smith said. "We're going to go out and try to win."
Here are some key points to know about the 109th edition of the Packers-Vikings game:
DIVISIONAL DOMINANCE: McCarthy is 13-4-1 against Minnesota since taking the job in 2006, including 8-1-1 in the past 10 matchups. Rodgers has 30 touchdown passes and only four interceptions in 13 games facing the Vikings, and his 118.5 passer rating is the highest by any opposing quarterback against Minnesota.
REMEMBER ME? The leading pass catcher last week for the Vikings was none other than Charles Johnson, with six for 87 yards. He was signed off Cleveland's practice squad on Sept. 20 after troubled wide receiver Jerome Simpson was released.
Johnson's first appearance was on Oct. 2 against the Packers, who drafted him in the seventh round out of NCAA Division II Grand Valley State last year. Johnson was signed that season off the practice squad by the Browns, who then discovered he needed reconstructive knee surgery for a torn anterior cruciate ligament.
Healthy now, Johnson was eager this week to face his original team. He believed at the time he could blossom into Green Bay's next standout among many at that position over the years.
"I knew my ability, and I just want to be great and I'm willing to work to be great," Johnson said.
NEVER SATISFIED: The Packers have been so dominant this month that questions have come up about possibly peaking too early, but players sharply dismissed the notion of complacency. Their halftime scores the past two weeks? 30-6 and 42-0.
"You want to keep that going," left guard Josh Sitton said. "It's just the competitive drive that we have."
QUIET JENNINGS: Greg Jennings leads the Vikings with 463 yards receiving, but in three games facing his old team he's hardly been a factor. Against the Packers, Jennings has a total of five catches for 69 yards and no scores. He has been targeted 12 times.
DEFENSIVE PRODUCTION: The defense has been just as active the past two games for the Packers. They have seven sacks, seven forced turnovers and three touchdowns. They lead the NFL with a plus-22 turnover margin.
___
AP NFL websites: http://www.pro32.ap.org and http://www.twitter.com/AP_NFL