With Gwynn's No. 19 on field and in stands, Padres cap somber day with 5-1 loss to Mariners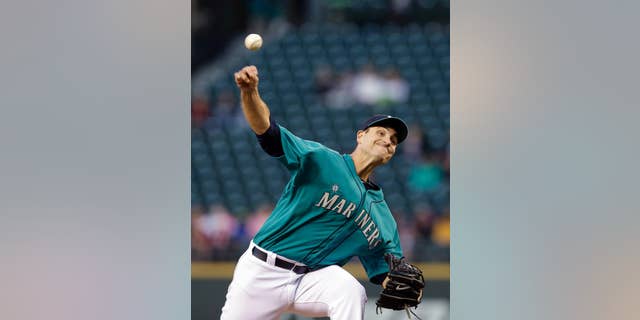 SEATTLE – In the dugout, in the stands and on the field, No. 19 was prominently displayed. Even though they were in Seattle, the Padres felt the support from all of baseball after the death of San Diego Hall of Famer Tony Gwynn at 54.
"Even though we're away from San Diego, I think the Mariners did a good job of putting Tony out there," San Diego manager Bud Black said.
The somber day for the Padres organization was capped by a 5-1 loss to the Mariners on Monday night.
Kyle Seager hit a three-run homer in the first inning, Brad Miller added a solo shot, and Seattle's Chris Young threw six shutout innings against his former team. San Diego lost for the eighth time in 10 games and has been held to one run or less 22 times this season.
That all mattered little to the organization after Gwynn died Monday morning of oral cancer, a disease he attributed to years of chewing tobacco.
Young, who was excited by the prospect of facing his former team, was emotional after one of his best performances of the season, talking about what Gwynn meant to him personally and to the city of San Diego.
"He is the city of San Diego. You talk Padres baseball, Tony Gwynn is everything there," Young said.
Gwynn was on everyone's mind at Safeco Field. Seattle honored Gwynn with a video tribute and a moment of silence before the game and put a '19' on the dirt in the hole between the shortstop and third baseman. Gwynn called that the "5.5 hole" and many of his 3,141 hits went through it.
San Diego added black armbands to its uniform in honor of Gwynn, and his No. 19 jersey hung in the Padres dugout. His jersey also was scattered among fans in attendance.
"It's always tough when something like this happens, but players play," Black said.
Young was once an All-Star for the Padres and has become a valuable acquisition since joining Seattle at the end of spring training. After losing his last two starts, Young gave up two hits in the first inning and then cruised. He retired 16 of the final 19 batters he faced, giving up a pair of singles and issuing one walk. He matched his season high with six strikeouts.
Joe Beimel, who gave up the final home run in Gwynn's career, pitched one inning of relief for Seattle. Tom Wilhelmsen then got the final six outs, but couldn't complete the shutout giving up Carlos Quentin's third homer of the season in the ninth inning.
"We really just couldn't square up on his fastball," Black said of Young. "When a guy has been around a while there aren't a lot of secrets but he made his pitches."
Seager's homer came on a 3-0 pitch from San Diego starter Tyson Ross (6-6). Coming off a 4-for-4 performance on Sunday, Seager was given the green light and hit his 10th homer of the season. Miller followed with a solo homer an inning later.
Robinson Cano added an RBI double as Seattle scored all five runs in the first two innings.
Ross had allowed only one homer in his previous six starts, but struggled all night. He walked a career-high seven and at least one in every inning. Ross pitched into the sixth inning and helped save the Padres bullpen.
"My command wasn't very sharp tonight," Ross said. "I kind of grinded through some innings there and overall just wasn't in the strike zone early and often enough."
NOTES: Young now has faced all 30 teams in the majors. ... Seattle hopes to send injured 1B Justin Smoak (quad) out on a rehab assignment Wednesday. Corey Hart (hamstring) and Michael Saunders (shoulder) could join Smoak on rehab assignments by the end of the week. ... In 11 career games against Seattle, Gwynn hit .261 (12 for 46) with three doubles and four RBIs.