Wings pleased with response against Hawks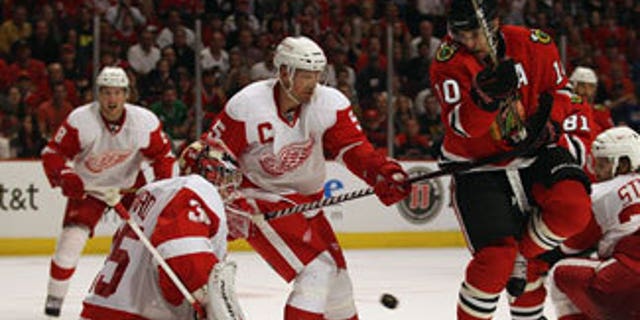 CHICAGO – It wasn't so much about putting the rival Chicago Blackhawks on the brink of missing the playoffs as it was about pride for the Detroit Red Wings.
That's what meant the most to Detroit after Sunday's 4-3 victory against the defending Stanley Cup champions in front of 22,046 at the United Center – a repayment in kind for the 4-2 victory the Hawks handed the Wings on Friday night at Joe Louis Arena.
Chicago had also won four straight against the Red Wings after Detroit spoiled the Hawks' home opener this season – in which Chicago raised its fourth Cup banner before the game.
"They outplayed us totally on Friday in our rink," said Red Wings forward Danny Cleary, whose third-period goal put Detroit up 4-2 with more than half the period left. "It was embarrassing for us at home. Another boo fest. It (wasn't) so much about us giving 120 percent because we don't want Chicago to make it. I thought we really needed to come out and play a good game for ourselves and get ready (for the playoffs) and realize that we do have a good team and when we play the right way we can win."
Mission accomplished.
The fact the Blackhawks may now miss the playoffs the year after winning the Stanley Cup is just a little side bonus for Detroit – which will face Phoenix in a rematch of a first-round series the Wings won last season in seven games.
"Yeah maybe … maybe a little bit," Red Wings defenseman Brad Stuart said, when asked if there was any satisfaction at all in knowing the Hawks were put into a tough spot with the loss. "It is (a rivalry). It's just kind of a tiny part of our motivation. We did our part and I guess the rest is up to the Dallas Stars as to whether or not they're going to get in."
A larger issue was just playing better before the postseason gets going. Before Friday's loss to the Hawks at home, the Red Wings had also lost 3-0 on the road against the Carolina Hurricanes. Detroit goalie Jimmy Howard started and took the loss in both of those games, so he was relieved to see his team get back to winning in the last game of the regular season.
Howard faced 36 shots and made several huge saves spread across all three periods to aid in the win.
"The game in Carolina and then the other night, those aren't good games for us," Howard told NHL.com. "We were there, yeah, but we were probably only there in spirit. We came in here and we were focused. We didn't care about the playoffs for them and everything like that. They threw everything at us there in the third and we withstood that. That's very reassuring for us going into the playoffs."
Likewise, captain Niklas Lidstrom was much more pleased with Sunday's effort than what he'd seen from the Red Wings in several poor performances down the stretch. Lidstrom seemed genuinely concerned about Detroit's propensity for sloppy play in its own zone of late, but on Sunday that wasn't too much of an issue.
"They'd beaten us in four straight games and we wanted to finish the regular season right with a win and play well leading into the playoffs," Lidstrom told NHL.com "We played a lot better game. We didn't open ourselves up defensively. They did come out of the gates flying and they had some good chances early on, but we kept our composure."
It showed after Michael Frolik put Chicago on top 1-0 early in the second period with his first goal in 16 games. Just 1:38 later Tomas Holmstrom tied it 1-1 with his 18th goal. Holmstrom pounced on a loose puck that caromed off the boards following a failed centering pass by Viktor Stalberg and beat Chicago rookie goalie Corey Crawford from the left faceoff circle.
Pavel Datsyuk gave the Red Wings a 2-1 lead just 1:02 later despite missing a glove that was knocked off by Bryan Bickell and Detroit never trailed again. Drew Miller made it 3-1 early in the third, Cleary's 26th goal made it 4-2 at the 8:11 mark and after Duncan Keith made it 4-3, it was up to Howard and the defense to close out the win.
"That's the key (phrase): constantly having it turned on," Cleary said. "I wish that I had an answer, but it seems like when we've been called out or have to respond, we seem to be able to do that. There's been a lot of games here the last little while that we haven't really matched other teams' intensity or their will to win. I thought we did that today and it's proof that we're a good team."
All that's left now is proving that in the playoffs, starting with the Coyotes – a team Detroit is quite familiar with after last season's first-round tussle. Phoenix might not have the star power the Red Wings have, but they are disciplined, hard-working and will be intent on spoiling Detroit's season this time.
The Red Wings went 2-1-1 against the Coyotes this season, but the one that still sticks with them is a 5-4 shootout loss in Phoenix on Mar. 5 – a game in which Detroit coughed up a three-goal lead.
"Don't let them fool you," Howard told NHL.com. "They're a good club. Just because they don't get the (media) coverage that some teams get in the Western Conference, they've been sort of flying under the radar. They've played us tough all year and we're going to have to find a way to win a best of seven. I'm sure they're going to want revenge for last year, too."
As for this game?
Well, Detroit got some revenge of its own – even if it really wasn't at the top of its to-do list.
"What it means is that we needed a win," Detroit coach Mike Babcock said. "Now, is it nice to beat 'em? Absolutely. Crawford had beaten us every game for four games (and) last game we were out of the game so far, so fast it wasn't even a hockey game. So, you want your team to respond. I thought they did."