WIDE WRITE: Stick With the Colts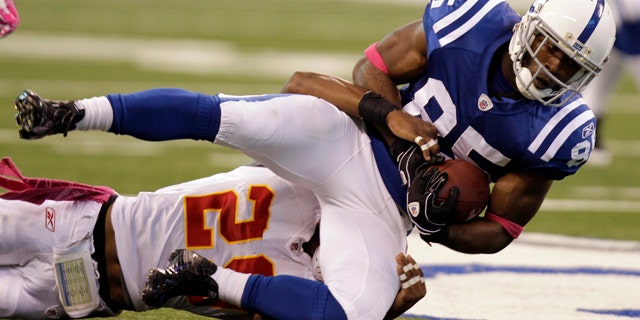 Do you own Cowboys QB Tony Romo, who's done for the season (or close to it) with a fractured clavicle? If so, we're here to help you find a replacement.
Detroit's Matthew Stafford (owned in 42.1 percent of FoxSports.com leagues) could explode in the second half of the season, and is our favorite option among the widely available quarterbacks.
Tampa Bay's gargantuan Josh Freeman (41.8 percent owned) can be a steady, if unspectacular, option.
Buffalo's deep-throwing Ryan Fitzpatrick (13.5 percent owned) has been playing very well lately, but he went to Harvard, and when's the last time you saw a season full of big stats from an Ivy League quarterback, or a Bills' quarterback for that matter?
Finally, Romo's real-life replacement, Jon Kitna (0.8 percent owned) has enough weapons at his disposal in Dallas to make himself useful to fantasy owners. We've got one more guy in mind, but you'll need to read further to discover his identity.
As noted previously, each position below will have a list of weekly "must starts" to go along with the usual recommendations. They're players that warrant "no-think" fantasy status due to talent, workloads or both, regardless of opponent. The lists are subject to change, but additions and deletions will be made sparingly. Also, if a player is ever "removed until further notice," it doesn't mean you need to bench him; it just indicates that his status has become a week-to-week proposition that depends on the rest of your roster.
If you disagree with any of the selections, or want to offer some of your own, please post a comment at the bottom of the page. We'll be here every Thursday until the end of your fantasy season.
Week 8 byes: Falcons, Ravens, Bears, Browns, Giants, Eagles
Quarterbacks
Must starts (5): Aaron Rodgers, Drew Brees, Peyton Manning, Tom Brady, Philip Rivers
Almost there: Ben Roethlisberger
Removed due to injury Romo, who is expected to miss approximately eight weeks due to a fractured clavicle. Unless you have a really deep bench, you can cut Romo now.
Start him: Jon Kitna, Cowboys, and Matthew Stafford, Lions
Kitna isn't just a free-agent target – he's a great start this week against the 27th-ranked Jaguars' pass defense, which has allowed the most touchdown passes (16) and 20-plus yard pass plays (28) in the NFL. Kitna had an up-and-down outing against the Giants after Romo got hurt on Monday night, but with Miles Austin, Jason Witten, Felix Jones and the emerging Dez Bryant on hand to help him out, he'll have to be really bad to put up subpar fantasy numbers.
Our Stafford crush was mentioned above, and he'll return this week to face the 31st-ranked Redskins' pass defense after missing five games with a shoulder injury. Did you know that the Lions lead the league with 43.2 pass attempts per game? Stafford is pretty good, and he's going to air it out, starting now.
Sit him: Kyle Orton, Broncos
With Romo out, Brett Favre iffy due to a broken ankle (!!!) and six quarterbacks on byes, it's tough to bench a borderline quarterback this week. With that said, Orton is starting to worry us. After a scorching start to the season, Orton has averaged 203 yards passing over his last two games, with a horrendous completion rate of 41 percent. The return from injury of RB Knowshon Moreno has the Broncos throwing the ball a little less than before, and Tim Tebow's six carries as a wildcat QB in Week 7 – including a goal-line TD – adds another complication for Orton's fantasy owners.
We're not giving up on Orton just yet, but if you have a good alternative on your roster, sit him down for a week to see if we're in the midst of a trend or just a couple of fluke games. Besides, the Broncos play the 49ers in London this week. How is Orton supposed to see his receivers through all that fog?
Pick him up: Tarvaris Jackson, Vikings
Here's the wildcard. We've heard all the Favre stuff before. He's indestructible, he's started eight billion consecutive NFL games, blah, blah, blah. He's 41 years old, and his ankle is broken! Favre might drag himself out there this week like the Terminator, but at some point he's likely to break down. When he does, Jackson will get the call.
The 27-year-old Jackson has certainly had some shakiness in his past, and his inconsistency as a starter is what caused the Vikings to sign Favre in the first place. However, there are two reasons to like Jackson's chances to be a productive fantasy QB. First, he's a good runner, so he'll probably pick up a couple extra points per game on the ground, and maybe score some touchdowns. Secondly, he'll be throwing the ball to Randy Moss, Percy Harvin and – hopefully in a few more weeks – Sidney Rice. The Vikings are loaded with explosive skill position players, and any quarterback could benefit from that. Is there a chance Jackson will fall on his face, or not play much at all? Absolutely. But if you're looking for a backup with late-season upside, take the risk anyway.
Running backs
Must starts (8): Chris Johnson, Adrian Peterson, Maurice Jones-Drew, Frank Gore, Steven Jackson, Rashard Mendenhall, Cedric Benson, Arian Foster (Note: Michael Turner, Ray Rice, LeSean McCoy, Peyton Hillis and Ahmad Bradshaw merit inclusion in this space, but they all have byes in Week 8.)
Almost there: Ryan Torain
Injury watch: Jackson had surgery on his left ring finger on Monday, but he thinks he'll play this week. Start the Rams star if he's active.
Start him: Beanie Wells, Cardinals
A near-perfect storm has developed for Wells. Backfield committee mate Tim Hightower lost another fumble in Week 7, causing head coach Ken Whisenhunt to say, "We can't live with that going forward." The Cardinals play host this week to the Bucs and their awful rushing defense, which has allowed a league-worst 5.3 yards per carry and 157.7 yards per game. Finally, the Cardinals almost have to run, since their quarterback options are rookie Max Hall (bad) and veteran Derek Anderson (worse). The stage is set for Beanie to have a big day.
(What's that? Wells is averaging 3.5 yards per carry this season? Hmm … we'll stick with the above recommendation.)
Sit him: Chris Ivory, Saints
Ivory has looked pretty good since Pierre Thomas got hurt, and is currently the Saints lead back, having carried 15 times in each of the last two games. Unfortunately, we're not keen on starting any backs against the run-repellent Steelers, who don't give up yards on the ground. The guys on the must-start list above are about as far as we'll go.
Pick him up: LeGarrette Blount, Buccaneers
Blount finally got some work in Week 7, carrying 11 times for 72 yards. The Bucs are saying that he'll share carries with Cadillac Williams moving forward, and since he's a more powerful runner, he's likely to get the short-yardage and goal-line work. Blount will give way to Williams on passing downs and when blitz pickups are needed, but it's not like there are a lot of fantasy options out there with backfields all to themselves. As part of a timeshare, Blount's value should increase as the season progresses. We mentioned him in this space a few weeks back, but he's still available in almost 98 percent of FoxSports.com leagues.
Receivers (WR/TE)
Must starts (13): (WR – 8) Randy Moss, Miles Austin, Larry Fitzgerald, Calvin Johnson, Andre Johnson, Reggie Wayne, Brandon Marshall, Terrell Owens; (TE – 4) Antonio Gates, Vernon Davis, Zach Miller, Jason Witten (Note: Roddy White, Tony Gonzalez, Hakeem Nicks and Anquan Boldin merit inclusion in this space, but they all have byes in Week 8.)
Still on the fence: Dustin Keller
Removed due to injury: Dallas Clark, who is out for the season due to a wrist injury.
Start him: Pierre Garcon, Colts
Clark is done for the year, WR Austin Collie will probably miss a few weeks with a thumb injury, and the team isn't sure if RB Joseph Addai (shoulder) will play this week. With Peyton Manning slinging the ball around – especially against the hapless Texans' pass defense – some of the Colts' front-office guys could probably haul in three or four passes for 50 yards, let alone an emerging stud like Garcon. The third-year man had a breakout game against the Redskins in Week 7 (four receptions, 103 yards, TD), and has been targeted 21 times in two games since returning from a hamstring injury. He and Reggie Wayne should be awfully busy on Monday night.
Sit him: Kenny Britt, Titans
Yeah, yeah, we know. You're not sitting Britt ever again after leaving him on your bench for a seven-catch, 225-yard, three-touchdown explosion in Week 7. The thing is, Britt had that huge day with Kerry Collins under center, and Vince Young is likely to return this week from an injury absence. VY did throw TD passes to Britt in Weeks 4, 5 and 6, but this week the Titans are visiting San Diego to face the desperate Chargers, who just happen to have the NFL's stingiest pass defense (158.6 yards per game), and are tied for the league lead in sacks with 25. Young is likely to be under a lot of pressure, and that doesn't bode well for a deep threat like Britt.
Pick him up: Jacob Tamme, Colts (TE)
Tamme is expected to become the Colts' top receiving option at tight end with Clark out. Team president Bill Polian was quoted Tuesday as saying Tamme "can do the same things in the offense" that Clark does, and while it's a reach to compare any player to a guy who caught 100 passes last season, Tamme was an excellent receiving tight end in college, earning an all-SEC selection at Kentucky in 2008 after catching 56 passes for 619 yards and six touchdowns. If you believe that Manning makes his receivers look better than they are, then Tamme is a no-brainer of a pickup if you need a tight end.
Good luck in Week 8!
John Halpin writes his "Wide Write" fantasy football column every week during the NFL season for FoxNews.com. He also writes fantasy columns and early-morning blogs four days a week at FoxSports.com/fantasy, and co-hosts a daily fantasy podcast. You can receive more fantasy news and contact John by following him on Twitter (@jhalpin37), or e-mailing him at jhalpin37@gmail.com.