Why did Memphis cancel Calipari tribute? Heartbreak and cowardice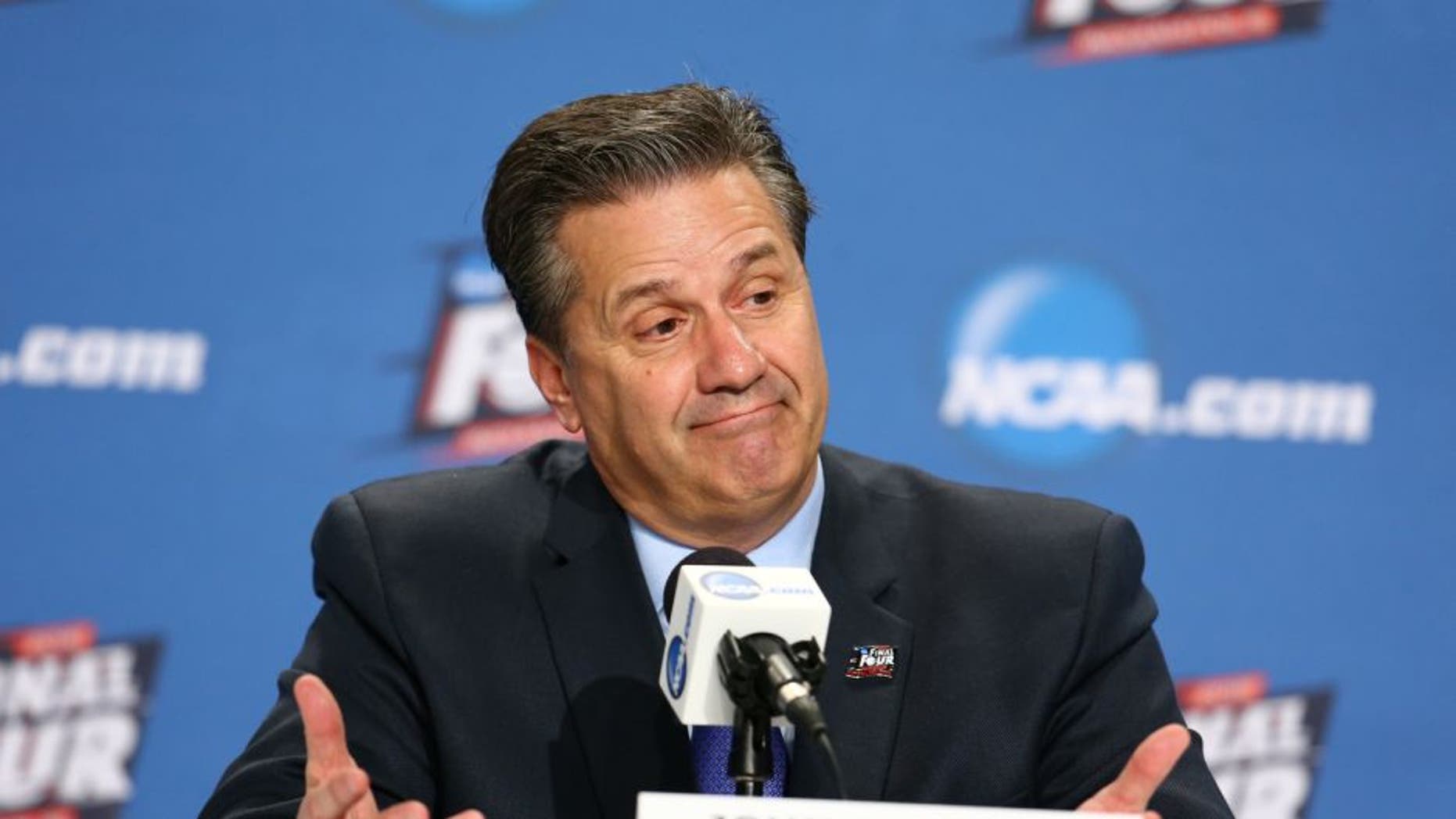 There is holding a grudge, which is something every human being who has ever walked this earth has done.
And then there is the vicious and long-held hate the University of Memphis basketball community holds toward the greatest coach who has ever graced (and who will ever grace) the birthplace of rock 'n' roll, the man who brought them within a Mario Chalmers 3-pointer of its first national title, the man who only left Memphis because he was offered the best job in all of college coaching.
On Wednesday, University of Memphis president M. David Rudd announced the school would hold a "great homecoming" in December for former head coach John Calipari, who will be inducted into the Naismith Memorial Basketball Hall of Fame Friday. The gesture was overdue for a man who has been rejected by his former school after he had the audacity to leave for Kentucky -- leave for Kentucky! -- in 2009. It gave me the same feeling as when I heard that the Green Bay Packers were finally welcoming legendary quarterback Brett Favre back into their fray and retiring his number: About stinking time.
Calipari, a longtime maverick in college basketball world who is finally getting his overdue appreciation from peers, clearly appreciated the gesture. "Memphis revived my career," he tweeted after Rudd's announcement. "I appreciate UMass and Memphis for deciding to honor what we were able to accomplish."
A day later, after a flurry of criticism from Memphis fans about how Calipari left for Kentucky, Rudd took it all back. There would not be a ceremony for Calipari after all.
"I apologize for the unnecessary upset, embarrassment and genuine distress generated by the issue of honoring Coach John Calipari on the occasion of his installation into the College Basketball Hall of Fame," Rudd tweeted Thursday in one of the more rich examples you'll ever see of cowardly, politically correct backtracking by a politician. "To see your level of upset and distress has deeply troubled me . . . Although I was surprised by the depth and intensity of conviction, passion and distress, it was my responsibility to understand and weigh this in advance. Clearly I did not do that effectively.
"We will not be recognizing Coach Calipari at the University of Memphis."
Let's unpack this for a moment.
John Calipari left Memphis for the best job in college basketball. It's a job any sane person would have jumped at the chance for, because it was a chance to be the best in his profession. And that's exactly what Calipari has accomplished the past six seasons, with four Final Fours, one national title and 25 players taken in the NBA Draft.
One of the reasons the community has vehemently rejected Calipari is because he took several elite Memphis recruits with him to Kentucky. (As if high school kids should be bound to stay committed to a school when the coach leaves.) Another of the reasons is because Calipari's 2008 Final Four run with Memphis was vacated by the NCAA after star player Derrick Rose was found to have cheated on his SAT. (Even though Calipari himself was never found at fault -- and even though rule-breaking and rule-bending is ingrained in the culture of supposedly "amateur" college basketball.)
There is such thing as heartbreak. We all feel heartbreak when we are jilted. Iowa State felt that this summer when Fred Hoiberg jumped to the NBA. So did VCU when Shaka Smart left for Texas.
But just like when Calipari left Memphis for Kentucky, taking those jobs were slam-dunks for each of those coaches. Both fan bases understood that. They appreciated how each coach had turned their program into Final Four contenders. They were sad and disappointed, sure, but they also understood that marriages in college basketball aren't meant to last forever.
Instead of holding a seven-year grudge like Memphis, these schools feted the coaches for their tenures -- which, by the way, were shorter tenures than Cal had in Memphis.
In fact, of the 13 coaches who've graced the Memphis sidelines since 1948, only one -- Larry Finch -- stayed at the school longer than Cal did.
But hell hath no fury like a Memphis fan scorned.
Get over yourself, Memphis fans. Stop weeping. It's unseemly and pathetic and amateurish. You should have thrown Calipari a parade, not remind him exactly why it was such an easy decision to leave in the first place.
In 1956, Elvis recorded his first million-selling single, "Heartbreak Hotel." He sang, "Since my baby left me, I've found a new place to dwell. Down at the end of Lonely Street at Heartbreak Hotel."
Like Calipari, Elvis was a Memphis transplant, having moved there at age 13. But he didn't record "Heartbreak Hotel" at Sun Records, where his first songs were recorded. He recorded the song at RCA Studios in Nashville, a bigger and better place to make hits.
Memphis has embraced Elvis, as it should. It should also embrace Calipari.
There is heartbreak. Heartbreak is understandable. Of course Memphis felt jilted in the months after Calipari left for Kentucky. It sucks, even if it's life.
But this has become something else. This is the thing that is now called butthurt. And that's the taste that Memphis' rejection of its greatest all-time coach leaves in your mouth. Get over the breakup already. Everyone else has.
Email Reid Forgrave at reidforgrave@gmail.com, or follow him on Twitter @reidforgrave.