Why Clemson's brutal loss could bury the ACC's College Football Playoff chances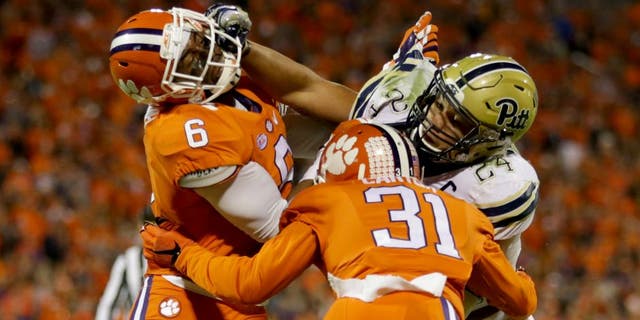 Clemson had been playing with fire all season, but they continued to find ways, whether through luck or skill, to beat Troy, Auburn, Florida State, and N.C. State and keep their record undefeated heading into Saturday's game with Pitt.
You couldn't argue with the undefeated record, but it was wholly unsatisfying.
Clemson was finally burned Saturday, when they fell 43-42 at home behind a five-touchdown game from Nathan Peterman and a 48-yard game-winning field goal by the now ironically named Chris Blewitt.
Clemson's College Football Playoff dreams are now on ice, but the biggest loser of the day could prove to be the ACC.
The CFP committee has shown a propensity to reward conference champions, but one of the mortal sins of playoff contention is losing at home in November. Clemson is likely to merge these two contrasting facts, creating a fascinating conundrum when it comes to deciding if they belong in the final four.
As of now, two spots in the playoff can be presumed filled: SEC West champion Alabama is going to the Playoff unless they incredibly lose to both Auburn and the SEC East champions; and the Big Ten champion is in the four-team field, whether that be Michigan, Ohio State, or a two-loss Wisconsin.
After that: chaos.
If Clemson wins out -- and they really should, despite Saturday's failure -- would the committee put them or a one-loss Louisville (who still has games against Houston and Kentucky) in the playoff?
Would the loser of the Ohio State-Michigan game get a spot?
And if Washington is undefeated when the regular season is wrapped up, then there's only one spot up for grabs.
There's so much to play out, but over recent weeks, it's been hard to make the argument that Louisville was a worse team than Clemson, despite the Cardinals' head-to-head loss on Oct. 1.
Think back to that game, which Clemson won 42-36 -- were the Tigers the decisively better team? They won, yes, and it was a strong performance, but the margin in that contest was arguably a few feet and you could make the argument that the Cardinals were the better of the two squads on the field.
What would have happened if Lamar Jackson had been given one more set of downs?
Alas, that did not happen, so the Playoff committee is highly unlikely to catapult Louisville over the team it lost to, especially if both teams end the season with the same record and Clemson has a conference championship to its name.
But why would they bother delving into that controversy at all? If there is one spot open playoff spot, it would arguably be easier to give the spot to an at-large Big Ten team, even if it's a two-loss Ohio State.
Clemson won't have any viable chances to prove that its resume to this point isn't indicative -- there are no big contests to help the Tigers finish strong. Is anyone going to be swayed by a win over Wake Forest or South Carolina? What about a win over presumptive ACC Coastal champion Virginia Tech, which lost to Georgia Tech Saturday?
It's all convoluted and muddled, and the likelihood is it will remain that way for the ACC for the remainder of the year. Those are not great characteristics to attribute to a sales pitch.
The ACC needed Clemson to carry the banner and stay out of the fray. They couldn't do it, and the league could well pay for it by being left out of January's playoff field.