Why Buffalo Bills coach Rex Ryan deserves to be on the hot seat in 2016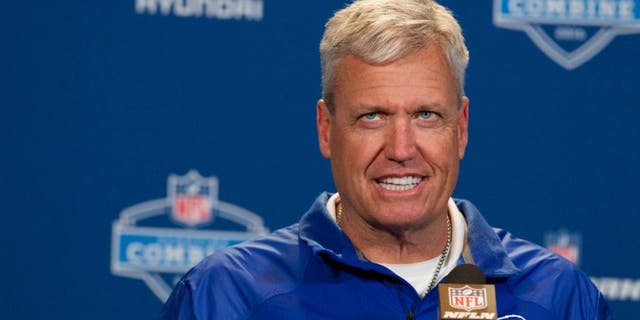 NEWYou can now listen to Fox News articles!
The Buffalo Bills haven't been to the postseason since 1999. It's the longest playoff drought among the four major North American professional sports. Even the Cleveland Browns and Oakland Raiders have been to the playoffs more recently than the team in upstate New York.
Part of that is due to the fact that Tom Brady has been the New England Patriots' starter since 2001 and has led the team to 10-plus wins each year besides one in the last 15 years. He's not the only one to blame, though. The Bills have had their fair share of turmoil and letdowns. Just last season, Buffalo went from being a nine-win team to one that nabbed eight victories and fell from the fourth-best defense to the 19th-ranked unit.
The biggest difference between 2014 and last season was the guy at the helm: Rex Ryan.
Following a messy exit from the New York Jets, Ryan signed on with the Bills before the 2015 season with the hopes of taking a promising, up-and-coming team to the postseason. After all, the defense was already loaded with talent and boasted the league's best pass rush in 2014, sacking the quarterback 54 times -- five more than any other team.
Enter Ryan, and the Bills drop to 31st in that department with essentially the same pass-rush personnel. The defense as a whole was an utter disaster, leading to many players questioning Ryan's scheme and defensive philosophy. It even caused Mario Williams to seemingly quit on the team, noticeably taking several plays off throughout the season.
As a result, Ryan's seat is warming up despite only having one full season with the Bills under his belt. Legendary Bills quarterback Jim Kelly said "Rex will probably be looking for another job" if he misses the postseason yet again before clarifying his comments a bit.
"The bottom line is, I think any coach in the NFL, you don't win, you're not going to be around very long. But with Rex, Rex is a great coach. I hope he's around for 20 years," Kelly said, via The Buffalo News. "But with our team last year, probably the last couple years, we've had star players, but when most of them are in their getting rehab and they're not on the field playing, it doesn't matter who you are, your job is going to be on the line."
Ryan came to Buffalo promising to bring the franchise back to the playoffs. His sample size with the Bills is small, but his track record of late hasn't been great, even outside Buffalo. He hasn't made the playoffs since 2010 with the Jets and has zero winning seasons in the last five seasons. And as a head coach, he's never won a division title. Not once.
Ryan's increasingly hot seat is such not just because of last season, but it's due to his failures in recent years. In fact, for most of his career he's underachieved. Yes, he was an outstanding defensive coordinator, but it hasn't translated to his head coaching gigs. Contrary to belief, only twice since 2009 has Ryan's defense finished in the top 10 in points allowed. That was in 2009 (first) and 2010 (sixth).
Since then, his defenses have finished 20th twice, 19th, 24th, and 15th just this past season. His defenses have been much better at limiting the number of yards opposing teams score, but games aren't won and lost on yards gained. It's about how many points you score, and Ryan's teams allow a lot of those.
After just one season with the Bills, it might seem unfair for Ryan's job to be on the line. But look at his recent success -- or lack thereof. His teams consistently underachieve despite making outlandish promises and guarantees that never hold up. Being an NFL head coach isn't easy, but that's what he signed up for. He has to meet expectations, at least on the defensive side.
As for 2016, retaining his job is simple and clear-cut: make the playoffs. That's it. Few coaches get fired after reaching the postseason, and Ryan would almost certainly be retained if he does the same. Of course, that won't be easy playing in the same division as the New England Patriots, but this season could be his best shot at supplanting them at the top.
Tom Brady is suspended for a quarter of the season, one of those games coming against Ryan's Bills. Winning that matchup, which is in Foxborough, would be a huge lift for the Bills -- especially after having to play the Ravens, Jets and Cardinals to start the season. Buffalo's schedule is no cake walk, but it's manageable. It's filled with unproven teams that still have question marks such as the Rams, 49ers and Jaguars.
No game can be taken for granted in the NFL, though. Ryan still has to prove that his players are fully committed to his scheme and philosophy, which simply wasn't the case last season. Personnel is a bit different on the defensive side of the ball following the departure of Mario Williams as several young players will have larger roles.
Rookies Shaq Lawson, Reggie Ragland and Adolphus Washington figure to be starters at some point and should play unequivocally hard for Ryan in their first NFL seasons. That's not the issue. It's getting veterans like Stephon Gilmore and Marcell Dareus on the same page.
If Ryan can't get the job done this season and the Bills regress once again, his job will certainly be on the line. It wouldn't be a surprise to see Buffalo with a new head coach on the sideline in 2017.