Who'll win Week 8's biggest games?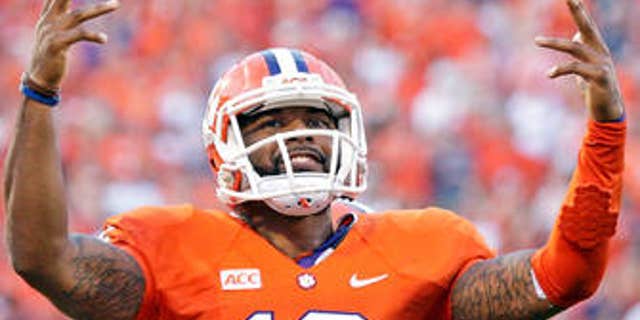 Last week was one for upsets, lead by the Mizzou Tigers heading to Athens and beating Georgia.
This week won't provide a similar level of shock value, but there is value in a quality slate nonetheless.
The ACC's game of the year takes place at Clemson, UCLA begins it's two-week gauntlet at Stanford and USC tries to earn its second win under interim head coach Ed Orgeron in South Bend. We cover those games and more in this week's Fearless Predictions.
Check out CollegeFootballNews.com for more on this week's games.
No. 5 Florida State at No. 3 Clemson Saturday, 8 ET, ABC Why You Should Give A Hoot: You've got center stage this week, ACC. You've earned it. It's been an amazing first half of the season for the Atlantic Coast Conference. Clemson over Georgia. Miami over Florida. Three league members in the top 10. Now this, possibly the most important football game in conference history, with the eyes of the sport watching. The winner gets entrenched in the national title chase, while the winning quarterback could jet to the head of the Heisman line. This is huge on every imaginable level.
Clemson has navigated the tougher slate, largely because of its opening day win over then-healthy Georgia. Relatively close calls with NC State and Boston College aside, the Tigers have looked every bit like a top-five team, with QB Tajh Boyd leading the way like an unflappable senior. When Clemson rose to No. 3 following the opener, its highest ranking since 1988, it was a testament to the job being done by Dabo Swinney and his assistants.
Florida State doesn't have a senior taking snaps. In fact, the Seminoles are unbeaten and No. 5 overall with a precocious redshirt freshman taking snaps, but Jameis Winston has been brilliant in his first five games, capped by a five-touchdown effort in a pre-bye week demolition of Maryland. The 'Noles haven't quite been tested like Clemson yet, but they're also coming off arguably the most dominant performance of the first half of 2013.
Why Florida State Might Win: Clemson defensive coordinator Brent Venables has done a great job with the Tigers' D so far this year, but he won't have any answers for this Seminole attack. That was a decent Maryland defense that Florida State hung 63 points on two weeks ago. Winston is evolving almost exponentially as the leader of the offense. It helps that he's surrounded by an abundance of seasoned talent.
The O-line is outstanding, making sure that Winston is well-protected from the likes of Clemson DE Vic Beasley. The skill positions are deep, from Devonta Freeman, James Wilder Jr. and Karlos Williams out of the backfield to Kenny Shaw, Rashad Greene and TE Nick O'Leary in the passing game. The 'Noles have too many options and too much confidence for a Tiger defense that can still have problems stopping the run on occasion.
Why Clemson Might Win: Boyd in Death Valley in his final game against Florida State - what are the chances he loses that? Winston is a prodigy, but he's never played in a game of this magnitude. Boyd has, on multiple occasions. He's grizzled, wise and not about to let down the Orange-drenched crowd at Memorial Stadium.
Wasn't it just three weeks ago that Florida State allowed Boston College to score 34 points and rush for 200 yards? The Seminoles have talent on defense. They always do. However, their pass rush has yet to mature, which means Boyd will get the time he needs to find Sammy Watkins or one of his big and fast receivers. Unlike Clemson, Florida State has not faced an elite offensive attack this year.
What Will Happen: The ACC has arrived. Death Valley will be the scene of its coming-out party. This mega-tilt really comes down to the quarterbacks, doesn't it? Boyd and Winston will dictate the outcome. Winston is a once-every-generation quarterback, but he's at a serious disadvantage in terms of experience. Heinz Field - on a Monday evening against Pitt -- isn't Death Valley. Bank on a classic that rivals the Georgia-Clemson opener. And bank on Boyd finding a way to lead his Tigers to another statement win.
Prediction: Clemson 37, Florida State 33
No. 9 UCLA at No. 13 Stanford Saturday, 3:30 ET, ESPN2 Why You Should Give A Hoot: Stanford inexplicably lost at unranked Utah last Saturday, leaving the door open for someone else to occupy the coveted No. 2 slot behind Oregon in the Pac-12. Is No. 9 UCLA poised to fill it? The Bruins have played impeccably well to start the second year of the Jim Mora era. Rising rapidly to their highest ranking in eight years, they've already won at Nebraska and at Utah (on a Thursday night). But is UCLA really ready to become more than just the South Division favorite? Back-to-back games with Stanford and Oregon will dictate just how high the bar might rise in Westwood in 2013.
Stanford showed hints of vulnerability two weeks ago versus Washington. Last Saturday at Rice-Eccles, the dream of a perfect season caved in, and any margin for error in the Pac-12 race evaporated. Something has been missing for the Cardinal, a lack of an identity and execution that's been puzzling. While the program still has a ton to play for -- including a shot at a fourth straight BCS bowl berth -- the season will go south in a hurry if it fails to rebound on the Farm.
Why UCLA Might Win: Stanford's defense has been surprisingly more vulnerable than in recent seasons, yielding more than 400 yards in each of the last two games. Bruins QB Brett Hundley plans to further exploit the creases that Washington and Utah located. The sophomore is emerging as one of the more complete players at his position, rushing for 260 yards and three scores while spreading his throws around.
UCLA's D has also been vastly underrated since halftime of the Nebraska game. UCLA is No. 2 nationally in third-down stops, and if someone doesn't consistently get a hat on LB Anthony Barr, he'll take the game over.
Why Stanford Might Win: At the point of attack, the Cardinal still have an edge on the Bruins. LG Xavier Su'a-Filo aside, UCLA remains average up front, a situation exacerbated by the season-ending injury to OT Torian White. Stanford is loaded with size, strength and experience in the front seven, led by DE Ben Gardner and linebackers Trent Murphy and Shayne Skov. The Cardinal's 24th-ranked run defense will obviously have to worry about Hundley, but not likely top back Jordon James, who has an injured ankle.
On defense, the Bruins might be without their nastiest lineman, DE Cassius Marsh, who was ejected from the Cal game. Stanford has talent, but it also has a sense of urgency, courtesy of last week's stumble.
What Will Happen: Stanford is not the same team it was a year ago, but it'll fight with its back against the wall this week. The Cardinal have too much talent, on both sides of the ball, to drop back-to-back games. For the first time this year, Hundley will be taken out of his game, getting forced to make things happen on the move. Much like Washington did two weeks ago, UCLA will make a statement at Stanford Stadium, but fall just a little short in its quest to remain perfect.
Prediction: Stanford 30, UCLA 27
[Read the full prediction at CollegeFootballNews.com ]
USC at Notre Dame Saturday, 7:30 ET, NBC Why You Should Give A Hoot: Neither USC nor Notre Dame is ranked, but the 85th meeting between the storied programs still matters on each campus and to both fan bases. The Trojans will play their second game -- and first road game -- under interim head coach Ed Orgeron, who lead Troy to a 38-31 win over Arizona last week in his debut as Lane Kiffin's temporary successor. While the problems that plagued the program haven't disappeared, it was obvious last week USC will have more fun playing for the reshuffled staff.
The Irish got to their bye week in decent shape, having split their four toughest games with Michigan, Michigan State, Oklahoma and Arizona State. ND will face only one more ranked team during the regular season in Stanford, which is more vulnerable than originally believed. It's a long way off, but the Irish can still compete for a good bowl game if they explode out of the break and get hot.
Why USC Might Win: The Trojans will clamp down on the Irish running game, forcing inconsistent QB Tommy Rees to beat them. Troy is No. 15 in the country versus the run, allowing just 3.7 yards per carry. Notre Dame's inability to establish a consistent ground game won't change this week. UC linemen George Uko and Leonard Williams, and linebackers Devon Kennard and Hayes Pullard, will force the Irish into third-and-long situations, which have caused problems for Rees all year.
Why Notre Dame Might Win: In essence, the Irish will try to do the same thing to USC: own the line of scrimmage so the quarterback has to beat them. Notre Dame wants to put the ball in the hands of USC sophomore QB Cody Kessler, who's playing in his first of these rivalry games. One of Troy's biggest problems this season has been keeping the pocket clean for the quarterbacks. The Irish will enjoy a big edge at the point of attack with DE Stephon Tuitt, NG Louis Nix III and OLB Prince Shembo. South Bend at night versus a veteran D is going to be a very tough spot for Kessler.
What Will Happen: Yeah, it's South Bend, but there's no way USC will be as jacked up as it was in the Coliseum a week ago. Instead, the Trojans will flash some of the mistakes from September that eventually got Kiffin canned. Notre Dame, on the flip side, will be recharged from the break and ready to go on a mini-run. The Irish will survive in a close game, making it two straight over Pac-12 opponents.
Prediction: Notre Dame 28, USC 24
[Read the full prediction at CollegeFootballNews.com ]
No. 22 Florida at No. 14 Missouri Saturday, 12:21 ET, ESPN3 Why You Should Give A Hoot: And then there was one. Everything is setting up perfectly for Missouri -- the lone unbeaten team in the SEC East -- to come up with a dream season and show everyone that yeah, it can do more than just take up space and provide a few nice TV markets for the league. Of course, the Georgia team Mizzou beat last week was a shell of its September self, but even a win over an injury-riddled Bulldog team is impressive. Now it really is Show Me time.
The Tigers have been terrific offensively when needed, while the defense has been as aggressive and disruptive as any in the conference. The loss of quarterback James Franklin to a shoulder injury has tempered the excitement a bit, but with Florida and South Carolina coming to Columbia in the next two weeks -- and the regular-season ender against Texas A&M also at home -- the Tigers might have a chance to do something special.
Meanwhile, Florida just keeps limping along. Its defense has been phenomenal, but with starting quarterback Jeff Driskel and its best running back, Matt Jones, done for the season, it's going to be a rough go. This team is good enough to come up with a few excellent wins and screw up a few seasons, but with this game, Georgia, at South Carolina and Florida State still to deal with, the final record might not be pretty.
Now we all get to see if Missouri can handle a real defense. No. 3 in the nation in total defense, third in pass defense, second in pass efficiency defense and fourth against the run, Florida is going to give the Tigers all they can handle.
Why Florida Might Win: If Florida was ever going to turn the passing game loose, this would be the week. That's not its nature, considering Florida wins with defense and a power running game, but the Tigers are getting lit up through the air by teams pressing to keep up the pace. Mizzou's top corner, E.J. Gaines, left the Georgia game with a quad injury, but even with him the pass defense struggled, allowing 290 yards and three scores to Georgia, 338 yards to Vanderbilt, 318 to Arkansas State and 377 to Indiana.
QB Tyler Murphy has shown the ability to come up with a few big plays here and there, throwing for 240 yards and three scores against Arkansas and hitting 83 percent of his passes against Kentucky, and now he has to let it rip. His mobility and playmaking skills could give Mizzou a hard time, but ...
Why Missouri Might Win: Missouri's defensive line is ripping up backfields. Michael Sam has 10 tackles for loss on the season and became close friends with Aaron Murray last week. The Tigers are outstanding when it comes to getting behind the line and generating pressure, and while the pass defense is giving up yards in chunks, it's also benefitting from the disruption with lots of interceptions, picking off 13 this year. Missouri is fourth in the nation and leads the SEC in turnover margin; Florida is sunk if it doesn't win this category.
What Will Happen: Missouri QB Maty Mauk, filling in for Franklin, will be the talk of college football next week. He won't put up huge numbers against the tremendous Florida D, but he'll be effective and efficient enough to lead the way to a big win, and then the spotlight will be fully focused on the Tigers' game with South Carolina.
Prediction: Missouri 26, Florida 23
[Read the full prediction at CollegeFootballNews.com ]
TCU at No. 21 Oklahoma State Saturday, Noon ET, FOX Why You Should Give A Hoot: The Big 12 title chase is wide open, but it could be slammed shut for the loser of this game. Any time these two are ready to start playing like they're supposed to, it would be just fine. Neither has been bad, but they also don't look ready to challenge for a league title. TCU needs some pop. The Horned Frogs have been uneven, alternating each loss with a win over the first six games, and now it's due for a loss again after beating Kansas without having to work too hard. A dogfight loss to Oklahoma and a rough loss to Texas Tech means the Horned Frogs have to get hot. Fast.
Oklahoma State has been strange. Picked by many to win the Big 12, it still might, but first there has to be some semblance of consistency. The Cowboys had a puzzling and somewhat lifeless loss to West Virginia, following it up with a close win against a mediocre Kansas State. The offense hasn't looked like the juggernaut everyone expected, but 4-1 is still 4-1. Fortunately for the Cowboys, their defense has been terrific at times, and now the time off over the last two weeks should help.
Why TCU Might Win: The Horned Frogs have to shorten the game with methodical, work-the-clock drives. This isn't the home run hitting attack of previous years. It doesn't have a dangerous running game to worry about, nor does it have a deep passing game capable of throwing any kind of scare into a secondary. The Horned Frogs have been excellent in time of possession, while Oklahoma State is dead last in the Big 12 and second-to-last in the nation in that category, holding the ball for just over 25 minutes per game. TCU could have control if it can get the ground game to work.
Why Oklahoma State Might Win: The Cowboy offensive line has been fantastic at holding its own against good pass rushers. OSU is always terrific at keeping the quarterback upright, and it's doing a phenomenal job once again, allowing just four sacks on the year. TCU's defense lives on the pass rush and being disruptive, but the Cowboys don't turn the ball over and don't get forced into major mistakes. There were a few key giveaways in the loss to West Virginia, but for the most part, the turnovers have been few and far between. OSU doesn't have to be explosive; it just has to be steady. TCU's offense isn't going to explode.
What Will Happen: The time off will do the Cowboys good. They're not going to rip up a strong, solid TCU defense, but it'll come up with just enough decent plays early to take control. The Horned Frogs will have to press a bit, and they won't be able to get over the hump.
Prediction: Oklahoma State 27, TCU 24
[Read the full prediction at CollegeFootballNews.com ]
The original article can be found at FOXSports.com: Who'll win Week 8's biggest games?.