Whistleblower claims at least four Russian gold medalists used steroids at Sochi Olympics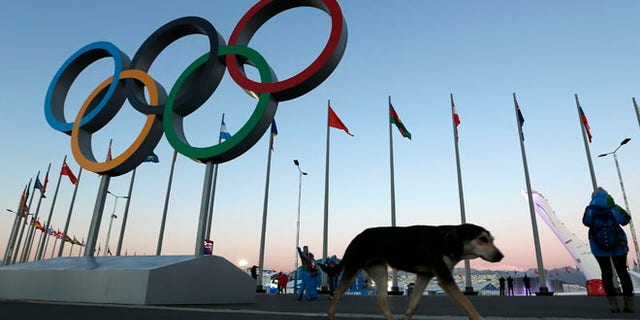 A whistleblower who uncovered systemic doping inside Russia's track and field team has claimed that at least four Russian winter sports athletes won gold medals while on steroids at the 2014 Winter Olympics in Sochi.
Vitaly Stepanov, a former worker at the Russian anti-doping agency, told CBS' "60 Minutes" Sunday night that the former director of the country's anti-doping lab, Grigory Rodchenkov, kept a list of Russian athletes who competed at the Sochi Games while using performance-enhancing drugs.
Stepanov also claimed that some agents of the FSB, Russia's equivalent of the FBI, worked as doping control officers during the Olympics and "tried to control every single step of the anti-doping process."
The "60 Minutes" report did not identify the Russian athletes alleged to have won tainted gold medals. Rodchenkov was not available for comment.
Rodchenkov resigned his position in November, a day after the World Anti-Doping Agency (WADA) suspended his lab's accreditation. The WADA-appointed commission that looked into the Russian doping scandal said Rodchenkov, who is now living in an undisclosed location in the United States, was "at the heart" of the Russian doping conspiracy.
Russia's track and field team is currently suspended from international competition, with three months to go before the opening of the 2016 Summer Olympics in Rio de Janeiro, Brazil.
Several athletes have called for expanding the probe beyond track and field. Thomas Tygart, the CEO of the U.S. Anti-Doping Agency, told The Associated Press that Stepanov's latest claim
"is a clear call for WADA to embrace the athletes' demands for a broader investigation."
WADA spokesman Ben Nichols said WADA officials watched the "60 Minutes" report, "which revealed new and very disturbing allegations regarding Russian doping in sport. We will look into these without delay."
Russian Sports Minister Vitaly Mutko called Stepanov's allegations nothing more than speculation.
"Stepanov is back on his hobby horse," Mutko told Russia's state TASS news agency over the weekend.
In a separate statement Monday, the Russian sports ministry said it was "certain" about the transparency of doping controls during the Sochi Games.
"In addition to Russian specialists, doping control stations also employed foreign experts," the statement said. "Furthermore, a team of independent observers managed the doping control operations on a daily basis during the games."
In the "60 Minutes" story, Tygart called the new revelations about cheating in Sochi "clearly, the final nail in the coffin for Russian track and field."
Asked about his statement, Tygart told AP, "there's not enough time" for Russia to prove it is clean.
"They continue to attack the truth-tellers, denying the depth of the problem," Tygart said. "There's been no effective testing for months, no meaningful consequences. It just simply can't be done. It's not fair to clean athletes."
The Associated Press contributed to this report.