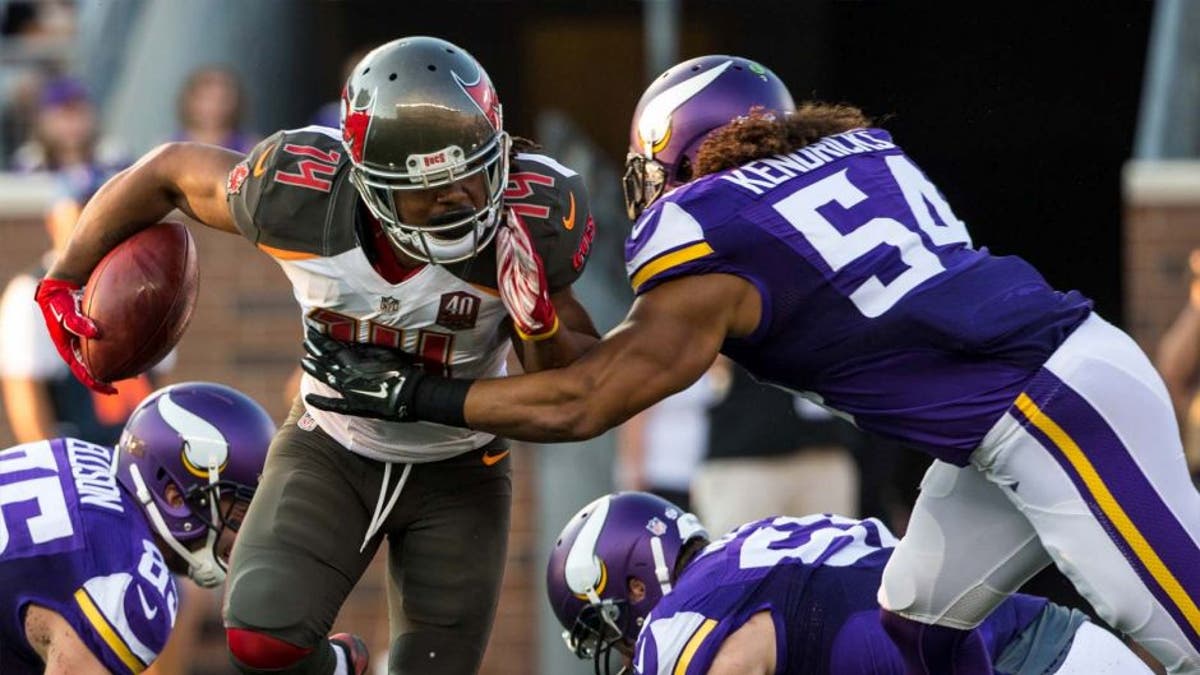 Yes, Saturday's 26-16 Vikings preseason victory over the Buccaneers was largely marred by right tackle Phil Loadholt's Achilles injury, but there were plenty of positives for Minnesota, too.
The Vikings' quarterbacks, led by second-year man Teddy Bridgewater, passed with precision, combining to complete 27 of 33 attempts on the night. The passing game featured multiple downfield threats, too, with Jarius Wright and Adam Thielen combining for 104 receiving yards.
Rookie linebacker Eric Kendricks impressed, too, registering four solo tackles, one sack and one assist while displaying impressive instincts.
Let's delve deeper into the Vikings' exhibition win, which left Minnesota 2-0 in preseason play this month.
5 things we learned:
-- The Vikings could be in trouble at right tackle, now that Loadholt is likely lost for the season. The massive, 6-foot-8, 345-pound seventh-year tackle has been a starter for six years, making 89 starts during that stretch. Now, he may have to be replaced by a 23-year-old rookie, Pittsburgh product T.J. Clemmings.
-- Kendricks, last year's Butkus Award winner for his stellar play at UCLA, could be a keeper at middle linebacker. The 6-foot, 232-pound rookie made his presence felt with 10:10 remaining in the third quarter on Saturday, as he shot through the middle of Tampa Bay's O-line and dropped Bucs ball-carrier Mike James for a tackle-for-loss in the backfield. Kendricks had a pass breakup shortly thereafter.
-- Bridgewater could be developing quite an aerial combination with Wright. Bridgewater, who went 7 for 8 passing for 86 yards on the evening, found Wright for two big gains before the game was barely 10 minutes old, including a 24-yard strike near the left sideline that set up Minnesota's first touchdown, a short Zach Line scoring plunge.
-- Antone Exum made it clear he'd like to see increased playing time at strong safety. Exum, the hard-hitting 24-year-old out of Virginia Tech, made a statement early in the second quarter, when he picked off a Jameis Winston pass deep over the middle. Undrafted rookie safety Anthony Harris led Minnesota with five solo tackles, however.
-- Everson Griffen already appears to be in midseason form. The supremely athletic defensive end, who produced 12.0 sacks last season, dropped Winston with a little less than four minutes remaining in the first quarter, using blazing speed off the right edge.
4 things we still don't know:
-- Is Cordarrelle Patterson capable of playing with discipline? Patterson looked decent at times on Saturday, like when he got wide open down the sideline before hauling in a 21-yard scoring strike from backup Shaun Hill early in the second quarter. Less than three minutes later, though, Patterson was flagged for taunting. Not smart for a man barely clinging to NFL employment.
-- Can Trae Waynes be trusted at cornerback as a rookie? Waynes ended with three solo tackles against Tampa Bay, but he got burnt by Vincent Jackson on a 43-yard reception late in the first quarter.
-- How healthy is Anthony Barr? We all saw what a playmaker the 6-5, 255-pound linebacker can be late last October, when he produced a fumble-recovery touchdown in OT at Tampa Bay. But he's certainly not 100 percent in 2015, and sat out on Saturday due to reported left knee inflammation, though the Vikings said that was a "coach's decision."
-- Can the Vikings' young, backup rushers protect the ball? Minnesota had three fumbles against Tampa Bay and lost all three, with none more costly than Dominique Williams' fumble early in the second half, when he surged down the left sideline, within the shadow of the goal line, before fumbling into the end zone.
3 key stats:
-- The Vikings produced 215 total yards in Saturday's first half, which resulted in three touchdowns. Minnesota led, 23-9, at the intermission.
-- Minnesota committed seven penalties, for 60 yards. You can bet that didn't sit well with their occasionally ornery head coach, Mike Zimmer.
-- Backup QB Hill completed 8 of 9 pass attempts for 104 yards and a pair of scores. The 35-year-old probably has Norv Turner and company confident in his skills, should he ever be forced into regular-season action in 2015.
2 top performances:
-- Stefon Diggs, the rookie wideout out of Maryland, continued to make plays, finishing with a pair of catches for 26 yards and, more importantly, a 37-yard punt return early in the third quarter, during which he set up his blocking with patience belying his inexperience in the NFL.
-- Thielen, the pride of Detroit Lakes, had a pair of receptions for 54 yards total, including a score. But his 39-yard catch and run shortly before halftime truly opened eyes.
1 big moment: Barely 90 seconds into the game, Bridgewater connected with Wright for a 26-yard pass play, setting an early tone. The Vikings dented the scoreboard on a 46-yard Blair Walsh field goal shortly thereafter and were off and running.
Next: Saturday, Aug. 22 vs. Oakland Raiders, 7 p.m.
Follow Kelly Beaton on Twitter