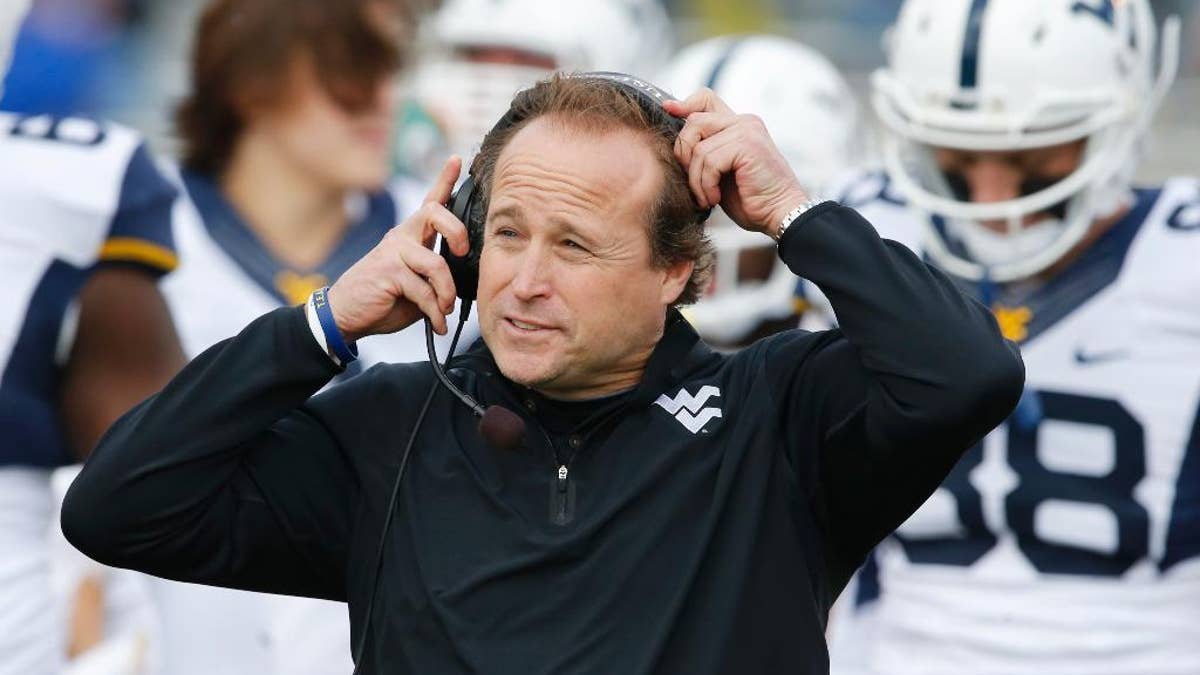 MORGANTOWN, W.Va. – Spring football practice is mainly about learning with little attention is given to getting college fans revved up six months before the season starts.
West Virginia coach Dana Holgorsen wants to put some excitement into this year's early drills by taking his team on the road.
The Mountaineers begin practice Sunday in Morgantown. After three indoor practices without pads that will be used for teaching purposes, the team will gather again after spring break for 12 outdoor sessions.
West Virginia will head to Wheeling on March 22 and Charleston on April 5. Holgorsen said he wants fans across the state to be able to see what the Mountaineers will put on the field next fall.
In addition to the two out-of-town practices, a March 29 practice in Morgantown and the annual spring game April 12 in Morgantown will be open to the public.
Holgorsen said the travel was his idea.
"We want all of Mountaineer nation to be able to come and be able to watch the Mountaineers to see what we're putting out there, to see what the product is," he said. "I think everybody's going to be pleasantly surprised with what the product's going to be."
About 70 scholarship players will be coming along for the ride. Missing will be two quarterbacks who started nine of 12 games last year.
Clint Trickett had offseason shoulder surgery and will be throwing some during the spring but won't be cleared to return until after the spring semester. Ford Childress is no longer with the team.
Paul Millard, who started three games last season, and junior college transfer Skyler Howard will take the majority of snaps. Logan Moore was moved to quarterback to have a third arm available in the spring.
Holgorsen said Howard has been eager to ask questions during meetings with offensive coordinator Shannon Dawson.
"Nothing's more important to him than being a quarterback, which I view as incredibly important," Holgorsen said. "He's a breath of fresh air for me, I know that."
The quarterback position is expected to be wide open entering fall camp. Trickett, Millard and Childress combined to throw for 16 touchdowns and 16 interceptions with a combined average of 264 yards per game.
Dawson said the task shouldn't fall on the coaching staff to determine who's first on the depth chart.
"I know that sounds weird," Dawson said. "We're going to give you the opportunity to win the job. Make our job easy. Win the job. It's not kindergarten. If you get an opportunity, take advantage of it. If you don't, too bad."
Attention on a defense that has been the team's biggest problem the past two seasons will be as much on the coaching staff as the players.
Former longtime Penn State assistant Tom Bradley joined West Virginia last week as senior associate head coach. His defensive coaching position will be designated later.
Bradley was defensive coordinator for Penn State from 2000-11, and became interim coach for the final four games of the 2011 season after Joe Paterno was fired during the Jerry Sandusky child sexual-abuse scandal.
Tony Gibson will make his debut as West Virginia's fourth defensive coordinator in four seasons. He'll also coach the linebackers.
Former defensive coordinator Joe DeForest remains on staff as special teams and safeties coach, and cornerbacks coach Brian Mitchell is a former defensive coordinator at East Carolina.
Linebackers Wes Tonkery and Jared Barber had offseason surgery and will sit out spring practice, while several other players return after missing games with injuries last fall, including linemen Christian Brown, linebacker Shaq Petteway, cornerback Nana Kyeremeh and safety K.J. Dillon.
West Virginia opens the season Aug. 30 against Alabama in Atlanta.