Watch UFC champion Joanna Jedrzejczyk KO the Denver Nuggets mascot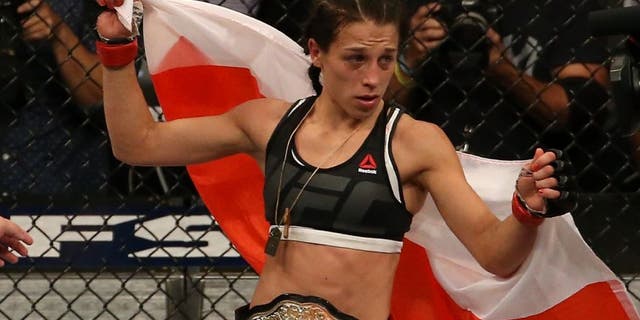 UFC strawweight champion made quick work of her toughest challenge yet when she KOed the Denver Nuggets mascot in just four seconds on Thursday night.
The Nuggets' mascot, Rocky the Mountain Lion, had been calling Jedrzejczyk out all night and she finally obliged, landing a heavy right hook that sent the mute mascot careening toward the hardwood. Jedrzejczyk walks away with yet another win and her title of undisputed champion intact.
All jokes aside, Jedrzejczyk is in Denver for the UFC Fight Night this weekend and was a guest at the Denver Nuggets vs. Phoenix Suns game. Rocky approached Jedrzejczyk wearing a huge pair of golden gloves and squared up with the undefeated champion only to get sat down a couple seconds later.
Jedrzejczyk was a good sport and helped a shaky Rocky back to his feet -- albeit, by his tail at first -- and kissed him behind his ear before laughing her way back to her seat. She's just like those sour patch gummies. First, she's sour, then she's sweet.