Watch Russell Wilson give an engaged couple a thrill on Seattle streets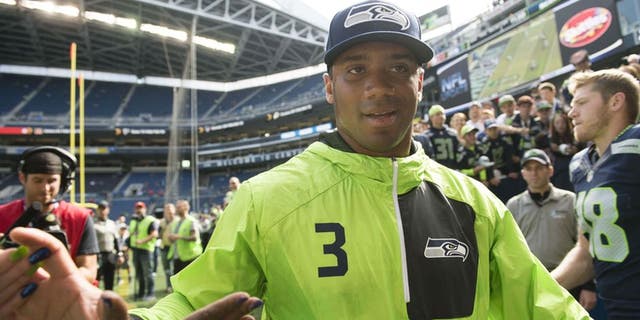 Its not every day you get to run into a Super Bowl-winning quarterback, but for a couple preparing to get married this weekend, that day came at just the right time.
Seattle Seahawks quarterback Russell Wilson ran into the couple on the Seattle streets, giving the two a shoutout and wishing them the best as they prepare to take their vows. He also asked whetherone of them was going to wear his No. 3 jersey during the ceremony.
It wasnt too long ago that Wilson was preparing to take his own vows to R&B singer Ciara. The 28-year-old QB will probably pull out all the stops for their anniversary in July.
Wilson and his wife welcomed the couple's first child, a girl named Sienna, last month.
Patrick Gorski-USA TODAY Sports | Patrick Gorski