Watch: Hunter Pence's girlfriend delves into his locker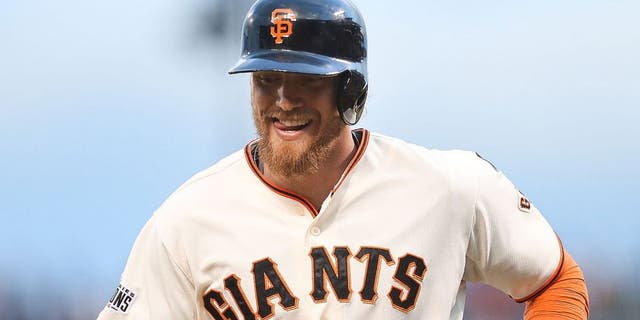 NEWYou can now listen to Fox News articles!
Ever wonder what an MLB player, nonetheless the idiosyncratic Hunter Pence, keeps in his locker?
Well, thanks to Pence's girlfriend, Lexi, your curiosity is satiated, as she recently posted a video of what she found in the San Francisco Giants right fielder's locker in the AT&T Park clubhouse upon Pence's request for her to help him organize it.
Her search revealed many of the things you might expect in a professional baseball player's locker: an array of hats, gloves, cleats, a slew of batting gloves, and an assortment of nameplates for various occasions.
Among the items more unique to Pence that Lexi found were a handful of lizard-skin grip tapes for his bat, bobbleheads of his teammates, a book by manager Bruce Bochy called "A Book of Walks," and pairs of his famous high socks.
The most interesting items that were stored in No. 8's locker?
A Spartan helmet, which was gifted to him by former teammate Michael Morse, and an unopened bottle of Johnnie Walker Blue Label.
See for yourself what Pence's girlfriend discovered in the video above.
(h/t Yahoo Sports)