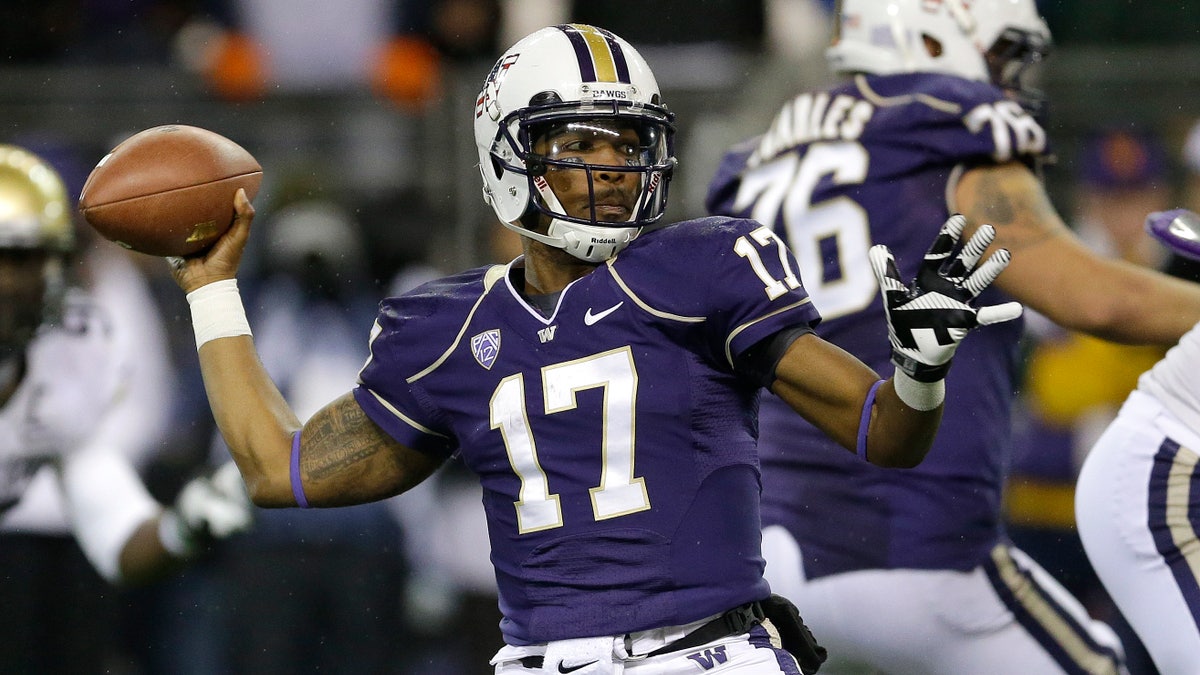 SEATTLE – Steve Sarkisian will readily remind you that Washington does not look past any team on its schedule.
Once the Huskies finished dismantling Colorado on Saturday night, though, it was quickly on to the next one for Washington's head coach.
The turnaround will be ever so important this week for Washington since the Huskies will be operating on a short schedule with a Friday night matchup at No. 13 UCLA. That meant speeding up the practice schedule so Monday's workout was a blend of what the team would accomplish in two days in order to prepare for a rare Friday game.
Despite coming off a 59-7 win over the Buffaloes on Saturday, Sarkisian insisted there was plenty to fix in the short week.
Even though the team did not attempt a pass during the second half and put up one of the highest point totals in school history, there were issues Sarkisian was able to detect specifically on the offensive line.
"We had a couple communication breakdowns," Sarkisian said. "One of the sacks, we lacked communication from the tight end to the tackle on the right side of the line, which caused the sack there. Another, just a couple times we got just a little penetration and when we had our pullers come around, we got knocked off."
Friday could be a good time to fix those woes, as the Bruins defense has just one sack in the last two games.
But UCLA has yet to give up more than 23 points at home this year, and despite not getting to the quarterback, the Bruins have forced three turnovers during the last two games. After dropping back-to-back contests to nationally ranked Stanford and Oregon, UCLA has won two straight to regain its footing.
"It's going to be a hard-fought ballgame," Sarkisian said. "That's a good football team at UCLA. It won't be an easy environment to play in on a Friday night. We have to be mentally prepared for kind of a physical football game from a physical standpoint but also mentally, the mental toughness that's going to be needed in this game because it's going to go back and forth.
"They're going to make some plays. They're going to make their tackles and we have to be able to move onto that next play and focus on the task at hand. For us, from the next step standpoint it's doing that and it's doing that for 60 minutes against a really good football team on the road."
A mid-season three-game losing streak put the Huskies on the precipice of yet another seven-win season, but like UCLA, Washington has put together two wins in a row. The Huskies have set themselves up for a late-season surge by routing California and Colorado as expected, but it's the final three games that will ultimately determine the success of the season.
After traveling to UCLA, the Huskies go to Oregon State before closing the season on another short week against rival Washington State.
"We're relentless," Washington QB Keith Price said. "It don't matter who we play, we come out and put our best foot forward. I can say that for almost every game we've played besides Arizona State. Our guys, it doesn't matter who we play against, whether it's Cal or Oregon or Stanford or Colorado, we're going to put our best foot forward and hope that's good enough to win."