VIP Cavs fan hit by Stephen Curry's mouthpiece speaks out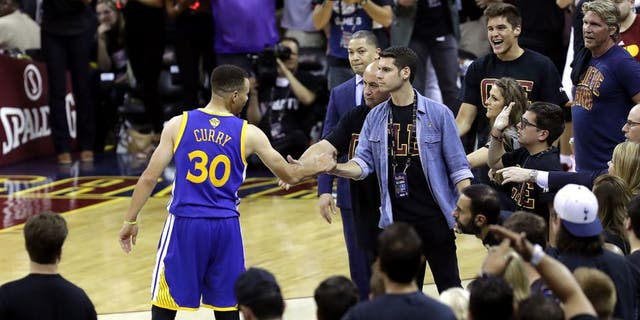 NEWYou can now listen to Fox News articles!
Stephen Curry's NBA Finals struggles culminated in a Game 6 ejection, the first of Curry's career, as the Golden State Warriors star blew his lid Thursday night after being whistled for his sixth foul in the fourth quarter.
Curry's ejection wasn't cheap, either: He'll likely be fined (but not suspended) after throwing his mouthpiece and hitting a Cleveland fan sitting courtside.
As with most fans sitting courtside, the guy turned out to be somewhat of a VIP -- €" he was identified as Andrew Forbes, the son of Cavs minority owner Nate Forbes.
"It's all good. It just hit me and I was like, 'Who? What?' I was just cheering, being a fan. I don't even know where he was throwing it. It just hit me in the face. He was good about it," Forbes told ESPN's Tom Haberstroh.
Forbes also told his story on Snapchat, and while it wasn't clear if the mouthpiece hit him in the shoulder or indeed deflected off his face, he credited Curry for apologizing -- €" and was satisfied enough with the Cavs' 115-101 win.