Victims of Denver Broncos' 2013 injury epidemic have returned to action with a fury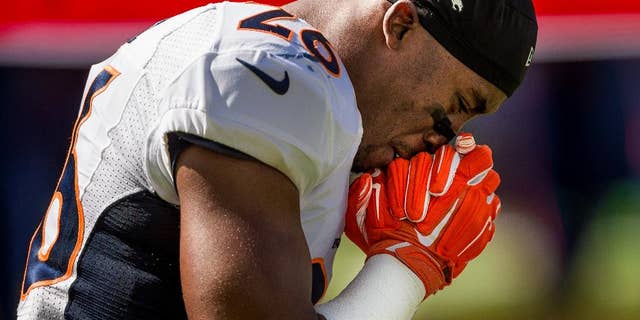 ENGLEWOOD, Colo. – The Denver Broncos didn't exactly hit their bye week in full stride. There are issues all around. But some promising signs have emerged, too, like the play of all those starters who missed the Super Bowl.
The Broncos made their run last year without left tackle Ryan Clady, whose foot injury sidelined him in Week 2 and kicked off an injury epidemic that would dog them all year.
"Getting Ryan back is kind of like signing a free agent or having a top pick in the draft," Peyton Manning said when Ryan returned to action over the summer. "It is certainly nice to have him back."
Same goes for the other starters who had to watch the Super Bowl from the sideline: linebacker Von Miller, cornerback Chris Harris Jr., safeties Rahim Moore and Quinton Carter and defensive end Derek Wolfe.
"This is the NFL. It's a tough game, so we need all the help we can get," linebacker Brandon Marshall said. "And those are all key players. So, to have those guys back is a tremendous help."
All have returned to their previous roles as starters or key contributors.
"It just goes to show you what kind of people they are," coach John Fox said. "We missed them last year. Like all injuries, especially season-ending injuries, it's a long process. And it was a really long process for them.
"I think people on the outside lose track. They don't see all the pain and suffering that goes into one of those surgeries and those rehabs and the physical therapy and all the stuff that goes with it. It's pretty grueling. So, it doesn't surprise me that those guys (are doing) a great job."
Miller is rounding into shape after ACL surgery in January. He has a pair of sacks and a combined 14 tackles over the last two weeks after a rusty one-tackle opener.
Harris has four pass breakups and it was his key interception that sparked Denver's fourth quarter rally at Seattle, where the difference Sunday was an overtime coin flip and not a 35-point deficit.
Carter has seven tackles and a forced fumble after missing two years with leg problems.
Moore has made a remarkable recovery from a rare muscle condition that led surgeons to slice open his left calf last November in an effort to save his career. He made a triumphant return by picking off a pair of Andrew Luck's passes in the opener and batting away two others.
He has played superbly as the anchor of Denver's retooled secondary.
"I'm really surprising myself, to be honest with you," Moore said. "I'm just here and there so fast. I'm doing what I'm supposed to do. Every week I'm around the ball, almost every play. And a lot of that is from our D-line doing a great job getting pressure and our linebackers playing fast."
Although it's still September, some of these Broncos who spent the offseason rehabbing at the team's headquarters welcomed the early bye week.
"I know I need it," said Wolfe, who dealt with a spinal cord injury last year but has regained 30 pounds and his old form. "I know a lot of different other guys on this team need it. We've been grinding hard."
The only significant injury the Broncos have sustained this season is that of weakside linebacker Danny Trevathan, who broke his left leg last month. He returned to practice last week and is expected to make his 2014 debut against Arizona.
Notes: Fox said he has no tee time during the bye week. It was during the bye last season that he collapsed on a golf course and needed heart surgery. ... The Broncos held All-Pro RG Louis Vasquez out of practice Tuesday. He limped off during the Seahawks game but returned to action. ... Fox said deactivating rookie WR Cody Latimer the last two weeks has nothing to do with any regression but that he's simply been the odd man out, especially with the return of Wes Welker from suspension.
___
AP NFL website: www.pro32.ap.org and www.twitter.com/AP_NFL
___
Follow AP Pro Football Writer Arnie Melendrez Stapleton on Twitter: http://twitter.com/arniestapleton