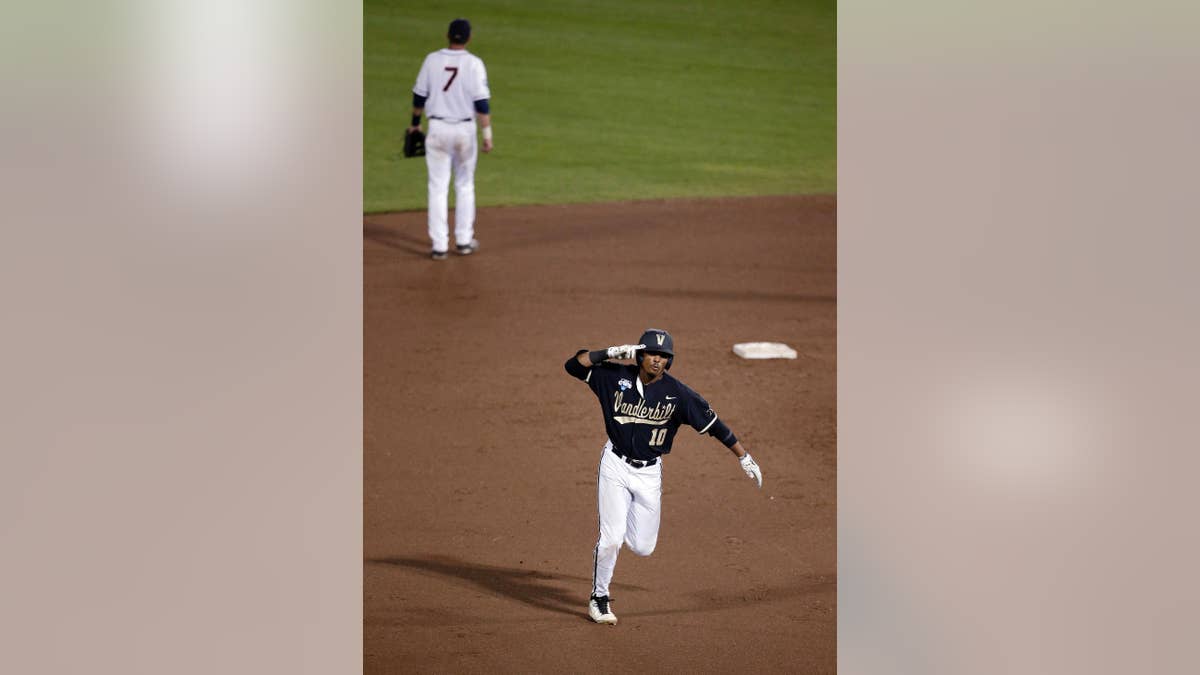 OMAHA, Neb. – Dansby Swanson and Rhett Wiseman came oh-so close to hitting home runs for Vanderbilt early in the College World Series.
John Norwood finally got a ball to clear the fence, and his timing was impeccable — in the third and deciding game of the CWS finals.
His tie-breaking homer into the left-field bullpen against Nick Howard in the eighth inning Wednesday night at TD Ameritrade Park delivered a 3-2 victory over Virginia that gave the Commodores' their first national championship in a men's sport.
"I just was hoping that it didn't have enough top spin that it would hit the fence," coach Tim Corbin said. "They had seen two already — Dansby's and Rhett's — and they were 6 inches away from being home runs.
"But Johnny's strength and bat speed, with the velocity of Howard, that doesn't happen to that kid. A 97-mile-an-hour fastball, and for someone to turn it around like that, takes a great amount of ability."
TD Ameritrade Park had yielded only two homers in this CWS and a total of 24 in the four years the event has been played at the cavernous stadium.
"I thought it was gone, but you never know in this park," Norwood said. "I was just hoping it went out, and if it didn't, I knew my teammates would pick me up. It's a home run, but it's also a team effort to get here. We were confident the whole entire year."
It was Norwood's third homer of the year, his first since April 19, and Vanderbilt's first since May 16. It also was only the third home run in 16 CWS games this year and the 22nd in 72 games by the Commodores (51-21).
"He put a heck of a swing on an elevated fastball, and he hit it and knew it was gone," Swanson said. "So I had a little trust in him that it would get out."
The Cavaliers (53-16) loaded the bases with one out in the eighth when Adam Ravenelle hit Kenny Towns. But Mike Papi was forced out at home on a chopper to Ravenelle, and Brandon Downes grounded out.
The title was secured when Ravenelle struck out Daniel Pinero. The school's only other title came in women's bowling in 2007.
"This dog pile was by far the best," first baseman Zander Wiel said. "These guys are my brothers and to celebrate this with them is just incredible. It's just so special to be a part of history. Everybody here represents Vanderbilt in the best way, and I'm glad to be a part of the first men's national championship in history."
Swanson, Vandy's second baseman, was chosen the CWS Most Outstanding Player. Swanson batted .323 in the CWS, scored five runs, drove in two and stole three bases. He played flawlessly in the field.
"When you've got guys backing up each other like we do, anything is possible," Swanson said.
After the last out, Vanderbilt players grabbed the championship trophy and hoisted Corbin on their shoulders.
"Every coach, you immerse yourself in the kids and they become more than baseball players; they become your sons," Corbin said. "This is a nice feeling. It's good to watch them celebrate achievements."
Hayden Stone (4-0) relieved starter Carson Fulmer with one out in the sixth and allowed two hits before turning the game over to Ravenelle after Virginia's first two batters reached in the eighth. Ravenelle earned his third save of the CWS.
Howard (2-2) came on in the eighth after Artie Lewicki had pitched six innings of four-hit relief. He left a fastball up that Norwood put over the fence, just right of the 335-foot sign.
"You've got to credit John Norwood," Virginia coach Brian O'Connor said. "The pitch was up in the zone and he took an aggressive swing and hit the ball out."
Virginia broke through against Fulmer to tie it 2-2 in the sixth when Kenny Towns' bases-loaded grounder hit shortstop Vince Conde's glove and bounced off for an error.
Vanderbilt led 1-0 in the first after Virginia catcher Robbie Coman sailed a throw into center field trying to catch Bryan Reynolds stealing. Swanson, who was going to third on the double steal, continued home.
Another error in the sixth set up Vanderbilt's second run. Norwood grounded to third for an infield single and wound up on second after Towns' throw in the dirt skipped past Papi at first base. Norwood later came home on Conde's deep grounder to shortstop.
"An outstanding final series between the two of us," O'Connor said. "Unfortunately in sports, somebody's going to come out on the wrong end, and we came out on the wrong end tonight. The University of Virginia baseball program will be back here in Omaha at some point, and maybe the next time we can win it all."