Valentina Shevchenko: Julianna Pena is good but 'I'm stronger and I'm better'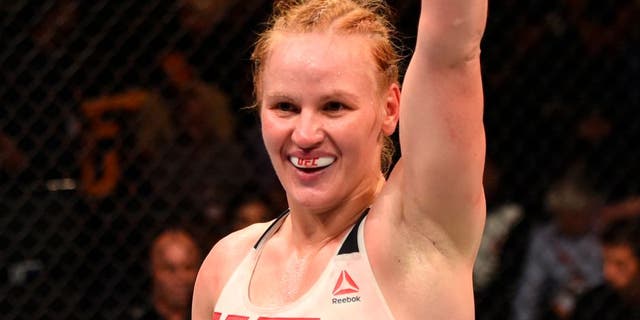 Following her win over former women's bantamweight champion Holly Holm last year, Valentina Shevchenko was anxious to book another fight that would put her one step closer towards the ultimate goal of attaining a UFC title of her own.
When the UFC called with an offer to fight Julianna Pena, it didn't take Shevchenko long to accept. The bout was proposed for UFC 205 in New York, which was expected to be one of the biggest shows of the year so Shevchenko felt like that was the perfect opportunity to solidify herself as the No. 1 contender at 135 pounds.
Unfortunately according to Shevchenko, Pena refused to sign the contract and the fight fell apart and she was left without an opponent.
"I did my part. I signed it for UFC 205 in New York. I signed my part and Julianna turned it down," Shevchenko told the Fight Society podcast. "She didn't want to fight that time but I don't care about this because I am a fighter and if she don't want fight, we was looking for another opponent to make fight.
"Because I don't want to wait for anybody because I am ready to fight."
The UFC never found another opponent for Shevchenko but eventually they came back around with another offer to face Pena at FOX UFC Fight Night in Denver in a five round main event.
Once again, Shevchenko was quick to sign on the dotted line and this time Pena accepted as well. As much as it bothered her last year that Pena turned down the fight, Shevchenko didn't really care how it turned out so long as she was able to get back into the Octagon to secure her place as the top contender in the women's bantamweight division.
"I received another proposal to fight again and for sure I accepted because I don't care," Shevchenko said. "It doesn't matter who I fight and this fight should have happened before but now it will happen 28th of January."
In the weeks leading up to the event, both Shevchenko and Pena have done plenty of interviews to promote and build their main event showdown in Denver.
In one particular comment, Pena said she wasn't all that impressed with Shevchenko's win over Holm because the former champion was really just "the Buster Douglas of MMA". The jab was aimed at Holm, who was the first fighter to hand Ronda Rousey a loss, but she then went onto lose her next two fights in a row, the latter being the bout against Shevchenko.
Perhaps those comments were meant to make Shevchenko angry or to try and rattle her ahead of the fight, but the former Muay Thai champion says Pena didn't accomplish either goal if that's what she wanted.
"I really don't think about her too much because for me she's just one more opponent I have to beat and go forward. I'm not focused about what she said, what she did because it really don't matter. My focus is my preparation, my good condition and every time I go forward and forward and nothing can stop me," Shevchenko said.
"My talk is inside of the cage. This is my real words where I talk every time. I think this is really important. You can speak before the fight on whatever you want but inside of the Octagon, inside of the cage, it shows who you are. You can speak whatever you want but who you are is who you will be inside the cage."
As far as firing back at Pena with her own verbal assault, Shevchenko takes the high road and prefers to let her fists do the talking for her inside the cage.
Shevchenko knows Pena got here for a reason so she's definitely a tough opponent, but that still won't be enough to get her the victory on Saturday night in Denver.
"She's a good fighter, a strong fighter but I'm stronger and I'm better," Shevchenko said.
"I will do everything that will help me win the fight. This is my goal to win this fight and the next fight and my goal first of all is to fight for the title and nothing can stop me. But before I go there, I will do everything. Using my striking, using my everything to win the fight."
Listen to the rest of Shevchenko's interview on the Fight Society podcast via Soundcloud or download and subscribe to the show via iTunes.