UFC star Nate Diaz says 'Cowboy' Cerrone is hurting other fighters' bank accounts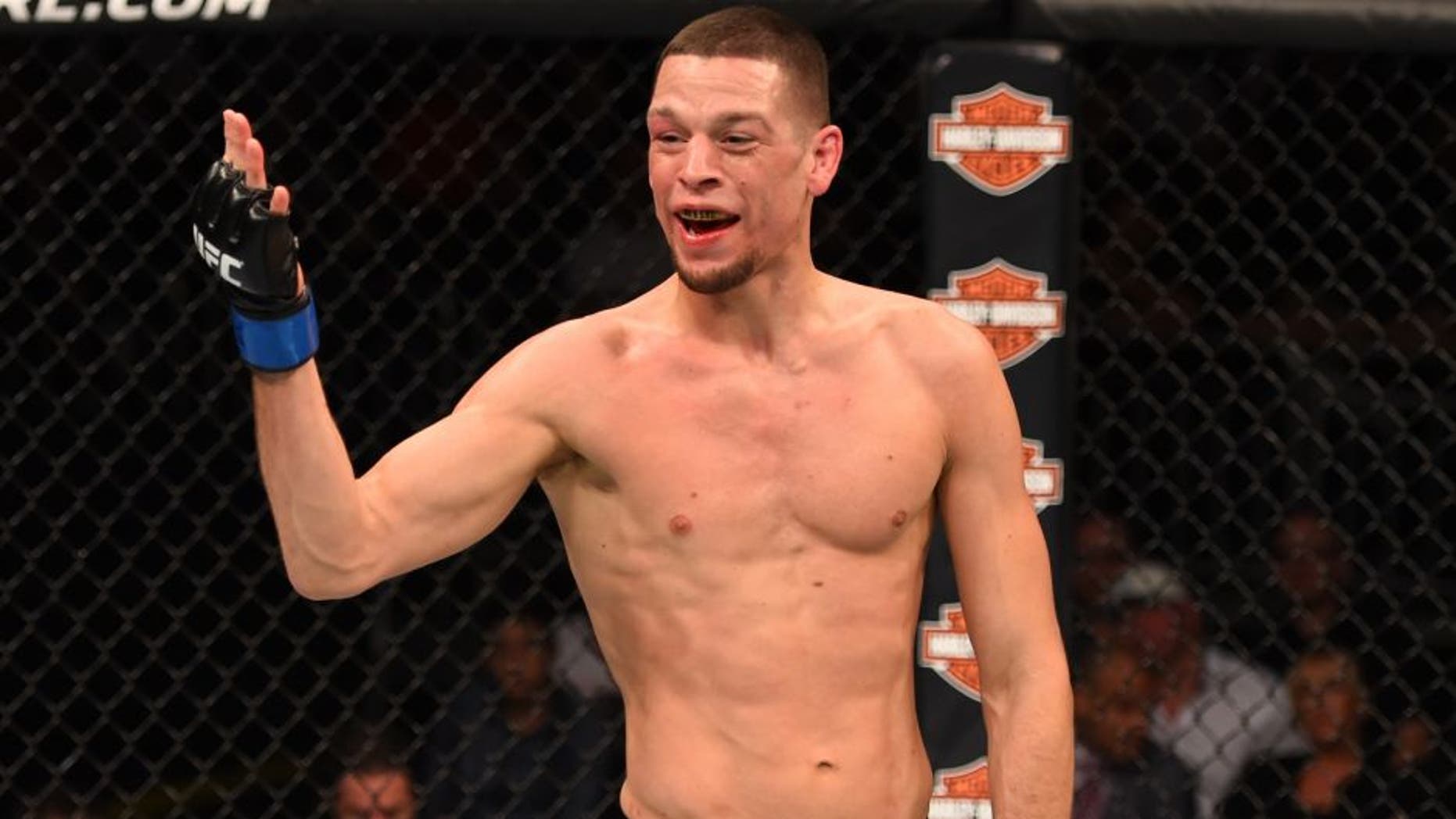 As Nate Diaz looks to get paid what he feels he deserves, the UFC's new king believes that the likes of former foe Donald "Cowboy" Cerrone are hurting all fighters. Diaz doesn't deny that Cerrone is an excellent and tough fighter, but he takes issue with his publicly being so pliable to promoters' wishes, and even saying that he'd fight for free.
"I have no bitchin' about my pay," Cerrone has said.
"I don't know why guys do. I'd do it for free."
Diaz recently told The MMA Hour that such talk is unbecoming of a top fighter whose fights are watched by millions around the globe.
"Treat yourself like a business and quit [saying] 'I'll fight for free,'. That don't help nobody," he reasoned.
"That's bad karma for you for even [saying that]. Stupid ass 'Cowboy' Cerrone says that. That's bad karma for everybody. You'll fight for free, now everybody else has got to? Why wouldn't they pay us? Because they got [expletive] like you fighting for free.
"Start acting like a businessman and start treating yourself like a business and get your ass paid for being in an Octagon. The whole world watches you fight."
Diaz says neither Cerrone, nor him, nor any other gets extra credit for saying they'd fight anybody. After all, that's what fighters do.
"I think that's what fighters don't realize, that this is a business, and if they don't start treating it as such, no one is going to get nowhere," he continued.
"If you guys keep saying 'I'll fight anybody,' of course you will. That's why you started, right? That's why I started."
Diaz also had a message for his promoters -- pay me. Diaz may have gotten a good pay day for beating Conor McGregor on short notice last March, but after over a decade of professional fighter, the Stockton black belt says he's more than deserving of more.
"I'm going to maximize my potential. Whatever I can get out of this, I'm going to get. Rip and take. I'm not going to sit back and say I'll fight anybody. Nah, I've been there. I've done that. I don't have to say that. Now I'm like, '[expletive] you, pay me, [expletive],'" he said, bluntly.
Diaz has only headlined a pay-per-view once, against McGregor in March, but he has a record of high television ratings for his big bouts. Knowing this, as well as how popular he is on social media with fight fans, Diaz is confident saying that he's in demand and deserves top-tier money like athletes in other major sports.
"Even my last fight, they're like, 'finally you're getting paid, congratulations.' No, that's reimbursement," he countered.
"I haven't even been paid yet, and I'm going to continue to represent for my [expletive] and say what's what and get what's mine, because no one wants to see no other fight."