UFC sensation McGregor stirs talk of nearly $1B super-fight with boxing legend Mayweather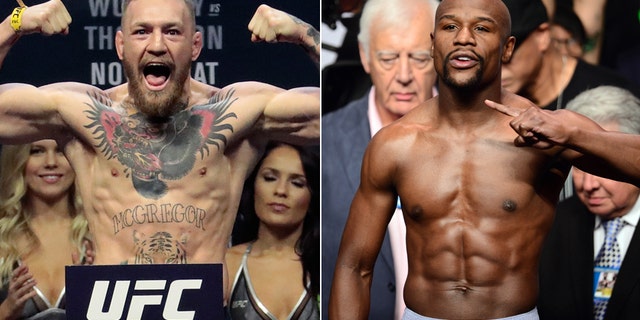 NEWYou can now listen to Fox News articles!
Is the sports world getting ready for its highest-grossing event?
Mixed martial arts and UFC superstar Conor McGregor inched one step closer to his dream clash with undefeated boxing legend Floyd Mayweather, Jr. Wednesday, officially receiving his boxing license to compete in the state of California.
"Is it getting any close? I don't know, but it certainly wouldn't surprise me that it's going to happen," the Irishman's coach John Kavanagh told The Sun Thursday, adding that the two camps were in talks for a potential bout, despite past claims to the contrary from UFC President Dana White.
Vegas oddsmaker-turned-political commentator Wayne Allyn Root told FoxNews.com that he believes a McGregor-Mayweather fight could generate up to $800 million in revenue, with nearly $1 billion in betting.
"To create a merger, per se, of a superstar like Mayweather with a UFC superstar like McGregor would be explosive, monumental and one of a kind," Root said. "It would also bring wagers from a massive younger generation that is no longer interested in boxing. It would have the potential to blow away the betting totals we saw for Mayweather-Pacquiao."
MCGREGOR RECEIVES BOXING LICENSE IN CALIFORNIA WITH MORE STATES TO FOLLOW

In 2015, Mayweather defeated boxer Manny Pacquiao in a super-fight that generated $600 million from tickets, PPV, sponsorships, merchandise, closed-circuit and international rights, Forbes reported. It was the highest one-day gross for a sporting event ever, with Mayweather earning nearly $250 million.
McGregor, dubbed "The Notorious," is UFC's current Lightweight Champion with a 21-3 record. The brazen fighter – known for trash-talking his opponents and then defeating them in the octagon -- has repeatedly offered to fight Mayweather in a boxing ring while demanding at least a $100 million payout, according to Fox Sports.
"As far as real fighting... as far as true pure unarmed combat... Floyd don't want none of this," McGregor told a crowd at a New York City nightclub in November following his latest victory at UFC 205, where he became the organization's first fighter to hold title belts in two divisions.
"I want $100 million cash to fight him under boxing rules... he's afraid of a real fight," McGregor said in a video obtained by TMZ.
But the now-retired Mayweather and his camp insist McGregor is just trying to get some free publicity by getting his name in the conversation with one of boxing's greatest-ever fighters.
"I think it's time for Conor McGregor to go out there and do what he do. But never compare Conor McGregor to me," Mayweather said when approached by TMZ in November. "It's a total disrespect. Once again, I'm an elephant. An elephant don't beef with ants. Elephant is so large he don't even see ants."
CONOR MCGREGOR VS. FLOYD MAYWEATHER GETS WWE 2K16 TREATMENT

Leonard Ellerbe, the CEO of Mayweather Promotions, added that McGregor "would get his ass beat from pillar to post" if he stepped into a ring with the 49-0 boxer, who is one more win away from owning the best undefeated record in boxing history.
"It's all a game. It's all a calculated effort to gain more fans," Ellerbe told ESPN Thursday. "Go out there and worry about dominating the UFC because three fights ago he lost, he was quitting. You couldn't even mention the word quit with Floyd Mayweather."
Mayweather, who has earned $700 million during his 19-year career, is one of the richest athletes of all time. The only athletes to make more than him during their playing careers are golf's Tiger Woods ($1.4 billion) and Formula One's Michael Schumacher (nearly $800 million), according to Forbes.
McGregor – who is reported to have made around $10 million in his last fight -- is currently taking time off from the UFC while awaiting the birth of his first child in May.
FoxNews.com's Greg Norman contributed to this report.