UFC 196 main event McGregor-Diaz promises plenty of fireworks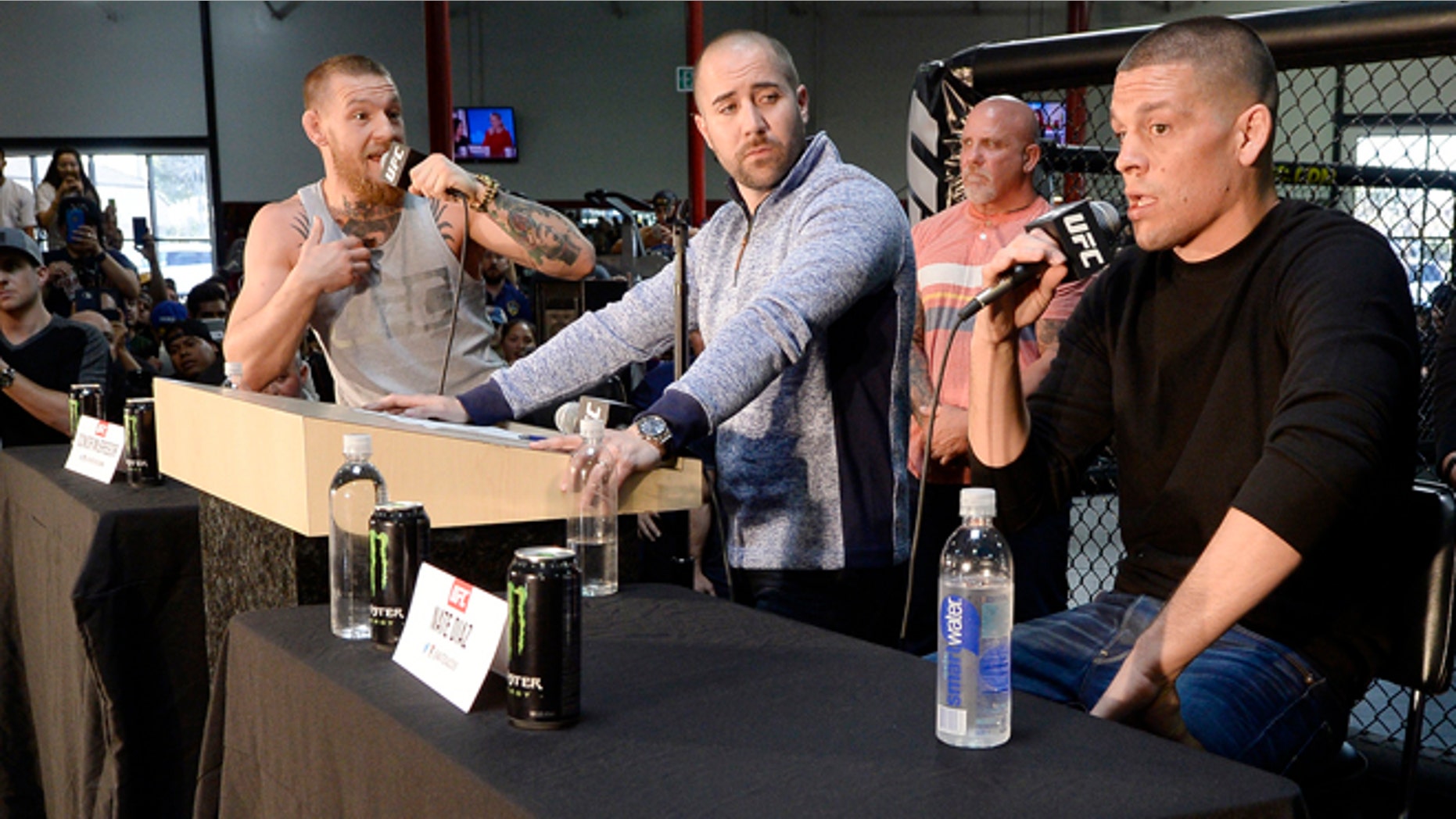 The welterweight clash between UFC featherweight champion Conor McGregor (19-2) and Nate Diaz (18-10) isn't till next week, but the war has already started.
Ireland's McGregor makes his debut in the welterweight division against one-time title contender Diaz March 5 at the MGM Grand Garden Arena in Las Vegas.
McGregor was scheduled to fight lightweight champion Rafael dos Anjos, but the Brazilian announced he couldn't compete due to a foot injury. With less than two weeks before the fight, Diaz and McGregor agreed to duke it out on short notice.
The UFC didn't waste any time promoting the fight, putting both fearless men on a podium, face-to-face in a press conference Wednesday which aired live via a YouTube stream.
The results were vocal from both sides.
Referring to Diaz's brother, the former WEC welterweight champion Nick, McGregor said, "I honestly like Nick's little bro," McGregor said. "He's like a little cholo gangster from the hood, but at the same time, he coaches kids jiu-jitsu on Sunday morning and goes on bike rides with the elderly!"
An intense Diaz stated he was ready to throw down despite the short notice.
"I don't give a f---," Diaz said. "I try to fight everybody all the time, anyway. It's all good."
The champion said he had requested a fight with Diaz when former featherweight champion José Aldo pulled out of a bout at UFC 189. He took an interim title fight with Chad Mendes instead.
"I felt pity on your broke ass," McGregor said. "I wanted to make you rich at 189, but they gave me Mendes."
Diaz is coming off a unanimous decision victory against Michael Johnson in December. He won The Ultimate Fighter 5 and has fought in the UFC more than 15 times. The Californian took on dos Anjos back in December 2014, but came out on the losing side.
Meanwhile, McGregor is coming off a win against Aldo in December. He is 7-0 in the UFC, with six of those victories coming by way of knockout.
Although bitter rivals, McGregor said he was looking forward to a fight with Diaz.
"I respect Nate," McGregor said. "Don't get me wrong, I do respect Nate. There are a lot of pussies in this game, and he is not one of them. Don't get me wrong. There's a respect there between us, but it's business in there. And business is business. He will be KO'd inside the first round."
McGregor was quick to point out Diaz's flaws.
"I feel his repetitive foot patterns and his poor motions are too readable, too predictable," McGregor said. "He'll be too slow in there. His speed will stifle him. His soft body and his lack of preparation – he will not be able to handle the ferocity."
For his part Diaz seemed unfazed. "F--- you," Diaz said. "F--- your belt."
His attitude, the California-born fighter said, was, " I'm just gonna kill or be killed," he said. "That's what I'm coming with."
After dos Anjos dropped out, names like Donald "Cowboy" Cerrone, who competed this past Sunday, former champions Uriah Faber and Anthony Pettis were bandied about for a shot at the Irish champion.
The UFC presented the fight to Aldo, who has said he wants a rematch with McGregor, but the Brazilian said he wasn't prepared.
Former lightweight champ Frankie Edgar, who has also stated publicly that he wants a piece of McGregor, also turned down the fight because of an injury. But in an interview with ESPN, UFC president Dana White said Diaz and McGregor made the most sense.
"We felt that this was the fight to make and the fight the people wanted to see," he said.
If the McGregor had beaten dos Anjos, it would have marked the first time a fighter held two UFC titles.