UConn do it: A look a Clemson's tide-turning Orange Bowl play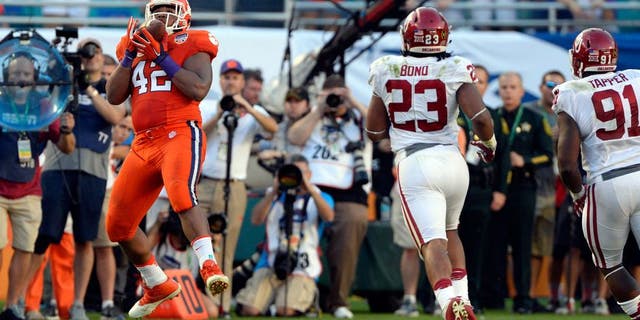 NEWYou can now listen to Fox News articles!
Aside from being the most entertaining play of the Orange Bowl, Christian Wilkins' 31-yard reception was perhaps the most important play of the College Football Playoff semifinal matchup between No. 1 Clemson and No. 4 Oklahoma.
Down 7-3 early in the second quarter, Clemson needed a pick-me-up and head coach Dabo Swinney new exactly where to go to get it: UConn.
That's the name of the fake punt play that resulted in a 31-yard pass to Wilkins, a 6-4, 315-pound freshman defensive tackle. The play not only resurrected the Tigers' third drive of the game, but proved to be the momentum-changer that sparked their 37-17 victory over the Sooners and punched their ticket to the national title game where No. 1 Clemson (14-0) will face No. 2 Alabama (13-1) on Jan. 11.