UConn, Butler to Square Off in NCAA Championship Game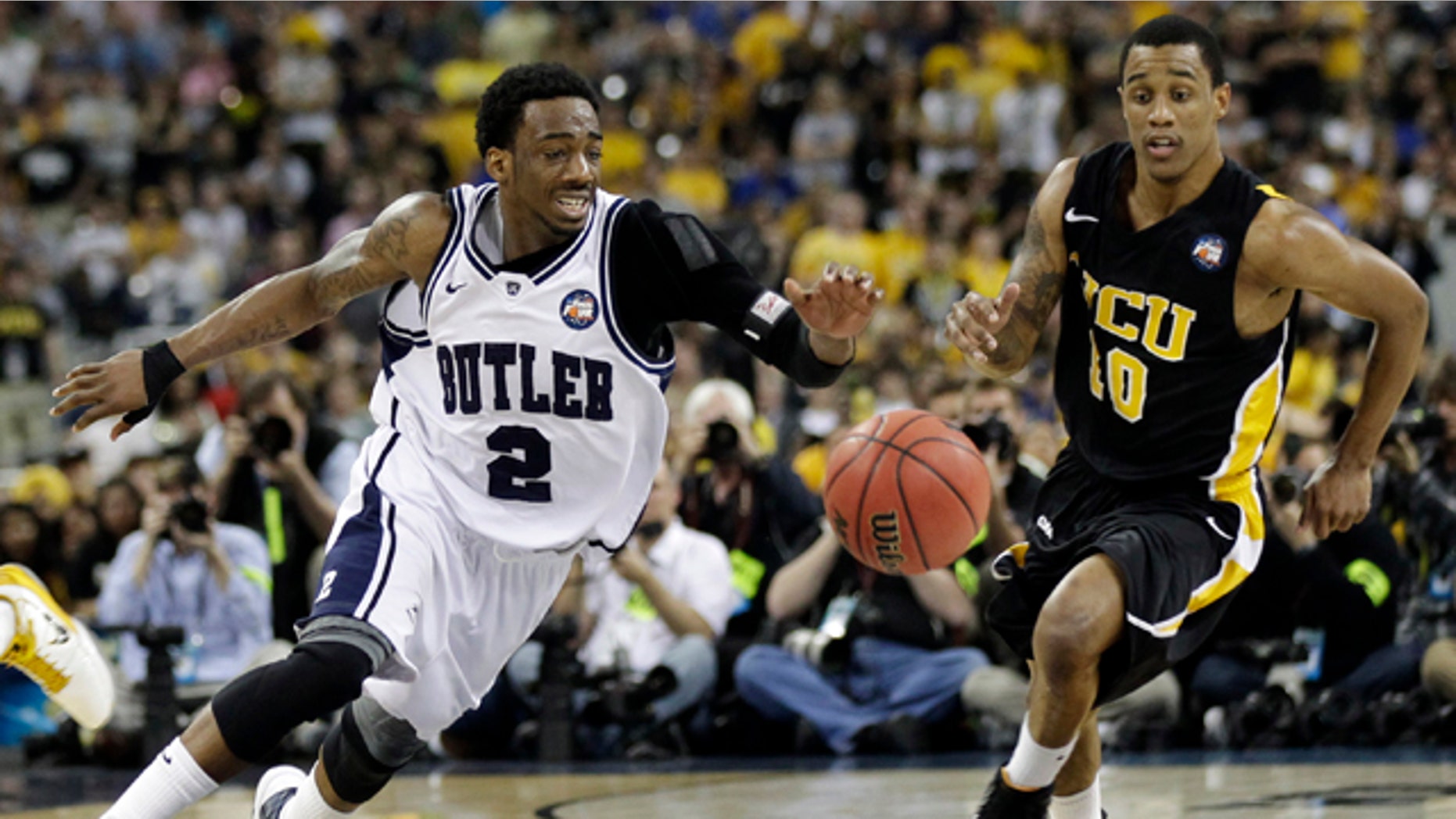 The lovable underdog label is long gone. Now Butler is determined to drop that "first loser" tag, too.
Shelvin Mack scored 24 points and Zach Hahn came up big off the bench, ending the warm-and-fuzzy story of this year's tournament with a 70-62 victory over VCU in the Final Four on Saturday night. The victory sends Butler to the national title game for a second straight year and marks the first time since Duke in 1991 that the runner-up has returned to play for the championship.
The Bulldogs (28-9) will face the winner of Kentucky-Connecticut on Monday night.
Hahn scored all eight points of his points during a 90-second span in the second half that gave Butler control of the game for good.
VCU (28-12) sure didn't look like a team critics dismissed as "unworthy" -- and a whole lot worse -- after it skidded into the NCAA tournament with five losses in its last eight games. But Butler's unforgiving defense was too much for the Rams, only the third No. 11 seed to reach the Final Four.
Jamie Skeen scored 27 and Brandon Burgess had 15, but the Rams made only eight 3-pointers and shot less than 40 percent from the field. Joey Rodriguez, the smooth point guard who dictates VCU's offense, didn't make a shot until 8:30 left in the game, finishing with only three points on 1-of-7 shooting.
The Bulldogs came within a bounce of winning it all last year only to see Gordon Hayward's last-ditch, half-court heave carom off the rim and watch Duke celebrate the title with a 61-59 win. That the Bulldogs are playing for the title again is maybe even more impressive than the first trip, having lost Hayward, their leading scorer and rebounder, to the NBA lottery. Butler also lost two other players who made significant contributions, Willie Veasley and Avery Jukes.
UConn Holds Off Kentucky After Thrilling Finish
HOUSTON -- Kemba Walker scored 18 points Saturday night to help Connecticut keep its remarkable postseason run going with a 56-55 victory over Kentucky that placed the Huskies one win away from their third, and most improbable, NCAA title.
UConn won despite not making a field goal over the final 2:29.
Trailing by two with the clock ticking down, DeAndre Liggins had a chance to win it for Kentucky, but his 3-pointer came up short -- the end of a 34-percent shooting night for the fourth-seeded Wildcats (29-9).
Walker also had seven assists, as UConn (31-9) won its 10th game in a row -- a string that began with a five-win-in-five-night leg-drainer at the Big East tournament and now includes five straight in the tournament that really matters.
The Huskies haven't lost since they fell to Notre Dame on Feb. 5 and finish their Big East regular season at 9-9.
They locked up this game with good defense and a remarkable cold spell by fourth-seeded Kentucky (29-9), which went 5:39 down the stretch without a point. That turned a 48-48 tie into a 54-48 UConn lead and the Huskies barely hung on.
Brandon Knight led Kentucky with 17 points, but they came on 6-of-23 shooting. DeAndre Liggins hit a 3-pointer with 1:37 left to get the Wildcats within 54-51.
Jeremy Lamb missed a floater in the lane for Connecticut and Brandon Knight came down and missed a 3, but the ball went out of bounds off Connecticut with 56.5 seconds to go.
Liggins was fouled taking a jumper with 49.7 seconds to go, and he made one to make it a two-point game.
Shabazz Napier of the Huskies turned the ball over, and Kentucky was able to get a timeout with 16.6 seconds left.
Despite being able to tie the game with a two-point basket, Liggins took a 3 that bounced off the rim and Napier redeemed himself by grabbing the rebound. He was fouled with 2 seconds left and made both ends of the 1-and-1 for a 56-52 lead.
Knight hit a 3 at the buzzer, but it wasn't enough.
Lamb had 12 points for Connecticut, and Napier finished with four. The Huskies finished just 1 of 12 from 3-point range while Kentucky was 9 of 27 from behind the arc.
Terrence Jones had 11 points and 15 rebounds for Kentucky.
Connecticut led 31-21 at halftime and the Wildcats were lucky to be that close with a terrible shooting half from the field (28.1 percent), 3-point range (16.7 percent) and the free throw line (20.0 percent).
That all changed in a hurry to start the second half.
Knight and Darius Miller both hits 3s for Kentucky to match its total from the first half, and they started a 14-2 run that ended with 3s by Doron Lamb and Knight.
Kentucky had its first lead since early in the game, and it was the first of four lead changes in the next 4 minutes and neither team led by more than four points until Napier scored on a drive that have the Huskies a 54-48 lead with 2:27 to play.
This was Kentucky's first Final Four since 1998 and its first under John Calipari who joined Rick Pitino as the only coaches to take three different schools to the Final Four.
Connecticut was last in the Final Four in 2009, the only time in coach Jim Calhoun's three previous appearances the Huskies didn't win the national championship.
The game was a rematch of the championship game of the Maui Invitational in November. Connecticut won that game 84-67 behind Walker's 29 points and six assists.
The Huskies have been on an incredible run starting with winning five games in as many days -- four over ranked teams -- to win the Big East championship. They advanced to the Final Four by winning games over San Diego State and Arizona in Anaheim, Calif. The West has always been good to Connecticut as all four of its Final Four appearances have come through that regional.
Kentucky entered the Final Four on a 10-game winning streak that included the Southeastern Conference tournament. The Wildcats beat No. 1-seed Ohio State and No. 2 North Carolina in the East Regional.