U.S. Military Academy says it's 'disappointed' in Joakim Noah's statement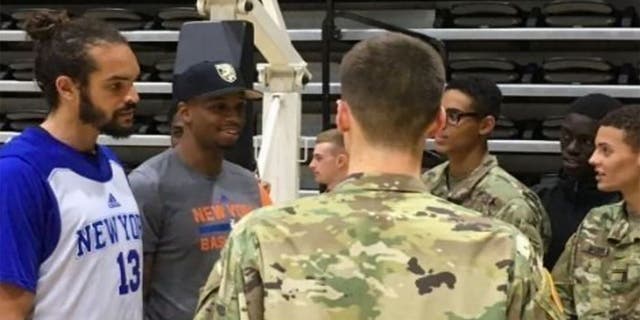 On Friday, we learned that newly-acquired New York Knicks center Joakim Noah declined to join his new teammates at a dinner with U.S. Army cadets because of his passionate personal stance against war and militarism.
In response to Noah's actions, Academy spokesman Lt. Col. Christopher Kasker said in a release to New York media:
"The U.S. Military Academy at West Point develops leaders of character for the defense of our Nation. We are disappointed and feel Mr. Noah's choice of West Point to make a statement is inappropriate because of the great sacrifice that has originated from this institution over our Nation's history."
Soon after Kasker's statement, the New York Knicks' PR team tweeted out photos of Noah conversing with cadets attending Knicks practice:
Later, Noah told The Wall Street Journal's Chris Herring:
"I'm not a very patriotic person, to be honest ... I don't understand the whole flags, supporting flags. I'm more into supporting people."
If there wasn't enough to talk about with this team already, there is now...