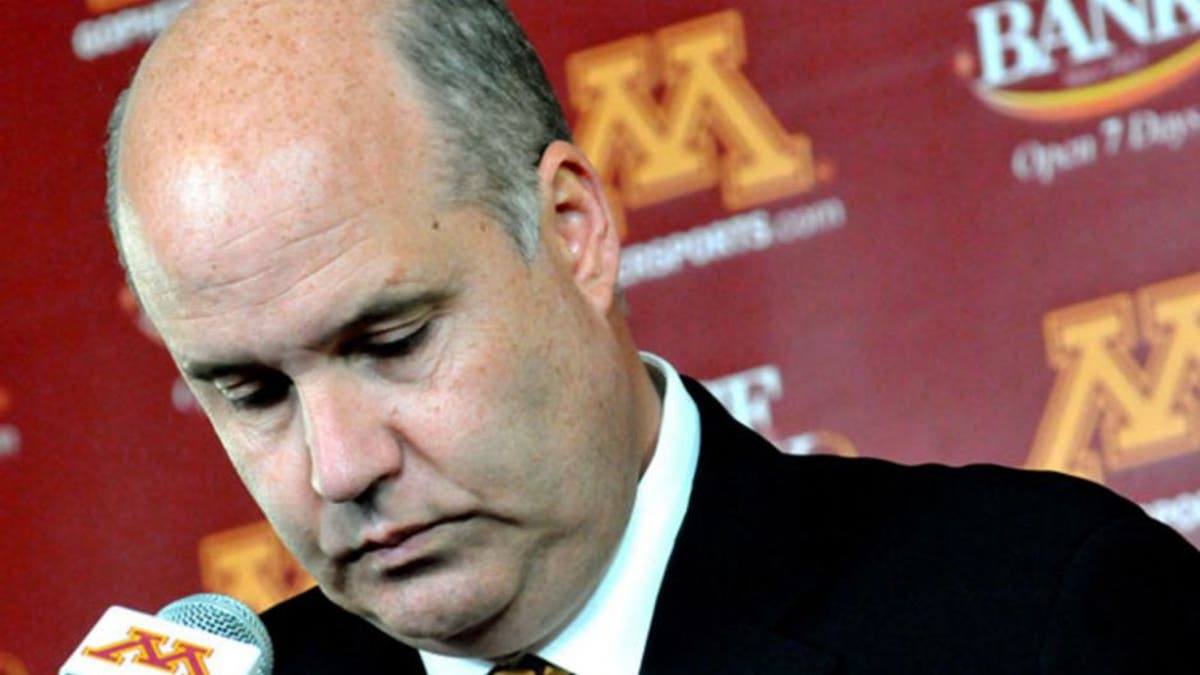 University of Minnesota president Eric Kaler retreated Friday from comments he made right after athletic director Norwood Teague's surprise resignation over sexual harassment allegations late last week, when he suggested it all happened because Teague had been served too much alcohol.
"I regret that very poor choice of words because I cannot state strongly enough that Teague is entirely responsible for his behavior, and alcohol use is no excuse," Kaler said in a statement. "Sexual harassment will not be tolerated at the University of Minnesota, and his resignation was the appropriate result of his actions."
Teague was accused of groping two high-level administrators, Erin Dady and Ann Aronson, during a senior leadership retreat July 15. Teague read an apology the day of his resignation in which he blamed alcohol for his behavior at the event and vowed to seek treatment. In a joint statement Thursday, Dady and Aronson called sexual harassment "a predatory act" and said having too much to drink does not excuse it.
After Teague resigned, a third woman, Star Tribune basketball reporter Amelia Rayno, published her own account Monday accusing Teague of sexually harassing her in 2013.
In his statement Friday, Kaler also backed away from his suggestion that the university might temporarily hire Teague back as a consultant to ease the transition to a new athletic director. That would have cost the school $285 an hour. Kaler had said Teague might still have important background knowledge on the university's push for $190 million in private donations to build a new athletes village.
"We knew that the odds were slim that we would need to contact him for any information and, since that time, we have assessed our needs further and have determined that we do not have any need to seek any information from Norwood," he said. "I'm confident that, under interim athletic director Beth Goetz and her team, we can carry forward without any input from Teague."
Kaler issued the statement mainly to announce that the university had hired an outside lawyer to investigate the circumstances surrounding Teague's resignation, making good on a commitment the school made Tuesday. The review will be led by Karen Schanfield of the Fredrikson and Byron law firm. She'll be joined by another attorney from the firm, former federal prosecutor Joe Dixon, who won the conviction that sent Minnesota Ponzi schemer Tom Petters to prison.
Kaler said Schanfield and Dixon will provide a public, written report to the university's Board of Regents. Topics the review will address include whether the university knew or should have known about allegations of sexual harassment by Teague but failed to address them, and whether Teague's background was properly vetted during his hiring process in 2012.
The president also said the university will conduct a full internal audit of the intercollegiate athletics department, with the initial focus on the information most pertinent to the Teague case. He said he discussed the need for the audit with Legislative Auditor James Nobles, who he said had expressed full confidence in the independence and ability of the university's vice president of internal audits.