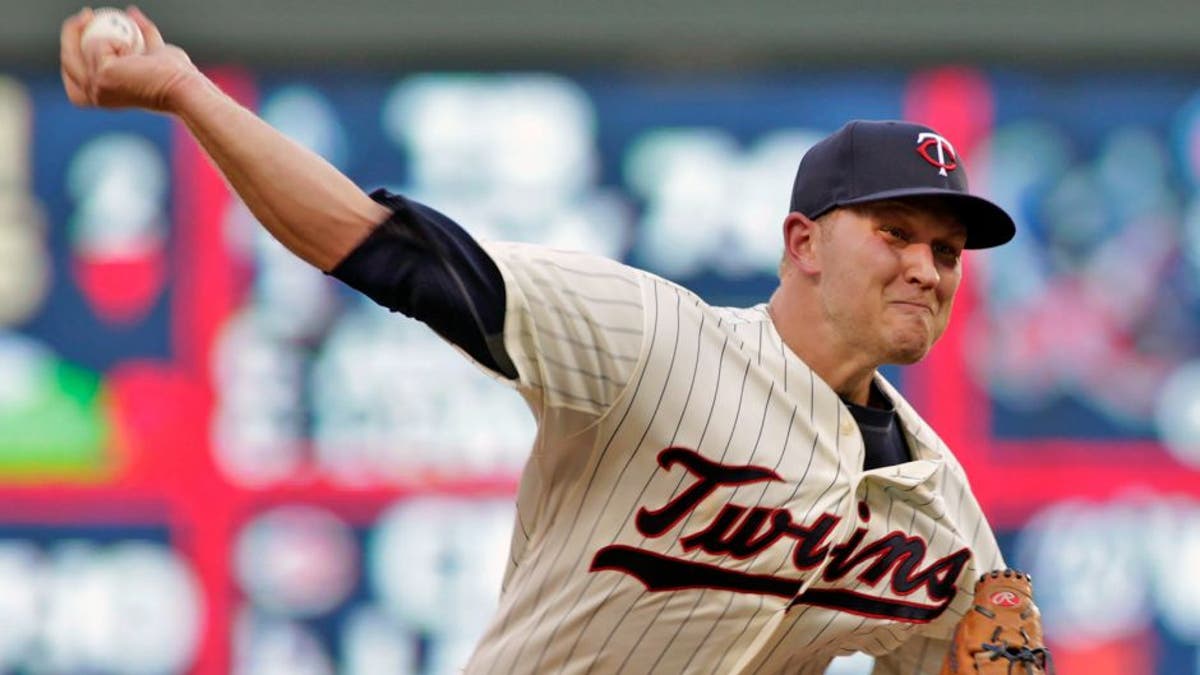 MINNEAPOLIS -- Tyler Duffey recovered in a big way from his rough major-league debut, and earned another start in the process.
Ten days after allowing six runs in two innings at Toronto, Duffey (1-1) took a no-hit bid into the sixth inning Saturday night, pitching the Minnesota Twins to a 4-1 victory over the Cleveland Indians.
The 24-year-old righty struck out seven and worked around five walks, allowing only a one-out double by Francisco Lindor in the sixth.
Not bad for a guy who entered the game with a 27.00 ERA.
''I was just glad to get another shot and just go out there and throw my game,'' Duffey said.
Eddie Rosario and Chris Herrmann hit back-to-back homers in the fifth off Josh Tomlin (0-1), who made his first major-league start since shoulder surgery in April. Brian Dozier added a late two-run homer for Minnesota, which had lost three straight to the Indians.
After the game, Twins manager Paul Molitor said Duffey would get at least one more start when Minnesota visits Baltimore next week for a four-game series.
''To respond after a really tough first outing ... he came back and he settled in early tonight and to put up the zeroes and give us a chance was really huge for us,'' Molitor said.
Relievers Casey Fien, Kevin Jepsen and Glen Perkins each pitched an inning in the combined four-hitter.
Tomlin lasted 6 1/3 innings. He scattered two hits over the first four innings before leaving a high fastball over the plate for Rosario leading off the fifth.
''Overall it felt pretty good to be back out there and just competing, and trying to do what I could to keep us in the game for as long as I could,'' Tomlin said.
After Rosario launched the pitch 401 feet into the right-field seats, Herrmann followed with his second homer of the season to the same place. That was more than enough room for Duffey, who said he was aware he had the no-hitter going, but tried to stay calm about it.
''You end up playing games with yourself in your head, see how long you can keep it going, but you're not trying to go out there and throw a no hitter,'' he said. ''I'm just trying to get outs. I walked I think five guys so can't really be too happy.''
Dozier hit his 25th homer, a two-run drive in the eighth off Bryan Shaw.
Roberto Perez drove in Cleveland's run with long, two-out single in the ninth off Perkins.
DANCIN' DUFFEY
Duffey got his chance to partake in the Twins' victory ritual: the team's postgame dance party complete with fog machine. Asked how he fared, Duffey chuckled and said: ''I'm not a huge fan of being in front of people, but I don't think I embarrassed myself too bad.''
And what about those 30,000 people you were in front of all night?
''I guess it was good I kind of had the blinders on today,'' he said.
TWINS MOVES
After the game, the Twins officially activated RHP Tommy Milone off the DL ahead of his scheduled start on Sunday. To make room for Milone on the roster, the Twins optioned RHP Michael Tonkin to Triple-A Rochester.
Molitor also said he would move Trevor May, who started Friday night's game against the Indians, back to the bullpen after he recovers from the start.
TRAINER'S ROOM
Indians: Manager Terry Francona said OF Michael Brantley received treatment for his sore left throwing shoulder, and doubted he would play Sunday. ''I think the best thing that we could maybe hope for is he swings the bat tomorrow. I don't want him to just go cold turkey into a game.'' ... 2B Jason Kipnis (shoulder) is eligible to come off the DL on Monday, although Francona said he didn't know if he would be activated immediately. ... Francona said RHP Cody Anderson (left oblique strain) would meet the team in Boston and likely throw a bullpen session on Monday.
UP NEXT
Indians: RHP Carlos Carrasco (11-8) will start four days after allowing just two runs in eight innings against the Yankees. Carrasco has thrown eight or more innings while allowing four or fewer hits in three straight starts.
Twins: Milone (5-3) came off the DL after being out with a strained elbow. He'll make his first start since July 31, when he allowed four runs on 11 hits in six innings against Seattle.