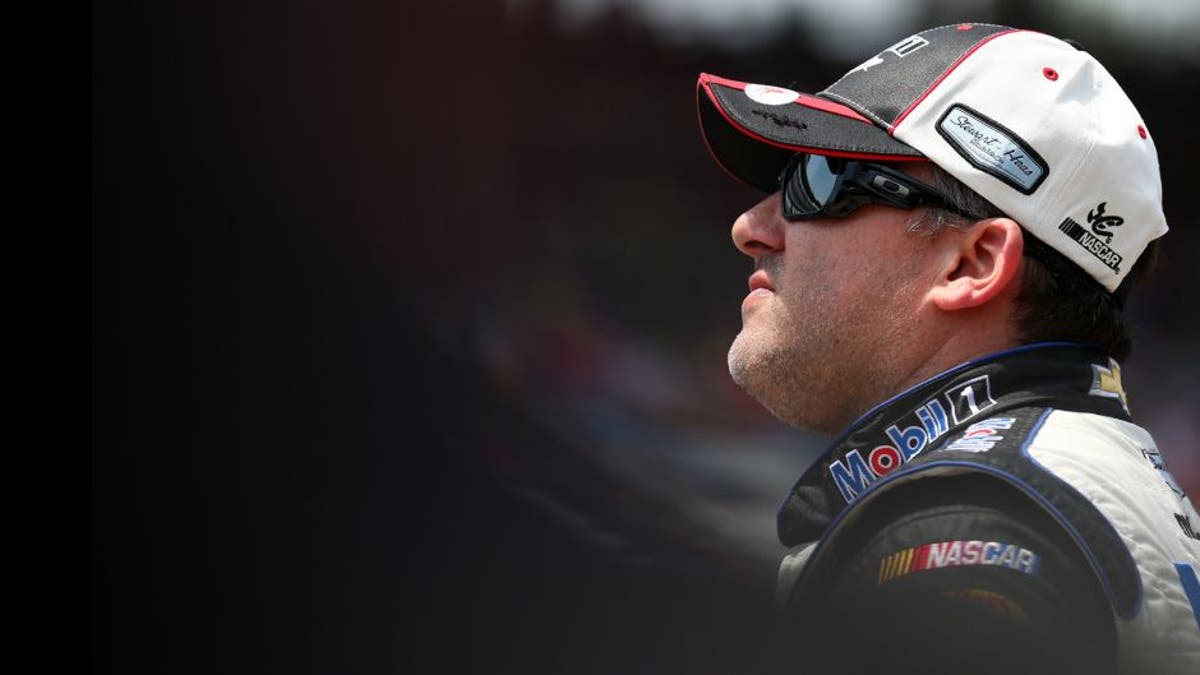 Tony Stewart's lap of 185.548 mph was the fastest in qualifying for Sunday's Brickyard 400 at Indianapolis Motor Speedway.
Although it wasn't the lap that ultimately counted -- he was fourth-fastest among the 12 drivers who reached the second and final round -- the three-time Sprint Cup Series champion could smile about finally being the fastest in something.
Considering how surprisingly poor he's run this year -- just one top-10 finish and no top fives in 19 starts -- recording the day's fastest overall lap in Round One was a shot in the arm, if nothing else, for the Stewart-Haas Racing co-owner and driver.
"Unfortunately, it wasn't the one that paid, but it got us in the second round which was an important part," Stewart said on pit road after getting out of his car. "It was a little bit freer than we were the first round, so we were a little busy inside the car. We have that track bar adjuster and we were moving it around quite a bit during the lap."
Stewart, who recently admitted his struggles have hurt his confidence, can at least sleep well tonight knowing that at least for a day, he was like his old self -- fast and competitive.
"Well, I mean, it could go and be a natural disaster tomorrow," Stewart, who won the Brickyard in 2005 and 2007 while with Joe Gibbs Racing, told FOXSports.com. "It could all be for nothing, but it's the way you want to start the weekend for sure -- have two good runs in qualifying and have a decent starting spot. That's definitely what we were looking for today."
Several of Stewart's competitors -- including second-place qualifier Joey Logano and third-place David Ragan -- took notice of Stewart's quick qualifying times.
"It is cool to see Tony running well," said Logano, the 2015 Daytona 500 champion. "He has had a tough season and you just know he will turn things around because he is a champion race car driver. I really hope he finishes second tomorrow."
Ragan concurred.
"Tony's a great driver and it's just a matter of time before he can sneak in there and lead some laps and get a win or rebound," Ragan said. "But I don't want it to happen at my expense. It'll be fun racing with him."
Stewart's strong qualifying performance wasn't a total surprise, after he was fast in Friday's practices at the famous 2.5-mile oval.
Nor was Stewart, who arrived at Indy on Friday 26th in points and mired in the longest drought of his career, totally surprised when his No. 14 Chevy unloaded fast for one of the first times in 2015.
"I've said all year it could change in a week and it doesn't even mean that after this weekend it's going to not go back to where it's been, but for here we've got it balanced," he said. "So we'll just see if we can keep it that way all day tomorrow."
For Stewart, who hails from Columbus, Indiana, and considers IMS to be his home track, Saturday's impressive qualifying run garnered a boisterous reaction from the crowd on hand. And that was probably the least surprising of all.
"That's huge," he said. "When you come home that's what you want. They play as big of a part in this as anything when it comes to keeping your morale up."
VIDEO: Tony Stewart hits the outside wall in earlier Sprint Cup race at Kentucky Speedway