TRUCKS: Buescher Seeking Fifth Win, First Title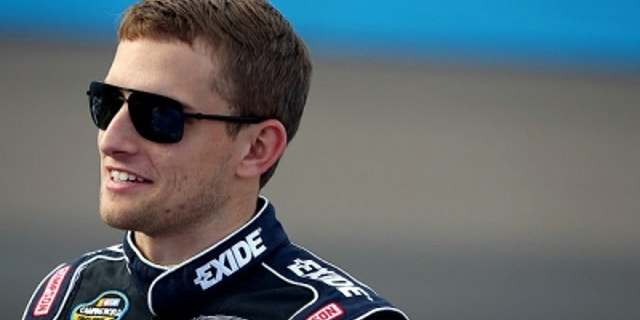 James Buescher is very close to becoming the NASCAR champion you don't know that much about.
Leading the Camping World Truck Series points going into Friday night's Ford EcoBoost 200, Buescher is 22 years old, from Plano, Texas, drives for team owner Steve Turner, has made noise in the Nationwide and Truck series and looks to put the first championship notch on his belt Friday.
Buescher carries an 11-point lead over Timothy Peters and a 12-point edge over Ty Dillon into Friday's season finale.
Buescher has won four times this year – at the 1.5-mile tracks at Kansas, Kentucky (twice) and Chicago.
Buescher's relatively comfortable point edge and his record on 1.5-milers – Homestead's also in that category – slides him into the favorite's role.
"We're where we want to be," Buescher said Thursday at the speedway. "We just have to go out on the track tomorrow and do what we know how to do. We've won all four races on the 1.5-mile tracks this year. I feel pretty good about this weekend."
The key, Buescher said, is to race like he's raced all year.
"We have to approach it like any other race weekend," he said. "If we switch to defense, we'll get too worried about what the other two guys are doing and not focus on our team and what we need to do on the race track. We'll focus on our team and try to win the race. When we haven't had [mechanical] failures, we've run really well everywhere this season."
Along that same line, Buescher said he won't complicate his life during the race by worrying every second about where Peters and Dillon are running.
"My team will be aware of it because they'll have the screens right in front of them," he said. "But if I don't see them out of the front of my windshield, they're behind me. If I get too worried about what they're doing, I'll start making mistakes."
Peters says it's win or go home. "It look at it as all or nothing," he said. "We've got a lot of real estate that all three of us have to cover. From my position, I like being the guy chasing James."
Dillon, who is trying to match the Truck championship won by his brother, Austin, last year, echoed that.
"We're going to keep battling," he said. "This weekend raises a great opportunity for us to win a race and hopefully win the championship.
"So we've been getting faster and faster every week, so our plan this weekend is to lead the most laps and win the race, and where the championship falls, it'll hopefully come to us. But we're just going to do what we can do, and that's win races."
The race is scheduled at 8 p.m. ET Friday. It will be televised by SPEED beginning at 7:30 with NASCAR Camping World Truck Series Setup. SPEED also will televise Truck qualifying at 4:30 p.m.
Mike Hembree is NASCAR Editor for SPEED.com and has been covering motorsports for 30 years. He is a six-time winner of the National Motorsports Press Association Writer of the Year Award.