Travis Browne, Francis Ngannou slam Derrick Lewis following his loss; 'The Black Beast' responds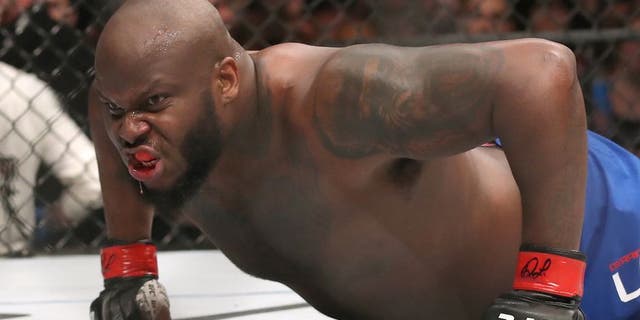 NEWYou can now listen to Fox News articles!
Derrick Lewis suffered his first loss in seven fights on Saturday night when he fell by TKO to knockout artist Mark Hunt in the main event at UFC Fight Night in New Zealand.
After the fight ended, Lewis barely had time to say that he was likely retiring from the sport of mixed martial arts before a pair of heavyweights were taking shots at him.
Former opponent Travis Browne took aim at Lewis after facing "The Black Beast" in February where he suffered a devastating knockout loss. In the weeks leading up to the fight, Lewis had spoken out several times about domestic violence allegations against Browne, which he has denied on numerous occasions.
"You say you have the most heart in the heavyweight division but I just watched you quit. You should retire. You brought up false news about me that affected my family," Browne wrote. "What happened to your mom, no woman should ever have to go through. Miss Lewis, you have my sympathy. I hope your family isn't affected by false accusations or false news like mine was. Even though you didn't have the same consideration for my family, I wish the best for your wife and children. Enjoy your wedding on the islands. My home is heaven on Earth.
"Best wishes. We know you don't have the heart but if you have the balls, I'm down to run it back."
Top 10 ranked heavyweight Francis Ngannou was the next fighter to blast Lewis on social media following his loss on Saturday night.
Lewis had stated that he was open to fighting Ngannou if he got past Hunt so the French heavyweight responded while taking a shot at him after losing to Hunt in New Zealand.
Well, Lewis may be on the cusp of possibly retiring but that certainly doesn't mean he doesn't have any fight left in him.
On Sunday night, Lewis responded to both fighters in one message on Twitter that seemed to sum up his feelings on the matter.
"Travis Browne waking up from the dead saying he wants a rematch and Francis learning how to use Google translator talking [expletive]," Lewis responded.
Lewis hasn't addressed whether or not he still plans on retiring from the sport, but he'll likely shift his focus to his upcoming wedding rather than fighting.
If Lewis decides to return, it's safe to say he'll have plenty of potential opponents awaiting him.